En savoir plus sur Marketing 360
Marketing 360 est une plateforme cloud de marketing adaptée aux entrepreneurs et aux PME. Cette solution permet aux entreprises de lancer des campagnes publicitaires sur les réseaux sociaux, de mettre en œuvre des programmes SEO et d'analyser les performances du marketing numérique. La fonctionnalité de sites web UXi de Marketing 360 aide les utilisateurs à créer des pages web de marque qui comprennent de boutons d'appel à l'action. De plus, le système fournit des modèles de site web qui peuvent être personnalisés et modifiés grâce à la fonctionnalité de glisser-déposer. La fonctionnalité Natural Listing Ads de Marketing 360 aide les utilisateurs à gérer les résultats de recherche organiques en suivant le volume et le classement des mots-clés. En outre, le logiciel analyse les performances de référencement des concurrents avec les mêmes mots-clés et partage des rapports en temps réel fournissant des taux de conversion organiques. Les annonces de ciblage social permettent aux entreprises de segmenter et de cibler les clients sur la base d'informations sociales telles que l'âge, le sexe, la localisation et les intérêts.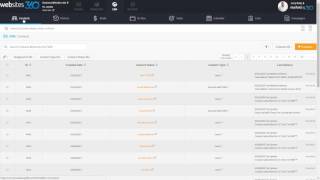 Marketing 360 est disponible en version gratuite et propose un essai gratuit. La version payante de Marketing 360 est disponible à partir de 25,00 $US.
Version d'essai gratuite :
Oui
Produits similaires à Marketing 360
Évaluation des fonctionnalités
Secteur d'activité : Hôpitaux et soins de santé
Taille de l'entreprise : 2-10 employés
Logiciel utilisé

toutes les semaines

pendant

plus d'un an

Provenance de l'avis
---
Great Support from Marketing Executive/ Team Lead
Our marketing executive, [SENSITIVE CONTENT], was absolutely wonderful to work with. She was responsive to emails and phone calls and was quick to make changes. She had excellent suggestions on ways to grow our business and she checked in to make sure that progress was being made. I found it most beneficial to schedule monthly zoom calls with her to stay appraised of each month's goals.
Avantages
The Marketing 360 software is very user friendly. I primarily used the email and social media marketing, but I also was able to edit the webpage when needed. I felt like it was easy to do the tasks that I needed to do.
Inconvénients
I don't like the calendar feature that much for social media marketing. I feel like it was difficult to see what was posted that day, and sometimes I would accidentally double post due to the calendar feature.
Secteur d'activité : Divertissement
Taille de l'entreprise : Auto-entrepreneur
Logiciel utilisé

tous les jours

pendant

1 à 5 mois

Provenance de l'avis
---
Great Results from an Incredible Team
Marketing 360 has been great. I was fortunate to be partnered up with [SENSITIVE CONTENT] and his team. We have been able to achieve more in the few months I've worked with him than I was able to on my own over the past several years. He is responsive, awesome to work with, takes my suggestions and ideas, and is able to stay with me and the goals I have.
Avantages
The software is fairly simple to use. I have used different CRMs, payment processors, and website tools in the past. This software is right on par (if not more advanced) than the others. It is incredibly easy to use! The built-in automation, payment processor, and nurture tools are incredible.
Inconvénients
The only part of the software that I think could be improved upon would be the social media tools. This could be (mostly) because I haven't used them a whole lot. I find it is almost easier to jump in and post on the different social media accounts myself.
Pourquoi choisir Marketing 360 
An all-In-One platform that also had amazing customer service behind it.
Pourquoi passer à Marketing 360
The customer service. After the initial meeting, I was a little worried about getting the biggest bang for my buck. I did my research and thought that I would give it a go. I trusted my gut and put some faith into [SENSITIVE CONTENT]., his team, and Marketing 360. So far...I feel that I made the right decision.
Secteur d'activité : Vente au détail
Taille de l'entreprise : 2-10 employés
Logiciel utilisé

tous les jours

pendant

plus de deux ans

Provenance de l'avis
---
A lot of money for little results.
Avantages
There is not much to what we used it for.
Inconvénients
This company supposedly does SEO optimization and such and website design. They did make a decent video and information only website for us, but we were paying way too much a month for something we could have been doing ourselves with a little bit of research and a lot less money.
Réponse de

Madwire

Hi, Heather. It sounds like you aren't utilizing the software to its full potential. Definitely want to make sure you're getting as much value as possible! We're having a hard time finding your account based on the information provided, but please reach out to us directly so we can explore the possibility of our Onboarding team or Support team providing additional resources to ensure you are benefiting from all apps within the platform.

Répondu le 09/05/2022
Secteur d'activité : Services et technologies de l'information
Taille de l'entreprise : 10 000+ employés
Logiciel utilisé

tous les jours

pendant

plus d'un an

Provenance de l'avis
---
I recommend Marketing 360 100%
The platform's increased trustworthiness stems from the fact that it can be accessed via the cloud, the online, and mobile devices. Since we can handle both content management and social media management inside Marketing 360, we can more efficiently reach a wide audience and capitalize on the growing trend toward online marketing. It has been remarkable to see how the platform has contributed to the development of both our company and the surrounding community.
Avantages
Several marketing execs at Madwire including the most current one were great to deal with. To begin, if you're looking to promote your business on social media, Madwire is hands down the best option. Due of my lack of experience with social media, I was confused as to how everything operated. The help desk team put everything together, helped me grasp the concepts I required, and took over the rest without a hitch. She has simplified our social media marketing strategies and provided us with actionable advice and direction every step of the way. Her expertise, reaction speed, and originality really beyond my expectations, and I would suggest her and Madwire to anybody trying to boost their social media marketing efforts.
Inconvénients
We have no complaints from Marketing 360, rather our department is happy
Secteur d'activité : Immobilier
Taille de l'entreprise : 2-10 employés
Logiciel utilisé

tous les jours

pendant

plus d'un an

Provenance de l'avis
---
Amazing Partner
Our overall experience with Marketing360 is that they are top tier. Our [SENSITIVE CONTENT]is such a great person to work with and has taken our website and social media to a whole new level. We wouldn't be at the level we are currently at without
[SENSITIVE CONTENT] and Marketing360.
Avantages
Marketing 360 and their team of associates go above and beyond with their software and customer service. Our [SENSITIVE CONTENT] keeps us on track and updated with the next step we need to take and using their software has made understanding everything in the marketing world so easy to understand.
Inconvénients
I wish we would have found them earlier