En savoir plus sur GetFeedback
Avec GetFeedback pour Salesforce, les utilisateurs peuvent automatiquement collecter les avis de leurs clients aux points de contact clé de leur parcours. Cette solution fournit plus de contexte dans les enquêtes et transmet les opinions dans Salesforce pour mesurer de précieux indicateurs comme les scores NPS (Net Promoter Score), CSAT (Customer Satisfaction Score) ou CES (Customer Effort Score).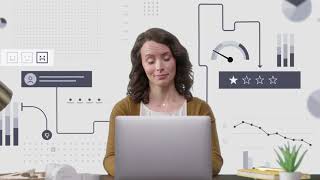 GetFeedback est disponible en version gratuite et propose un essai gratuit.
Version d'essai gratuite :
Oui
Produits similaires à GetFeedback
Évaluation des fonctionnalités
Secteur d'activité : Ressources humaines
Taille de l'entreprise : 11–50 employés
Logiciel utilisé

toutes les semaines

pendant

Essai gratuit

Provenance de l'avis
---
GetFeedback is the premier tool for Salesforce friendly NPS and customer satisfaction...
We have only used the free trial, but we will be continuing on to purchase the product so that we can monitor future customers during the sales process and understand areas that need improvement.
Avantages
GetFeedback has a robust design interface that makes it incredibly easy to design stunning, simple feedback surveys. Best of all, it integrates seamlessly with Salesforce and can be automated with corresponding triggers. GetFeedback offers multiple types of surveys to gather feedback, not just a basic 1 through 10 scale.
Inconvénients
It doesn't fully integrate with some of the other applications we use, but these are fairly specific tools and some do not even have open APIs.
Pourquoi passer à GetFeedback
GetFeedback has the best design interface and allows you to create surveys that work in Salesforce. It's simply done right.
Secteur d'activité : Recherche
Taille de l'entreprise : 201–500 employés
Logiciel utilisé

tous les jours

pendant

6 à 12 mois

Provenance de l'avis
---
It functions well to gather continuing feedback.
We can use Usabilla to manage an intercept survey on our website. We are now able to ask the user straightforward questions in context. The survey's in-context component is crucial since Usabilla gives us the option to choose a target sample, location, or event trigger for the survey, such as when a user discovers a new feature on a page.
Avantages
To gather user input, Usabilla may be added to website. The survey options for active and passive feedback are both used. The application is user-friendly and provides excellent reporting features. All levels of the business may easily access the analytics because they are displayed in a clear and appealing way. No of the user's degree of understanding, it is well designed and understandable.Moment of truth surveys provided us with information about the issues that users were having with our portal.
Inconvénients
It does not permit video responses or screen recordings of the user, unlike some of its rivals.It is mainly restricted to desktop browsers and apps rather than mobile web.Targeting certain javascript event triggers requires some engineering assistance.
Secteur d'activité : Services et technologies de l'information
Taille de l'entreprise : 51–200 employés
Logiciel utilisé

tous les jours

pendant

1 à 5 mois

Provenance de l'avis
---
Easy-to-use but extremely expensive
Overall experience is goot. It serves the purpose, it's really easy to implement and the surveys look really professional!
On the other hand, price with Salesforce integration is massive, designs are not that customisable and you need to stick to the predefined options to build the surveys.
Avantages
Getfeedback is a feedback platform owned by SurveyMonkey. It's main advantage from its competitors is that it has a native connector to integrate it to Salesforce.
It's very easy to set-up the connector and start collecting surveys from contacts and push the information collected to Salesforce.
Surveys are really easy to be set-up and the look great! Almost all the options are predefined options (Drag&Drop) so you cannot customise it 100% but don't need a technical profile to create them, which is great!
Inconvénients
Very expensive if you want to have the Salesforce connection.
Also I think the customisation of the surveys is a bit poor, there should be an option to edit CCS, HTML, etc.
Also a bit more of flexibility on the CTAs and the kind of questions you want to include in your surveys would be much appreciated!
Secteur d'activité : Services à la personne et aux familles
Taille de l'entreprise : 2–10 employés
Logiciel utilisé

tous les mois

pendant

plus d'un an

Provenance de l'avis
---
Great product, large price tag
This boosted our credibility as an organization to send professional looking forms. It ended up not being worth the cost after the price structure adjustment.
Avantages
This survey tool was so easy to use and created beautiful, highly functional, versatile feedback forms. I loved sending these out to our event and program participants to gather feedback and receive meaningful data.
My database coordinator loved that it was a native Salesforce app.
Inconvénients
The customer support was not great. The ability to send a link to the survey through my own work email/campaign blast was an additional cost, so I had to manually add all recipients and send the survey through the platform itself, which was time consuming and created an additional communications task for me.
We stopped using GetFeedback after they dramatically increased their pricing. It was not a justifiable cost for our organization when there are so many affordable survey options.
Pourquoi choisir GetFeedback 
Get Feedback is native to Salesforce and had higher functionality and was more attractive.
Secteur d'activité : Services et technologies de l'information
Taille de l'entreprise : 501–1 000 employés
Logiciel utilisé

Autre

pendant

6 à 12 mois

Provenance de l'avis
---
Best Survey tool for Salesforce
Avantages
GetFeedback allows us to create Survey very easily and quick. There is a ton of features like customized path for each question, multilanguage and the best : Salesforce Integration!
Salesforce Integration from GetFeedback is really easy to use and fully customizable. You can set-up everything from GetFeedback and reload easily integrations errors. Love it !
Inconvénients
GetFeedback business model is quite expensive, hard to afford for many businesses.
Pourquoi passer à GetFeedback
Full Salesforce Integration, solve most of all business cases