En savoir plus sur Buku
Your Digital showroom can be set up in minutes (even without punching all the inventory items in your shop) and you can choose to either take orders or just enquiries. BuKu is a super simple money manager & digital business intelligence tool to maintain income, expense, bills, bank/wallet/credit card/investments, party ledger, sale, purchase, staff advance/salary, inventory, invoice, quotation, challan, CRM, Loan EMI calculator, AMC, Payroll etc. BuKu provides Inventory & Billing service to create invoices, proforma, quotation. You can print bills or share on WhatsApp. BuKu is the best available online GST Billing (invoice maker), Accounting & Inventory Management App (Software). This bill book app helps you to send payment reminders & create invoice quickly. It is a very simple tally for mobile. In a single app you can do more than what you do with any other cashbook, money manager, or expense tracker app. It provides 20+ languages, 15+ insightful reports. It has a smart diary, Organizer, todo list, task & Reminder, Daily Planner. BuKu is integrated with thermal printer, and biometric attendance machine. It transforms your mobile phone into a Billing POS device or a collection device & print receipt. It is an all-rounder app to manage all aspects of your business in integration with accounting/bookkeeping, inventory billing, invoicing, quotation, profit centers, trial balance, Ledger and Journal Entries. BuKu is made as an operating system for small businesses anywhere in the world. It is like a small business ERP software. Some key features are : * Record Income/Cash Sales, Expense/Cash Purchase Entries * Online store where your customers can place an order by sending a photo of what they need. * Take Credit and payments to your suppliers * Split expenses * Send WhatsApp payment reminder to customers * Download and share PDF/Excel Report * Dashboard for consolidated summary * Staff attendance, Salary, Payroll * Loan EMI calculator Simple/compound/monthly interest, tenure and daily/monthly EMI * CRM to manage all your leads * supports Manufacturing Business Management, Bill Of Materials, finished Items, Wholesale & Retail Price It is a complete app for any small and medium business which is either physical goods based like grocery, medicine, electronics etc Or Services based like Architect / Doctor / Lawyer/ Insurance Advisor/ NBFC / Credit Co-op Society/ Micro Finance Companies etc. It is relevant for creators, influencers, gig workers to manage invoices, receivables, expenses, follow up etc.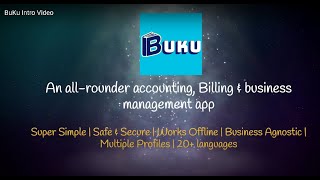 Buku est disponible en version gratuite et propose un essai gratuit. La version payante de Buku est disponible à partir de 1,00 $US/année.
À partir de :
1,00 $US/année
Version d'essai gratuite :
Oui
Produits similaires à Buku
Évaluation des fonctionnalités
Secteur d'activité : Produits alimentaires
Taille de l'entreprise : 2-10 employés
Logiciel utilisé

tous les jours

pendant

Essai gratuit

Provenance de l'avis
---
Can Be Very Good If We Remove Ads!
I was very humble to use this app because before this app I need to cut every single bill of my customers but when I get this app I removed my manual papers. The best thing about this app is you can run the report whenever you want, you can get a party statement within 10 seconds. I love it.
Avantages
Easy to use while you are under heavy pressure at work.
Inconvénients
Very Excellent in a row, we can use as far as least on our business.
Réponse de

SoftDew Tech

Thanks so much for your valuable feedback. It means a lot to us and motivates us to keep making it better. Regarding your comment about the ads, We have given a provision to remove ads by paying just 99 Rs for a year which is negligible. I hope you understand our compulsion to show ads as it is mostly a free app and we need to pay salaries and bills. Still this ad revenue is far far from enough for us to meet our expenses.

Répondu le 02/08/2022
Secteur d'activité : Comptabilité
Taille de l'entreprise : 2-10 employés
Logiciel utilisé

tous les jours

pendant

plus d'un an

Provenance de l'avis
---
Performance review
Great app for accounting
Avantages
It's was easy to use and faster processing
Inconvénients
Currency conversion and entry of figures
Réponse de

SoftDew Tech

Thanks very much for your feedback. We will work on currency conversion. Its been pending for a long time. The other point about entry of figures is not clear. Request if you could please send more details about it so that we can improve it.

Répondu le 05/08/2022
Secteur d'activité : Comptabilité
Taille de l'entreprise : Auto-entrepreneur
Logiciel utilisé

tous les jours

pendant

1 à 5 mois

Provenance de l'avis
---
I recommend the buku team and their support plus the interface of itself
It's a nice app for financial and business management
Avantages
The app does almost every transaction involved in accounting and financial management
Inconvénients
Some of the buku sservice teps are too complicated and duplicated
Secteur d'activité : Agriculture
Taille de l'entreprise : 2-10 employés
Logiciel utilisé

tous les jours

pendant

1 à 5 mois

Provenance de l'avis
---
Buku easy accounting system
Outsanding experience and it gives me liberty to control my accounts and I just enjoy using it hey it make my life easier
Avantages
Buku is an easy and understandable accounting software to use... It is so simple and has graphic illustrations to help guide you and by so it becomes very easy for you to do your records even if you don't hve an accounting or business management background or qualification.
Inconvénients
Buku has tax codes and I find these tax codes difficult to understand as I don't know which ones are income tax and which ones are vat or surtax. The other thing is struggling to enter old transactions because it accepts current transactions better and it takes you time to understand how to enter old transactions
Réponse de

SoftDew Tech

Thank you so much sir for your feedback. It means a lot to us. Your points about tax codes and old transactions is well noted and we will work on improving it.

Répondu le 26/07/2022
Secteur d'activité : Équipement et fournitures de bureau
Taille de l'entreprise : 2-10 employés
Logiciel utilisé

tous les jours

pendant

6 à 12 mois

Provenance de l'avis
---
Great service . . according to finical need . .easy to use
owsum
Avantages
that shows your value and motivate to do more that like profit and sales icons
Inconvénients
calendar addition and part and good graphics
Réponse de

SoftDew Tech

Thank you very much for your valuable feedback. Request you to please tell us more about the calendar and other it on our support email id. We are continuously working on improving all aspects of our app.

Répondu le 03/02/2022