En savoir plus sur Front
Front est un outil cloud de collaboration pour les PME. Front consolide différents canaux de communication tels que les comptes de messagerie, Facebook et Twitter tout en aidant les utilisateurs à automatiser les flux de travail de communication. Lorsqu'un message arrive dans Front, les utilisateurs ont la possibilité d'assigner le message à certains membres de leur équipe, de démarrer des conversations internes concernant le message au sein de l'application et de synchroniser leur travail avec d'autres logiciels comme Salesforce et GitHub. Les utilisateurs peuvent également définir des règles d'actions automatiques lorsque les messages reçus répondent à certaines conditions. Les autres fonctionnalités incluent des rappels, des modèles de réponse, la possibilité d'effectuer un suivi des conversations ainsi que des alertes en temps réel lorsqu'un autre utilisateur répond à un message. Front inclut également des outils analytiques et des outils de reporting qui permettent aux utilisateurs d'afficher des métriques pour diverses catégories comme les boîtes de réception, l'activité des utilisateurs, les balises et les clients. L'assistance est fournie par e-mail et à travers un forum d'aide en ligne. Front est disponible avec un abonnement par utilisateur et par mois, facturé chaque année.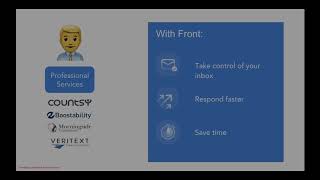 Front n'est pas disponible en version gratuite mais propose un essai gratuit. La version payante de Front est disponible à partir de 19,00 $US/année.
À partir de:
19,00 $US/année
Version d'essai gratuite :
Oui
Produits similaires à Front
Évaluation des fonctionnalités
Secteur d'activité: Transport routier/ferroviaire
Taille de l'entreprise: 11-50 employés
Logiciel utilisé

tous les jours

pendant

plus d'un an

Provenance de l'avis
---
Best email software ever
We have a shared inbox and we had trouble to avoid double answers and we had to forward the emails to each other or CC them on our replies so they could get informed of a conversation
Avantages
Sharing emails without having to forward them, being able to have internal conversations within an email, plenty of integrations
Inconvénients
When I need to speak to all the team, I have to create a discussion and add them all, one by one.
I'd rather have the possibility to @team within an email or a discussion to make sure they are all included.
I also whish we could find a slack inbox where we could find all the channels we have and avoid having to switch between the two softwares.
Secteur d'activité: Télécommunications
Taille de l'entreprise: 2-10 employés
Logiciel utilisé

tous les jours

pendant

plus de deux ans

Provenance de l'avis
---
Great Software, Terrible Billing and Support Policies
Avantages
It has a number of very good features for helping teams work together for sales and support. The abilities to share, assign, comment on, snooze and resurface issues makes zero inbox possible. Keeps clutter down and focus on what is most important at the moment. We really like the 'product'.
Inconvénients
-Front's Billing policies are absurd. If one signs up for an annual plan adding a user even if only temporarily for a day or a month while transitioning employees results in a charge for as much as a full year for that seat.
-During the sales process, you will experience significant personal, real-time communications. Once the sales process is over, don't hope to EVER be able to have a real-time conversation with anybody. Regardless of the severity or complexity of the issue, the only option is email that often takes days to get a response which can be a real problem when the platform is down since it is the only way to contact them. They had a chat ability for a while but turned it off apparently because customer expectations for a timely response were too high.
-Don't bother making suggestions. Although they have what appears to be a strong attitude towards involving customers, suggestions get a pat on the head and swept into a 'we'll pass that on' basket. No methods or interest to surface ideas and suggestions in a way that other end-users can expand upon or upvote/prioritize.
Secteur d'activité: Marketing et publicité
Taille de l'entreprise: 51-200 employés
Logiciel utilisé

tous les jours

pendant

6 à 12 mois

Provenance de l'avis
---
One of the worst email applications I've ever used
Avantages
The overall look of Front is simple, which is nice.
The snooze function on emails.
The support staff were friendly and quick to answer.
Inconvénients
My company switched my team over to Front after a couple people who shared an inbox had issues with managing it. I didn't have a shared inbox, but struggled with the lack of functionality for just personal inboxes.
There are so many missed functionalities to Front it made my job incredibly inefficient. I found myself spending more time doing my job which consists of heavy emailing because of Front problems.
1. No calendar. Cannot make appointments, set up meetings, etc.
2. Unable to edit messages in a previous thread. Say someone sends you a list of questions. You cannot just answer next to their list in the previous email and say "see below."
3. Archiving messages... when we first switched to Front, the management team used it for a few weeks to test it. When the team was instructed to switch within the next couple weeks, and BOOM thousands of emails that Front could not autoarchive. I had about 10 emails in Outlook during the switch. The front inbox had accumulated thousands over the course of the management test period. Front could only auto archive shared inboxes, not personal. I had to spend 20 minutes selecting 3000 emails to auto archive since it didn't sync correctly with Outlook.
4. Saving emails... you can't. You only have the option to send a link of the email which only works for those that also used front.
5. You cannot edit pasted tables in front, as far as formatting goes. No deletion of columns or making rows smaller.
6. No red flags or categorizing. Often I'd keep emails in Outlook and red flag them to remind myself to check on it before I leave. No flagging in Outlook. This is replaced by snoozing in Front to make it reappear later, but I do miss the flag option.
7. You archive something in someone else's inbox that they share with you... it archives in their inbox, too.
8. No options to make folders. You want to move emails to a folder to refer to later? You cannot.
I could go on and on and ended up emailing a list of 18 problems after using Front for the first 3 months to management who sent to Front support. The responses were basically they hope to rollout that feature one day. Which obviously doesn't help now.
Secteur d'activité: Télécommunications
Taille de l'entreprise: 1 001-5 000 employés
Logiciel utilisé

tous les jours

pendant

6 à 12 mois

Provenance de l'avis
---
Collaboration Function
Overall, I really enjoy using Front on a daily basis, I have clear visibility on my communication with my customers and my team's interactions also.
Avantages
I love that we all have access to see communication between our customers and our sales representatives. Everything is documented and in easy access. There is no way you can miss any important details in a sales process.
Inconvénients
At times, Front may take a while to send me a notification when I have received an update from a customer.
Secteur d'activité: Services et technologies de l'information
Taille de l'entreprise: 51-200 employés
Logiciel utilisé

tous les jours

pendant

plus de deux ans

Provenance de l'avis
---
Front is the best Shared Inbox for collaborative customer support
Front truly is a dynamic tool for teams looking to improve their internal workflows for external-facing communications. There is some fantastic automation that is built into the platform that has helped streamline and build in consistency for external client-facing communication.
Avantages
My favorite functionality would be the collaborative chat tools amongst team members for email threads. Its an amazing tool.
Inconvénients
The thing I struggled the most to adapt to was the Tags functionality. It is not something we use daily but had a slight learning curve for me and my team.