En savoir plus sur Office Practicum
Office Practicum by Connexin Software was built by physicians to provide an integrated electronic health record (EHR) and practice management solution. The system offers appointment scheduling, clinical documentation management, comprehensive exam room functionality and billing. It's noteworthy how many aspects of the system are geared towards the treatment of children, including several growth chart options, such as Down's Syndrome and preemie-specific growth curves. Templates are included for school and camp forms, with over 175 templates for "sick visits." Vaccine forecasting allows doctors to keep track of when vaccines are due for their patients, with prompts and notifications to schedule appointments in advance. Office Practicum has been used for more than 20 years in small to large medical practices, as well as integrated health systems. Office Practicum has received several awards, including Complete EHR Certification for 2014 Meaningful Use, 2011 PCMH Prevalidation by NCQA, and the Surescripts White Coat of Quality in 2011 and 2013.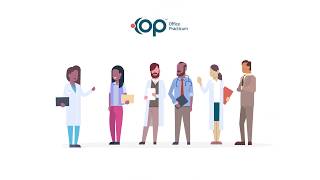 Office Practicum n'est pas disponible en version gratuite et ne propose pas d'essai gratuit.
Version d'essai gratuite :
Non
Produits similaires à Office Practicum
Évaluation des fonctionnalités
Secteur d'activité : Logiciels
Taille de l'entreprise : 11-50 employés
Logiciel utilisé

toutes les semaines

pendant

plus de deux ans

Provenance de l'avis
---
"This EMR was designed by a pediatrician, and works beautifully for the way pediatricians...
Avantages
Simply the best and most comprehensive features available anywhere, OP  comes loaded with over 200 pediatric-specific "sick visit' templates, immunization forecasting, electronic school and camp forms along with pediatric developmental assessments, surveys and disease-specific action plans.
I've used OP for 16 years, and can say with confidence that  it is designed specifically for pediatrics , with tools pediatricians need to both keep kids healthy and improve quality of care."
Inconvénients
Hands down the best of the best for pediatric offices. OP is so user friendly and works around your practice.
Secteur d'activité : Cabinets médicaux
Taille de l'entreprise : 2-10 employés
Logiciel utilisé

tous les jours

pendant

plus de deux ans

Provenance de l'avis
---
Well Thought Out EMR
Overall, Office Practicum works great for our office. We have been able to streamline our clinical and office processes and actively engage our patients. This has resulted in increased visits to our office which definitely affects the bottom line. [SENSITIVE CONTENT HIDDEN] actively engages OP users and helps us with industry questions and updates to OP. The Managers ListServ has also been a wealth of information and finally OP has one of the best customer service teams I have worked with. They are knowledgeable, easy to reach and can resolve questions/solve problems in one contact. I enjoy working with this product, and know you will too!
Avantages
This EMR is very user friendly and helped us streamline our work processes. The layout is very easy to navigate and like everything from the charting to the billing functions, including the clearinghouse and patient bill pay to the the referral process, the integrated lab and immunization registry capabilities and the ability to engage our patients/parents in their care via the Patient Portal. I also really like the vaccine management capabilities. This has helped us manage our vaccine inventory. I love the robust reporting capabilities and the ability to do appointment recalls. Everything is pretty seamless and helps us focus on patient care and engaging our patients.
Inconvénients
The thing I liked least which I imagine is the case with most EMRs, is the inability to be able to communicate electronically with other providers who do not have a Direct e-mail address.
Pourquoi choisir Office Practicum 
Needed more functionality and liked that Office Practicum was Pediatric Specific and had a well thought out product with great features
Pourquoi passer à Office Practicum
It was Pediatric specific and we liked the functionality and the layout better and that it included functionality that would help us document and meet Meaningful Use.
Secteur d'activité : Cabinets médicaux
Taille de l'entreprise : 2-10 employés
Logiciel utilisé

tous les jours

pendant

plus de deux ans

Provenance de l'avis
---
Perfect for those who are entranced with fussing with bells and whistles
While my own program was 90% designed to be useful and friendly for me, and 10% useful for outsiders, I realized that OP was designed to be 1/3 useful to me, 1/3 useful to the bean counters, and 1/3 useful to lawyers and government statisticians., and consequently, it is simply not very user friendly.
When there is a complex issue to be documented in the medical record, I elect not to try to use a template, but rather sit down at my desk and use Dragon Naturally Speaking to write a lengthy text note describing what is really important for my patient. I use a generic lab requisition for the several labs to which I may send patients, and I use the X-ray requisitions provided by the several radiology groups when I need imaging rather than trying to use the requisitions internal to OP. It is simpler and faster.
Avantages
When I first purchased a license for an older version, I noted that the pediatrician/originator was married to the designer/programmer, and having engaged in an emr design process years earlier assumed that there would be a logical, fluid flow to the program. It was OK, but not close to what I had designed years before for myself. As I became more aware of the short-comings and complexity of an emr that would fulfill the fed's meaningful use criteria, I became frustrated. Well child templates for younger kids do work well, but data entry for anything not routine is cumbersome.
Inconvénients
The program in its many subsequent iterations, tweaks and upgrades has become gratuitously complex and fussy with rather erratic logical flow, non-ergonomic positioning of buttons that could/should have been effectively arranged and color coded, unnecessary shifting of positions and redesigns of working fields and enough ongoing problems to require such frequent calls to OP help that we are now on a first name basis.
Secteur d'activité : Cabinets médicaux
Taille de l'entreprise : 51-200 employés
Logiciel utilisé

tous les jours

pendant

plus de deux ans

Provenance de l'avis
---
BILLING MANAGER
THE SOFTWARE IS VERY USER FRIENDLY BUT OF EVEN GREATER IMPORTENCE IS THE STAFF. THEY ARE ALWAYS FRIENDLY, AMAZINGLY CAPABLE & READY TO HELP! THAT IF OF UTMOST IMPORTANCE TO ME WITH ANY COMPANY/PERSON WITH WHOM I DEAL. I HIGHLY RECOMMEND OFFICE PRACTICUM TO ANY MEDICAL PRACTICE LOOKING FOR A USER FRIENDLY SYSTEM THAT IS EASY TO CONVERT (OP HANDLED THAT, AS WELL!), FEATURES ARE VERY WELL LAID OUT & AN ALWAYS-AT-THE-READY CUSTOMER SERVICE DEPARTMENT!
Avantages
REPORTS ARE EXCELLENT & ALWAYS EVOLVING-THE IMPLEMENTATION TEAM ACTUALLY LISTENS & TAKES STOCK IN USERS CONCERNS & NEEDS & WILL WORK TO IMPROVE THE FEATURE! ALL REPS ARE EXCEPTIONALLY WELL TRAINED & CAN USUSALLY SOLVE ANY ISSUE WITH JUST A PHONE CALL! THEY TAKE THE TIME TO ACCESS THE SYSTEM THRU A BUILT-IN PORTAL TO SEE THE PROBLEM WE'RE HAVING & SHOW US HOW TO FIX! OP HAS CUSTOMIZED SO MANY FEATURES SPECIFICALLY FOR OUR PRACTICE & THAT MAKES INCOME INCREASE! ALWAYS THE BOTTOM LINE!
Inconvénients
COULD CONTAIN A BETTER ACCOUNTING SYSTEM. WHILE IT IS EASY TO ENTER CHARGES & POST INSURANCE & PATIENT PAYMENTS IT IS NOT QUICK BOOKS!! THE DATA IS ALWAYS THERE & CORRECT BUT SOMETIMES THE METHODS ARE 'CLUNKY'. YOU JUST HAVE TO KNOW WHAT TO LOOK FOR.
Secteur d'activité : Cabinets médicaux
Taille de l'entreprise : 11-50 employés
Logiciel utilisé

tous les jours

pendant

plus de deux ans

Provenance de l'avis
---
Office Practicum delivers
This overall is a great program.
Avantages
This is a pediatric software. The designers have built-in designs that are tailored to meet the demands of many pediatric offices. As times and requirements from multiple agencies change, the designers are quick to meet these new challenges. It is easy to use. We have trained new doctors, nurses, front office with no problems. It also has ways to keep confidentiality matters under control. We are able to do everything that we need to do on the software. The designers are prompt to handle problems and prompt to respond to new requirements including requirements, it seems, from the state level for each of the states. We also use the program for billing purposes, and have had no problems with the billing end of things. You can have your own design features added easily and make your own templates for almost everything. Plus, making templates is very user-friendly
Inconvénients
Some of the things we need to do on the software comes at an additional price. For example, if you want to be storing on the cloud or you want the software to send emails of upcoming appointments to patients. Sometimes there are a lot of clicks that seem could be decreased. Extra clicks is time consuming. There are other things that could improve workflow as well which would also improve time consumption.