En savoir plus sur CounSol.com
CounSol.com offers a cloud-based practice management solution that includes management tools for electronic medical records (EMR) such as client notes, insurance claims, appointments and billing. It is best suited for solo practitioners and is HIPAA compliant. Users can configure a client web portal that allows patients to view emails from users' practices, schedule appointments, pay bills and write in a patient journal. Clients can also access online video and chat sessions with their practitioner. Clients can also receive automated appointment reminders via email, text message or phone recording. CounSol.com also offers configurable client forms, practice terms and policy agreements, which clients can fill out online. Billing and invoicing tools support integrations with Stripe, Braintree, BluePay, Forte, Payscape and Authorize. Users can also sync iCalendar with the calendar feature to help manage scheduling. Pricing is per user per month. Support includes an account manager, email and phone support.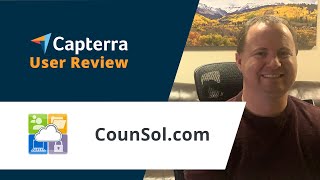 CounSol.com n'est pas disponible en version gratuite mais propose un essai gratuit. La version payante de CounSol.com est disponible à partir de 49,95 $US/mois.
À partir de :
49,95 $US/mois
Prix :
Standard - $49.95/month (Best for practices that do not accept insurance) Standard Plus - $59.95/month (Best for private practices that accept insurance) Premium - $64.95/month (Offer online video and chat sessions, don't accept insurance) Premium Plus - $69.95/month (Accept insurance and offer online video and chat sessions)
Version d'essai gratuite :
Oui
Produits similaires à CounSol.com
Évaluation des fonctionnalités
Secteur d'activité : Logistique et chaîne d'approvisionnement
Taille de l'entreprise : 2-10 employés
Logiciel utilisé

toutes les semaines

pendant

plus d'un an

Provenance de l'avis
---
Un logiciel agréable pour travailler
Sur mon lieu de travail je suis très satisfait du logiciel. Je le recommande fortement à tout personne qui travaille pour son compte ou pour une entreprise.
Avantages
J'aime son interface conviviale.
Le portail client est facile à utiliser et les rappels par e-mail et par SMS sont standards ;
L'utilisation du personnel et des facturiers est standard aussi;
Un autre avantage est que le contrat est mensuel.
Inconvénients
il peut parfois y avoir beaucoup de clics sur un bouton (cela est à améliorer)
Secteur d'activité : Psychologie
Taille de l'entreprise : 2-10 employés
Logiciel utilisé

tous les jours

pendant

plus de deux ans

Provenance de l'avis
---
Small Group Private Practice LIFESAVER
Overall, I am staying with CounSol. It allows me to have a virtually paperless practice and automates things that save me both time and money such as self scheduling and appointment reminders. My client report they like the portal and find it relatively easy to use. Although it is customizable, it again is not the prettiest looking thing, although I haven't had any client complaints about this.
Avantages
I love almost everything about CounSol! I used it when I was a solo practitioner and have continued as my company has grown into a group practice.
What I like:
- Electronic intake forms as well as all other forms
- FULLY customizable forms including progress notes
- Client self scheduling/ Client portal
- Online payments
- Calendar sync with phone
- Secure messaging- staff and clients
- Quick claim submission and ERA reconciliation
- Customer service- its amazing really!!
- Generally accurate monthly payment reports
- Appointment reminders via text, email and phone
- I also love that they don't tack on costs for features- it is included in the plan you pick!
Inconvénients
I have been with CounSol long enough that I have been able to see them grow, including them implementing suggestions I have personally made for the EHR. That said there are a few things I still don't like:
- the interface itself is not as pretty as some of the other ones out there
- there can be a lot of button clicking sometimes (this has improved)
- my staff report they do not find it intuitive to use
- the way the payment report screen handles refunds (however, if you know how it does, then it is easy to account for- just more button clicking)
- Use of Office Ally for clearinghouse, but bc of changes on the part of Office Ally not CounSol
- They don't have an app and I dislike the mobile view
- Not a monthly all clinician view calendar, but there is a weekly one, but it doesn't show openings, just booked appointments
Pourquoi passer à CounSol.com
CounSol has the features I need to be truly paperless, has secure messaging and doesn't add on costs for features!
Secteur d'activité : Psychologie
Taille de l'entreprise : Auto-entrepreneur
Logiciel utilisé

tous les jours

pendant

1 à 5 mois

Provenance de l'avis
---
Excellent program and customer service!!!!
The program works amazingly, and I have referred several colleagues already, but the customer service is outstanding as well. I am certain you can find programs that do comparable things, but you will not find another program that has customer service like Counsol.com. I could not have done this on my own with the new learner curves I had just going out on my own in new practice without the help of Jonathan, my support person with Counsol.com. So, between the ease of the program, all the time this program saves me to actually enjoy my free time again as sole provider and owner of my practice and the absolute outstanding customer service, I highly recommend this program to anyone in field!
Avantages
For someone who runs their own practice by themselves, this has made my job so much easier!!! It's like having a secretary without having one and has given me my free time back to actually enjoy my days off. The clients being able to schedule themselves and connecting my ERA's and Square one accounts is amazing. In just a few short clicks of the mouse, all my payments are registered, it's fantastic. As well as the clients being able to access the portal and enter all their own information makes setting up new clients so much easier!
Inconvénients
Nothing, except I wish I would have started with this program versus having to transfer all my clients two years into my practice.
Pourquoi choisir CounSol.com 
Therabill was not user friendly for appointments, scheduling, paperwork etc. and it was also way overpriced for not being user friendly and somewhat archaic.
Pourquoi passer à CounSol.com
Customer Service was way better with Counsol.com and I like the ease of use better with Counsol.com
Secteur d'activité : Hôpitaux et soins de santé
Taille de l'entreprise : Auto-entrepreneur
Logiciel utilisé

tous les jours

pendant

6 à 12 mois

Provenance de l'avis
---
Lots of positives and can be a much better product with changes
My notes are getting done quicker bc it's easier to get them done, I've realized although it's cheaper and there are some features that are better than my old product, it's not as professional as my old product and doesn't offer as many resources for measures that I would use as a LCSW
Avantages
The invoice feature, the ease of calendar, birthday emails,
Inconvénients
The intake measures aren't pulled into the initial intake note. This doesn't create a professional looking intake note like the other system I used. No ability to write a formal short note about a phone session, or missed sessions when you void the invoice you can't document it. Can't send attachments in an email via this site that I don't want to make available to all clients. The billing feature pages are very confusing and can be very overwhelming. The measures offered are limited and personally I don't want to have to input them and/or recreate them and it doesn't allow me to send specific measures to individual clients. It's like a one size fits all with this product.
Secteur d'activité : Psychologie
Taille de l'entreprise : Auto-entrepreneur
Logiciel utilisé

tous les jours

pendant

plus d'un an

Provenance de l'avis
---
Tammy's Review of CounSol.com
Avantages
Overall this has been a great product to help with the backend of my private practice in keeping track of income and number of sessions. It provides texts, emails and alerts for scheduling which is invaluable to keeping appointments full and it provides professional looking invoices for clients to use for out of pocket reimbursement. I also like that client credit cards are stored in the system for ease of payment.
Inconvénients
As I am using this to manage my entire practice, I think it would be beneficial to have a more robust reporting options with regard to the financial features. It would be nice to be able to print out sales by month, quarter or year. If there is this mechanism in place already, I have not found it.
It would also be helpful to have a smart feature when typing notes into the system that autocorrects. It is frustrating to be typing a word in and the system does not recognize it to give suggestions for the correct way to spell the word.
When client's credit card expires, it is a pain that a new card has to be keyed into the system, that a simple expiration change can not be done instead, as most keep the same credit card number.
Pourquoi passer à CounSol.com
I was testing CounSol.com in March of 2020 because it had an online tele-health feature when covid hit. Because everything switched to remote, I was ready to meet with clients online because the feature was already a part of the program. So I decided to stick with CounSol.com and feel it has been a good decision for my company.