En savoir plus sur CounSol.com
CounSol.com offers a cloud-based practice management solution that includes management tools for electronic medical records (EMR) such as client notes, insurance claims, appointments and billing. It is best suited for solo practitioners and is HIPAA compliant. Users can configure a client web portal that allows patients to view emails from users' practices, schedule appointments, pay bills and write in a patient journal. Clients can also access online video and chat sessions with their practitioner. Clients can also receive automated appointment reminders via email, text message or phone recording. CounSol.com also offers configurable client forms, practice terms and policy agreements, which clients can fill out online. Billing and invoicing tools support integrations with Stripe, Braintree, BluePay, Forte, Payscape and Authorize. Users can also sync iCalendar with the calendar feature to help manage scheduling. Pricing is per user per month. Support includes an account manager, email and phone support.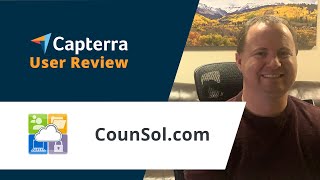 CounSol.com n'est pas disponible en version gratuite mais propose un essai gratuit. La version payante de CounSol.com est disponible à partir de 44,95 $US/mois.
À partir de:
44,95 $US/mois
Version d'essai gratuite :
Oui
Produits similaires à CounSol.com
Évaluation des fonctionnalités
Secteur d'activité: Psychologie
Taille de l'entreprise: 2-10 employés
Utilisé

tous les jours

pendant

plus de deux ans

Provenance de l'avis
---
Small Group Private Practice LIFESAVER
Overall, I am staying with CounSol. It allows me to have a virtually paperless practice and automates things that save me both time and money such as self scheduling and appointment reminders. My client report they like the portal and find it relatively easy to use. Although it is customizable, it again is not the prettiest looking thing, although I haven't had any client complaints about this.
Avantages
I love almost everything about CounSol! I used it when I was a solo practitioner and have continued as my company has grown into a group practice.
What I like:
- Electronic intake forms as well as all other forms
- FULLY customizable forms including progress notes
- Client self scheduling/ Client portal
- Online payments
- Calendar sync with phone
- Secure messaging- staff and clients
- Quick claim submission and ERA reconciliation
- Customer service- its amazing really!!
- Generally accurate monthly payment reports
- Appointment reminders via text, email and phone
- I also love that they don't tack on costs for features- it is included in the plan you pick!
Inconvénients
I have been with CounSol long enough that I have been able to see them grow, including them implementing suggestions I have personally made for the EHR. That said there are a few things I still don't like:
- the interface itself is not as pretty as some of the other ones out there
- there can be a lot of button clicking sometimes (this has improved)
- my staff report they do not find it intuitive to use
- the way the payment report screen handles refunds (however, if you know how it does, then it is easy to account for- just more button clicking)
- Use of Office Ally for clearinghouse, but bc of changes on the part of Office Ally not CounSol
- They don't have an app and I dislike the mobile view
- Not a monthly all clinician view calendar, but there is a weekly one, but it doesn't show openings, just booked appointments
Secteur d'activité: Psychologie
Taille de l'entreprise: 2-10 employés
Utilisé

tous les jours

pendant

plus de deux ans

Provenance de l'avis
---
One of the BEST!
Would still be with them if we didn't need E-prescribe. We brought in a nurse practitioner and needed to be able to document this information. I love them and would recommend any new start up company to try their services!
Avantages
User friendly interface; client portal easy to use; video capabilities; email and text reminders are standard not extra; staff and biller use is standard; contract is month-to-month and so many other good features! They provide more than one merchant servicer. We used Square and we had no problems. The success coach is amazing always available to assist.
Inconvénients
Billing piece can be a little tricky but not too much that they won't help you with it. You will learn a lot about billing using their system.
Secteur d'activité: Hôpitaux et soins de santé
Taille de l'entreprise: Auto-entrepreneur
Utilisé

tous les jours

pendant

6 à 12 mois

Provenance de l'avis
---
Lots of positives and can be a much better product with changes
My notes are getting done quicker bc it's easier to get them done, I've realized although it's cheaper and there are some features that are better than my old product, it's not as professional as my old product and doesn't offer as many resources for measures that I would use as a LCSW
Avantages
The invoice feature, the ease of calendar, birthday emails,
Inconvénients
The intake measures aren't pulled into the initial intake note. This doesn't create a professional looking intake note like the other system I used. No ability to write a formal short note about a phone session, or missed sessions when you void the invoice you can't document it. Can't send attachments in an email via this site that I don't want to make available to all clients. The billing feature pages are very confusing and can be very overwhelming. The measures offered are limited and personally I don't want to have to input them and/or recreate them and it doesn't allow me to send specific measures to individual clients. It's like a one size fits all with this product.
Secteur d'activité: Psychologie
Taille de l'entreprise: Auto-entrepreneur
Utilisé

tous les jours

pendant

plus de deux ans

Provenance de l'avis
---
Excellent Customer Service but Things Need to be Improved
I am staying because it is very difficult to leave and learn a new system. Over the past 5 years, I have tried 4 and this one had the least awful things about it. However, there are several key things that really need to be improved in the accounting system that are not getting addressed and I have brought them up multiple times. There is no good reason for invoices to have different balances depending on which screen you are looking at. I have used them exclusively for 2 years and I have yet to get all of my client accounts to balance out. This is frustrating. I also keep a separate spreadsheet because I do not find the system to be 100% reliable.
Avantages
Scheduling works well. Most of my clients are technologically savvy and can schedule themselves. I also appreciate that I have a very knowledgeable, helpful, accessible, dedicated account manager. The help is not delivered through a bot or to a team where you receive minimal assistance, like some of the top rated software companies provide.
Inconvénients
The accounting portion of this software is very difficult to use. There are hidden payments and transactions that you have to go hunting for and sometimes, invoice amounts can appear different on different screens. I cannot begin to count the number of hours I have labored over the accounts, trying to get them to balance.
Secteur d'activité: Psychologie
Taille de l'entreprise: Auto-entrepreneur
Utilisé

tous les jours

pendant

plus de deux ans

Provenance de l'avis
---
Everything you need for your private practice EHR
This program allowed me to go completely online and paperless. I had no billing experience, and was able to learn how to bill in minutes a week and track claims easily - saving me a lot of money in lost time as well as lost payments. The electronic record is great and can be downloaded with a password if you need to send records to someone.
Avantages
Counsol is the most complete, user friendly and affordable EHR I found available, created for the therapist who is also does billing, instead of expecting you to have a separate billing dept. You can do everything, from clients filling out intake forms, scheduling, appt. reminders, video sessions, and it integrates with the billing invoices for easy submission. All the forms, notes, treatment plans and ability to upload any documents you need is right there for every client. Plus the cost is flat rate, no hidden extra fees for anything and will never go up.
Inconvénients
Over the years, as I have found I needed something, the Counsol team has worked to add and integrate it to the program. For instance, now the client can upload insurance cards, and send attachments, but not yet their picture ID, so there is a little room for improvement. There is no app, but the site does work on phones, its's just not as smooth as it could be. The internal email is HIPAA compliant, but the client has to be logged in.