En savoir plus sur Square Payroll
Square Payroll is a full-service payroll solution that helps small businesses pay employees through online payroll management and handle payroll tax. It can be integrated with a variety of payment processing tools, accounting software, and employee management systems including Square POS, QuickBooks, and more, and offers tools for automated tax filing, payroll process automation, benefits management such as health insurance and more. The online payroll service allows businesses to track workers' compensation and ensure payroll compliance at all times. Square Payroll offers functionality to manage various employee types including salaried employees, hourly employees and contractors. The running payroll functionality allows businesses to pay employees and contractors based on their hours worked during a defined pay period, with data automatically pulled from the Square Point of Sale app. Square Payroll also automatically calculates paid time off, hours worked and total labor cost for each employee. Square Payroll also helps businesses automatically file taxes including new hire reports, W-2 forms and federal and state payroll taxes. Other key features include integrated timecards, employee benefits offerings and direct deposits. Square Payroll pricing is based on the type and number of active employees a business has. The Square Payroll Android app and iOS app provide users with on-the-go payroll management with features such as sick leave tracking, vacation tracking, payroll calculation, timecard access, access to pay stubs, automatic payroll setup, payroll processing and more.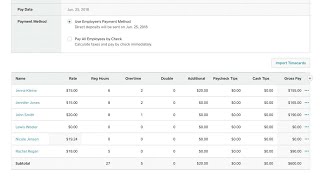 Square Payroll n'est pas disponible en version gratuite mais propose un essai gratuit. La version payante de Square Payroll est disponible à partir de 40,00 $US/mois.
À partir de :
40,00 $US/mois
Version d'essai gratuite :
Oui
Produits similaires à Square Payroll
Évaluation des fonctionnalités
Secteur d'activité : Divertissement
Taille de l'entreprise : 2-10 employés
Logiciel utilisé

tous les mois

pendant

plus de deux ans

Provenance de l'avis
---
Square money
Avantages
The software makes it simple to process payroll payments. The app is easy to connect to other bank accounts to deposit money into.
Inconvénients
The software is outdated to all the new updated apps that have innovated with the new modern technology.
Secteur d'activité : Construction
Taille de l'entreprise : 501-1 000 employés
Logiciel utilisé

toutes les semaines

pendant

6 à 12 mois

Provenance de l'avis
---
Decent Service
Avantages
Square has become the industry standard for small business financial transactions and pairing square payroll within your small business feels correct despite any issues within the software.
Inconvénients
Payroll can be difficult to set up/activate for a non tech savvy user.
Secteur d'activité : Art/artisanat
Taille de l'entreprise : 2-10 employés
Logiciel utilisé

tous les jours

pendant

plus d'un an

Provenance de l'avis
---
The Perfect Solution for a Small Business Owner
We could not be happier with the Value of Square Payroll for our small business. It was exactly what our business needed and we love it. We were very nervous about taxes and getting folks paid correctly not being business owners before. Square Payroll made it incredibly easy to get setup, and then they just take care of it all. Then we get nice reports to get to my accountant, and all of the information you may need you can dowload at any time. It's an incredible value.
Avantages
The ease of use and setup of Square Payroll was incredible. It honestly is a plug and play type of software. Being a new small business owner Square Payroll was exactly what we were looking for. It's also great to have a one stop shop. We use Square Point of Sale in our shop, and to be able to get all of the sales information as well as payroll information from the same place is incredibly convenient.
Inconvénients
Our small business runs payroll once a month. We wanted to run payroll on the 15th of each month. Changing/customizing the date on the monthly payroll was not an option (monthly runs on the 1st of each month). Not a show stopper by any means.
Pourquoi passer à Square Payroll
We went with Square Payroll for the value and also already using square for our Point of Sale system it made it super convenient to have all in one place.
Secteur d'activité : Cosmétiques
Taille de l'entreprise : 2-10 employés
Logiciel utilisé

tous les jours

pendant

plus d'un an

Provenance de l'avis
---
Payroll Basics Covered
Other than the additional Square account, I am/was super happy with the software. Perfect for startups and small businesses. I highly recommend!
Avantages
I loved that this was plug and play ready, user friendly and made payroll less of a headache. Tracking hours, schedules and pay was extremely easy and they handled all the government paperwork after set up. Reminders were super helpful and I never missed payroll deadlines.
Inconvénients
I didn't like that I couldn't activate previously canceled plans. Since the pandemic caused me to temporarily shutdown I had to cancel the service to save the monthly fee. I was super disappointed that I had to create a NEW Square account just to get access to the plan again. In doing so, I had two locations, two Square accounts and double the headache of managing. Honestly this was one the biggest reasons I decided to switch to Zenoti to streamline everything into one account and make management easier.
Secteur d'activité : Cosmétiques
Taille de l'entreprise : 2-10 employés
Logiciel utilisé

tous les jours

pendant

6 à 12 mois

Provenance de l'avis
---
Effecient and Timely
My overall experience with payroll has been amazing. Even when my account was compromised, Square still made sure that my employees got paid.
Avantages
Square is the most effecient product that I have ever used. I can make my appointments, and the fact that my team can clock in and out, make appointments, and get paid in a timely manner, leaves alot of the stress off of me as the owner. I can work in one program, I don't believe that Square is missing any features as far as payroll is concerned. Payroll pays my taxes for me and it pays it in a timely fashion.
Inconvénients
Nothing bad that I can really say about square payroll.
Pourquoi choisir Square Payroll 
I heard that this product was better
Pourquoi passer à Square Payroll
It gave me everything they had but at a more economical price.