En savoir plus sur MailBoxValidator
MailboxValidator fournit un service de validation d'e-mails gratuit et fiable pour réduire les rebonds d'e-mails et augmenter la réputation d'expéditeur des spécialistes du marketing. Il vérifie les e-mails invalides, les e-mails gratuits, les e-mails jetables, les e-mails basés sur les rôles, les serveurs de messagerie, etc. Il existe deux façons d'effectuer la validation des e-mails, à savoir la validation des e-mails en masse et la validation des e-mails de l'API. Pour la validation en bloc, les utilisateurs peuvent télécharger leurs listes de diffusion au format texte ou CSV et attendre simplement les résultats de la validation par courrier électronique. Pour la validation des e-mails API, les utilisateurs peuvent s'inscrire pour obtenir une clé API et l'intégrer aux principales plates-formes de marketing par e-mail telles que Zapier, Integromat, MailChimp, MooSend, etc., afin de rationaliser le flux de travail des utilisateurs.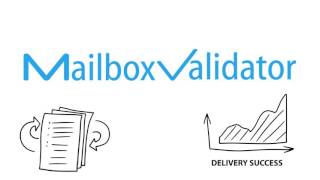 MailBoxValidator est disponible en version gratuite et propose un essai gratuit.
Version d'essai gratuite :
Oui
Produits similaires à MailBoxValidator
Évaluation des fonctionnalités
Secteur d'activité : Logiciels
Taille de l'entreprise : 11–50 employés
Logiciel utilisé

Autre

pendant

plus de deux ans

Provenance de l'avis
---
A Must for Email Marketing
I've used Mailbox Validator a few times over the last few years and have been very happy with it. It's certainly saved me a few angry emails from my Marketing Automation provider thanks to an improved bounce rate when sending to stale lists. I'd recommend this tool for anyone doing some list cleanup - and would also suggest pairing that with an email warm-up program to ensure that the lists don't go stale again!
Avantages
Mailbox Validator (MV) is a fantastic way to ensure that the email addresses in your email marketing lists are legitimate. If you have a list of subscribers that you haven't touched in a while, Mailbox Validator allows you to reduce the number of email bounces that you get by filtering out emails that no longer exist (for example, if someone leaves a company). This ensures that your email server's IP address maintains a great sender reputation, giving your emails much better deliverability.
MV is surprisingly easy to use. You just grab your list from your email marketing or marketing automation platform, run it through the software, and filter out the junk. Then re-upload the cleaned list back into your system.
Inconvénients
While Mailbox Validator does a good job, keep in mind that won't give you a 100% cleaned list. The first time you send emails to your cleaned list, you might still have a number of bounces - in fact, you might still have a higher-than average bounce rate for your email program depending on how stale your list was. However, by running your list through MV, you will strip out the majority of bounces, ensuring that your email service provider doesn't come after you with a pitchfork.
I do wish that MV formatted the data output a little better. The columns that it appends to your data file are somewhat cryptic and can, at times, be hard to know which columns I should take into consideration when determining which emails to strip out of my list. I'd like to see them make the column descriptions more user-friendly, and perhaps provide a bit more documentation to inform the user on which fields are the most important to consider when deciding whether an email should be removed from your list.
Logiciel utilisé

tous les jours

pendant

1 à 5 mois

Provenance de l'avis
---
Impressed and so good. I only wish I would have known about them sooner.
Avantages
As a small business owner time itself is an uphill battle that at times seems like you will never reach the summit or reach the lushus valley of green at the basin... Well, when your goal is to inform new prospects to not just increase your own business but to help other business owners as well, email has been a major marketing channel because let's face it, who still uses stamps anymore? When I was faced with over 45,000 emails accumulating over the years, it seems like an impossible challenge that would take approximately two and a half months to complete and that's working full days, we simply couldn't afford that much time away from the day to day business all to maintain a balance ourselves. We tried a handful of email valuation companies far and wide and none of them seemed reliable and overpriced to say the least, then we spoke with MailBoxValidators and we not only meet some genuine people but they got out job done in no time and it value outweighed the cost ten-fold. Thank you
Inconvénients
None, stellar business and we will be a life long customer. Maybe the only suggestion would be to act a little meaner? Because they are just way to nice and genuine it felt like we've been doing business for decaded.
Logiciel utilisé

Autre

pendant

1 à 5 mois

Provenance de l'avis
---
Tried it against known good email addresses (gmail domain) and it failed, stopped using it
None so far
Avantages
The idea is great as I mistype emails all the time. Thought was that I would validate these after entered into my software.
Inconvénients
It is not reliable to use.
Secteur d'activité : Recrutement
Taille de l'entreprise : 2–10 employés
Logiciel utilisé

tous les jours

pendant

plus de deux ans

Provenance de l'avis
---
MailBox Validator is essential for marketing
Avantages
I use Mailbox Validator on several of my Zapier automation funnels. Everyone knows that bounces, fake addresses and spam emails poorly affect delivery of newsletters and marketing campaigns. Mailbox validator filters out these addresses ensuring only good quality contacts are added to my mailing list.
Inconvénients
I would like to see it more prominent in the market. I was unaware of their API until doing this review. That could come in handy for other projects I am working on.
Secteur d'activité : Marketing et publicité
Taille de l'entreprise : 2–10 employés
Logiciel utilisé

tous les mois

pendant

1 à 5 mois

Provenance de l'avis
---
Mailboxvalidator: Premium email validation for businesses
The overall is review of Mailboxvalidator is good and is the best option for big businesses to maintan there email list.
Avantages
MailBoxValidator has a simple and easy to use dashboard which gives us premium email validation results. It has a single email validator as well as a bulk email validator. Mailboxvalidator validator validates emails by checking the email's syntax, domain existence, mx record, and server status. It also checks weather the email is Role, Free , Disposable, Greylisted, Suppressed, High risk or a Catch-all email. 16 different email marketing services can be integrated with the validator. It provides single email validation, disposable, and a free email validation API. The overall is review of Mailboxvalidator is good and is the best option for businesses to maintane there email list. It has free plan which can be used to validate 100 email addresses by just signing up with entering any payment details.
Inconvénients
MailBoxValidator has costly compared to other email validation services. It though has a free plan, but to validate email list of more then 100 email addresses you need to buy its paid plans. The paid plans starts from $19.95 which can be used to validate email list of 1000 email addresses, and takes up to 4 hours to complete the validation. For free plan users their is only support through a contact forum, and for paid users their is a email support (they also have Knowledge Base resources).