En savoir plus sur iClassPro
iClassPro is a cloud-based business management solution for midsize and large studios with features such as class management, attendance management, staff scheduling and online payments. iClassPro features class scheduling, which allows students to schedule their classes online. When a class booking is made, it reflects in trainers' calendars in real-time. The solution also features a mobile application for iOS devices where students can sign in and mark attendance. The app allows students to make online credit card payments for class fees and merchandise purchases. iClassPro features automated email and text messages which allow users to manage marketing campaigns and student communications. The solution features website integration which allows users to add pre-formatted buttons to patent websites by pasting the HTML code in the website code. iClassPro is available on a monthly subscription basis that includes support via email and through online knowledge base and FAQs. Support via phone is available during business hours on weekdays.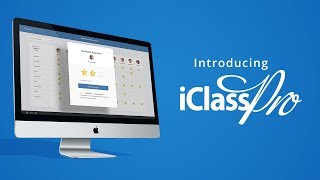 iClassPro n'est pas disponible en version gratuite mais propose un essai gratuit. La version payante de iClassPro est disponible à partir de 129,00 $US/mois.
À partir de :
129,00 $US/mois
Version d'essai gratuite :
Oui
Produits similaires à iClassPro
Évaluation des fonctionnalités
Secteur d'activité : Services financiers
Taille de l'entreprise : 2-10 employés
Logiciel utilisé

tous les jours

pendant

Essai gratuit

Provenance de l'avis
---
A+ Experience
The software is fantastic, but in my humble opinion, iClassPro's biggest strength is their customer service. My sales rep, Preston, is professional, always accessible for questions (and I have had many), and extremely knowledgeable about the software. He has patiently walked me through every conceivable scenario my business might have, and he always follows up to make sure I'm feeling confident in mastering what he's shown me. I've had a nothing-but-positive experience with the product and with the company.
Avantages
More than anything, I love the beautiful customer experience the software provides. As a business that offers classes for children, I want to make sure that enrollment and week-to-week account management isn't too complicated for my customers (who are busy parents). The software is visually appealing, integrates nicely with my own website, and is easy to use. Love it!
Inconvénients
It didn't have all the functionality I need for my business, but for that, I would probably need to have something custom created. There were, however, very functional workarounds that my sales rep walked me through. That was really appreciated!
Secteur d'activité : Sports
Taille de l'entreprise : 11-50 employés
Logiciel utilisé

tous les jours

pendant

plus d'un an

Provenance de l'avis
---
Great Program with minor Flaws
We have really enjoyed the program overall. It beats our last program hands down. Even with all the issues I would not go back to what we had before. Pretty easy to use and I love the platform/ portal for the parents.
Avantages
I love the ease of access once everything is set up. Coaches can take roll and keep up to date on student info rather easily. Skills tracking is available on the app, but not quite as easy to use.
Inconvénients
As the person responsible for printing out the reports, I have an issue with the format of reports. They are not always easy to get looking like they should and some are hard to get what you want. There are also little issues I do not like. The entering of payments is a little tedious at times. We have also had a few issues with the time clock not working correctly.
Pourquoi choisir iClassPro 
Needed an online platform to make it easier on office staff and customers.
Pourquoi passer à iClassPro
Other gym owners that I trust sold me on IClass Pro.
Secteur d'activité : Services et installations de loisirs
Taille de l'entreprise : 2-10 employés
Logiciel utilisé

tous les jours

pendant

6 à 12 mois

Provenance de l'avis
---
Not as good as Jackrabbitclass, but has a birthday party system
The only reason I still have it is because of ipartypro, otherwise I would go back to Jackrabbitclass.
Avantages
That ipartypro is compatible and my customers can easily book parties and add additional items onto the basic party package.
Inconvénients
-I do not like that there is no point of sale and I still have to us paypal in the store. I would like something that I can use for walk up open play sales and not have to enroll/register a family.
-I do not like that the reports section won't tell me what my daily sales are and in what areas. I want a functional useful report system, and I'm not getting it from iclasspro. I am an indoor playground that does classes in 8 week sessions, not a studio or gym with year long enrollments.
-The report system should be able to tell me how many children enrolled in which classes and how much money came in from those children for those classes. It should do the same for birthday parties. I should be able to set dates for a period of time. A year, a month, a custom time frame.
-I cannot change the photo attached to the parent portal, though I have tried for the past four months.
-I would prefer to use html and have parents book directly from my website instead of being directed to the parent portal.
-The promo codes are useful and yet a pain to activate and they never seem to work right. Why do we have to turn them on for every class when we are copying currently set up classes?
Secteur d'activité : Sports
Taille de l'entreprise : 51-200 employés
Logiciel utilisé

tous les jours

pendant

plus de deux ans

Provenance de l'avis
---
By far the best program for running our facility
I have been with Iclasspro since 2007. No other class management system offers as many features and keeps their prices so reasonable. I always love researching other class management software companies at the gymnastics and dance conventions because after talking to them I always feel reconfirmed that I have made the right choice being with iclasspro!
Avantages
Easy to set up and train others to use. Constantly improving.
Inconvénients
We use the discount schedule feature they offer which works amazing well for blending the prices for all of the programs we offer. However, the parent portal cannot display our prices correctly because we use this feature.
Pourquoi passer à iClassPro
Price. Jackrabbit was too messy, making you delete students to keep your price down. Amilia at first glance is very attractive but then they charge you a 1% fee which then makes them over 10 times more expensive than Iclasspro. Iclasspro is hands down the best, there is no comparison!
Secteur d'activité : Sports
Taille de l'entreprise : 11-50 employés
Logiciel utilisé

tous les jours

pendant

plus de deux ans

Provenance de l'avis
---
IClass Pro works great for gymnastics schools.
We have had a really good experience with IClass Pro. It works well with our class schedules.
Avantages
IClass Pro continues to update and add new services and customer service is always on top of servicing their customers.
Inconvénients
I wish reports could be customized to better help us with sign in sheets.
Pourquoi choisir iClassPro 
Cost
Pourquoi passer à iClassPro
IClass Pro is a better option for the gymnastics industry. It allows us to keep up with every thing we do.