En savoir plus sur Pulseway
Pulseway est une solution intégrée de surveillance des ressources informatiques et du réseau conçue pour aider les administrateurs informatiques à surveiller et contrôler à distance leurs ressources informatiques commerciales. La solution prend en charge l'architecture multi-déploiement, ce qui permet aux utilisateurs de choisir un déploiement sur site ou un hébergement sur cloud. Pulseway permet aux MSP (Managed Services Provider) d'afficher l'état en temps réel de leurs ressources système, de surveiller les performances globales du réseau et d'installer des mises à jour critiques à partir d'une console centrale. La plateforme aide à définir des scripts pour planifier automatiquement la maintenance, la sauvegarde, la vérification de sécurité et d'autres activités informatiques. Pulseway permet aux utilisateurs de contrôler les appareils connectés à leur réseau à partir d'un point unique et de surveiller leurs performances. La solution propose également une API REST pour intégrer des applications tierces. Principales fonctionnalités de Pulseway : - Suivi et gestion - Découverte et déploiement - Gestion et surveillance des serveurs - Automatisation inégalée - Système d'exploitation prêt à l'emploi et correctifs tiers - Contrôle à distance illimité pour macOS et Windows - Reporting personnalisé Pulseway est une application multiplateforme qui peut s'exécuter sur plusieurs appareils, notamment Windows, Linux, Mac, Android et iOS. Pulseway est disponible à travers un abonnement mensuel qui inclut un service d'assistance par e-mail et par téléphone ainsi que des tutoriels sur les produits.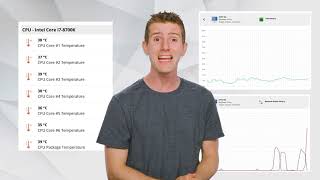 Pulseway est disponible en version gratuite et propose un essai gratuit. La version payante de Pulseway est disponible à partir de 32,00 $US/mois.
Version d'essai gratuite :
Produits similaires à Pulseway
Évaluation des fonctionnalités
Secteur d'activité : Assurance
Taille de l'entreprise : 5 001-10 000 employés
Logiciel utilisé

tous les jours

pendant

plus de deux ans

Provenance de l'avis
---
Logiciel de gestion de connexion distante au top mais cher
Avantages
Super outil pour la gestion et l'etablissement de connexions distante a vos serveurs. Permet egalement de faire de débugage à distance.
Inconvénients
Le cout des licences est exorbitant et les fonctionnalités un peu limités
Secteur d'activité : Services et technologies de l'information
Taille de l'entreprise : 2-10 employés
Logiciel utilisé

tous les jours

pendant

plus d'un an

Provenance de l'avis
---
ICT Empire review on Pulseway
Overall im happy - looked at other RMM providers and so far im happy to stick with Pulseway.
Avantages
Easy to Implement and easy to use - very nice and clean GUI.
Patch management is great - the other extra features look amazing and will be trying those soon.
Security - after reading the Security Policy white papers - i feel more at ease that my clients data is secure.
What i love most is the fact that the Pulseway team are all ears - always keen to hear what their clients want and need - Also the fact that they are continuously updating/upgrading and adding new features.
Inconvénients
No real cons at the moment - they are always keen to assist if i have any issues, which i haven't really had yet.
I would like to have ESET integrated into Pulseway - but they are looking into that.
Pourquoi passer à Pulseway
Great value for Money Clean GUI and easy to implement - dont need hours and hours of training each time i have a new IT technician. Great support team - they are always keen to help wherever possible. I have not once ever heard "sorry, we cannot assist as that is our policy" as i usually get from other providers - They will ALWAYS make a plan to assist you - That alone is golden.
Secteur d'activité : Construction
Taille de l'entreprise : 201-500 employés
Logiciel utilisé

tous les jours

pendant

plus de deux ans

Provenance de l'avis
---
Feature-Rich, Easy to Use, and Very Innovative!!
The Pulseway Team will work hard with you to get you up and running, the agent is light, deployment is straightforward and easy. Virtually all the tools you might need are there. It has both a dashboard application that runs locally as well as a Web Interface. Remote access and control are good. The Pulseway Help site: https://www.pulseway.com/resource-centre is a good resource.
Overall for the price, Pulseway is an exceptional value.
Avantages
What I like about Pulseway is that it is easy to use. When you open the console and go to a machine, you can plainly see all the options available to push software, execute DOS or PowerShell commands, send a message to the user, remotely control the PC, scope its hardware, check what software is installed. Its all there, easy to get to and easy to control. Also, Pulseway offers Webroot as a AntiMalware option. Webroot is light and fast and does the job. Our users never complain that our anti-virus software is causing their systems to slowdown or become un-useable. Oh and the Pulseway mobile app is revolutionary!
Inconvénients
One feature that we have some issues with is the is integration between Pulseway and Webroot. When it works it works great, but here and there on a few systems the PC, Pulseway, and Webroot don't agree as to whether Webroot is installed or not. The fix to this is to do a comprehensive manual cleanup/uninstall and try again.
Tech support could be more responsive. I miss the old days when you could call and get help for almost any product, but that's not the norm anymore. Once you get hooked up with a Pulseway technician, they will work with you to resolve your issue.
Secteur d'activité : Informatique et sécurité réseau
Taille de l'entreprise : 2-10 employés
Logiciel utilisé

tous les jours

pendant

plus d'un an

Provenance de l'avis
---
Premium RMM at Great Cost
Pulseway is a great RMM tool, and with the introduction of third party patch management I think they have the opportunity to become one of the best platforms on the market in features, ease of use and cost. Support requests were generally answered quickly, the setup and deployment was easy and the use of the platform was easy to learn. This is a great platform.
Avantages
This RMM platform is incredibly easy to use and setup. Offering silent install of the agent, the ability to lock out the agent from users making changes and from our experience it used little system resources. The RMM comes with it's own integrated remote access tool which allows for seamless remote connection to client endpoints, as well as integrated remote command line tools and remote Powershell right in the dashboard, making it easy to perform tasks without interrupting users. Built in scripting with multiple predefined scripts was a plus, but the ability to custom create and deploy scripts to the dashboard was a huge benefit, especially when remote installing third party software and tools. The dashboard design is modern, the support agent can be branded to your company, and users can request support right from the quicklaunch icon. Additionally, the remote chat feature allows for communicating with a logged in user without having to remote connect to the endpoint, making it easy to give a user a heads up if you need to connect or reboot their machine. Overall the Pulseway RMM product is worth taking a look at for any MSP interested in getting premium features as half (or less) of the cost of the other guys, without compromising on ease of use or support.
Inconvénients
Third party patch management is just now being rolled out for Pulseway, a feature that many other RMM platforms we reviewed already had in place. We had to use a third party patch management platform to manage non-Microsoft patches. The antivirus integration (for Webroot) doesn't allow management from the dashboard - if you want to add sites or configure policies you have to connect to the Webroot dashboard directly. You can deploy the AV solution from the Pulseway dashboard, but you would have to have already setup the profile for the deployment in Webroot. Pulseway requires a minimum 25 seats - so if you are a small MSP or just starting out, you may end up paying for unused seats - however, the price per seat for workstations is one of the lowest I have seen in the industry, so you'd likely still save money over the other platforms.
Pourquoi passer à Pulseway
Cost, ease of use, included tools and available integrations.
Secteur d'activité : Recrutement
Taille de l'entreprise : 1 001-5 000 employés
Logiciel utilisé

tous les jours

pendant

plus d'un an

Provenance de l'avis
---
Pulseway is the absolute best monitoring solution out there!
Avantages
I began using Pulseway as PcMonitor a few years ago. I had been using another product that was hard to configure and prone to so many false alarms it was useless. Then I found Pulseway and the whole game changed. Pulseway is priced fairly – my previous solution was SO expensive and the support spotty. The Pulseway software is easy to configure and can be accessed securely from pc or smartphone. Critical functions like restarting services , rebooting machines and even access to a command line can be done remotely. I get the right warnings directly to my phone or desktop wherever I am. I was on the beach in Maui over Christmas and one of my servers had a problem with a service that needed to be restarted – with other monitoring products I would have had to go back to my room, start up my laptop, hope to get wifi and vpn connection and RDP directly to the problem machine. Pulseway allowed me to clear the alert, check the status of the server and restart the service (Apache Tomcat) from my chair on the beach and not miss a minute of my children's surfing lesson.

Our organization has embraced this software. I recommended this to a colleague who had a critical scheduling server running multiple tasks via task scheduler. Due to service account limitations the server would log out the account every weekend. My colleague installed Pulseway and was able to keep the server signed in while we pursued a permanent solution and now has multiple servers on his own account.
Inconvénients
I have yet to find a serious downside to this product. It is truly amazing and just works well. Well worth the low cost.