En savoir plus sur HelpCrunch
HelpCrunch est une plateforme de communication client qui combine un chat en direct, le marketing automation d'e-mails et un service d'assistance super intuitif en une seule solution. La solution aide les équipes d'assistance, de vente et de marketing à acquérir et convertir des leads, ainsi qu'à soutenir leurs clients. HelpCrunch convient aux entreprises SaaS, d'e-commerce et à tout autre type d'entreprise en ligne. Le chat en direct fonctionne comme un outil d'engagement des visiteurs, d'acquisition de leads et d'assistance. Cette fonctionnalité permet aux entreprises de répondre aux requêtes des clients instantanément ou ultérieurement dans le même fil de discussion, même après la déconnexion du client. Une messagerie intégrée peut être intégrée à un site web ou à une application pour dialoguer avec les clients. L'e-mail marketing automation permet aux utilisateurs d'envoyer des suivis d'e-mail directement à partir du chat, d'envoyer des e-mails ponctuels ou de créer des séquences d'e-mail automatisées déclenchées par des événements pour des campagnes d'intégration ou de marketing. Le module d'assistance peut organiser l'ensemble des communications client, hiérarchiser les actions, distribuer des tâches et gérer chaque cas client. La tarification est échelonnée en fonction du nombre d'agents et d'e-mails.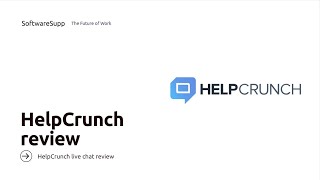 HelpCrunch n'est pas disponible en version gratuite mais propose un essai gratuit. La version payante de HelpCrunch est disponible à partir de 15,00 $US/mois.
À partir de :
15,00 $US/mois
Version d'essai gratuite :
Oui
Produits similaires à HelpCrunch
Évaluation des fonctionnalités
Secteur d'activité : Internet
Taille de l'entreprise : 2–10 employés
Logiciel utilisé

tous les jours

pendant

6 à 12 mois

Provenance de l'avis
---
Awesome Value for the Money
Avantages
If you deal with customers, you need a system in place. Emails are a way to lose customers, because the conversation get lost in the way.
We had this problem before, and we started to look for a system that could help us with our communication with customers and a central dashboard for our articles.
Helpcrunch helped us to solve this problem. We installed the widget in our site and started to deal with customers support in a centralized manner, and also helped us with lead generation.
The app also provides a knowledge base that you can use to keep your customers in the loop, on how to use your app and solve small issues without the need to reach out to support.
Helpcrunch also packs pro-active messages, that you can use to interact with people who visit your site.
It's easy and pleasent to use. I highly recommend
Inconvénients
I can't say something bother us, I like the app and is easy to use.
Réponse de

HelpCrunch

Appreciate your review, Leonardo.
We're building HelpCrunch to help businesses like yours to solve the exact problems you described.

Glad that you're able to centralize customer support and generate more leads for your business with the tool.
All the best!

Répondu le 21/08/2019
Secteur d'activité : Logiciels
Taille de l'entreprise : 2–10 employés
Logiciel utilisé

tous les jours

pendant

plus d'un an

Provenance de l'avis
---
Good but app can be better
I like the chat and the history of the chat by user/contact. If the mobile app could show me the meta data when a chat comes in, that would be perfect.
Avantages
I use HelpCrunch because i needed a more advanced chat solution. I use the chat to support my logged in users. I do not want to aks them name or company (meta data) as i have this info as they are logged in already. It was important the chat had a mobile (iOS) app, so i can give support on the road and as soon as possible.
Looks nice and professional.
I do not use a lot of the other functions, like the Knowledge Base.
Inconvénients
I have asked support multiple times to improve the mobile app. As a chat comes in, i can only see the name and none of the meta data, which is very important to me. I don't understand why this is not in the app, as it is an important part of the help solution.
The web application in the browser is a bit heavy. I could not (or very slow) load it on slow (hotel) internet connections. (working in Safari)
Réponse de

HelpCrunch

Hey there! Thanks for all the feedback.
Our support team received your request regarding user data in mobile apps.
We've already added this to our backlog and we'll see how soon it will be implemented :)

We'll also look into the slow app loading on low internet speed.
Stay tuned! If you want to receive updates on those, just ping our team and we'll be sending you updates on periodic basis.

Répondu le 03/09/2019
Secteur d'activité : Services et technologies de l'information
Taille de l'entreprise : Auto-entrepreneur
Logiciel utilisé

tous les jours

pendant

plus de deux ans

Provenance de l'avis
---
Good Live Chat and Knowledgebase Software with Affordable Pricing
Nice UI and easy to use interface. Easy setup. Affordable pricing.
Avantages
Knowledge base accessible from Chat Widget. Auto messages. Bulk email. Mobile apps.
Inconvénients
Mobile app notifications are late or sometimes did not appear.
Secteur d'activité : Logiciels
Taille de l'entreprise : 2–10 employés
Logiciel utilisé

tous les jours

pendant

6 à 12 mois

Provenance de l'avis
---
Good chat client for customer support and feedback
We use HelpCrunch as our primary support tool (for potential customers with questions, for customers with questions, for feedback reports, etc). Installation and subscribing was easy using a WordPress plugin, and the interface is easy to understand, configure, and use if you're familiar with web interfaces like Google Apps, Intercom (to which HelpCrunch is very similar, and far less expensive). The mobile app allows us to respond immediately to customers without being tied to a desk. Being in the early stages (first year) of a software release, this allows us to get immediate feedback from our customers, and, possibly more importantly, from those who would be our customers except for some reason, so that we can make good decisions.
Avantages
- Easy to install
- Good basic chat functionality with the ability to scale
- Inexpensive for chat, and, again, can scale in price as new features are added
- Looks good (both the chat that faces the customer and the user interface for our support people)
- Ability to capture customer's email address or not based on a schedule, so that we can allow customers rapid access without entering personal information during business hours, but require name/email after hours
- Responsive customer support
Inconvénients
- Occasional bugs, e.g. schedule not triggering at expected times
- Lack of some basic functionality at lower pricing levels (e.g. if a customer chats, then goes offline, the software won't email the customer that there's a new message unless you're on a higher plan that costs twice as much)
Pourquoi choisir HelpCrunch 
We'd used Intercom for a previous product, and when we tried to contact them for this product, they were very slow to respond, and considerably more expensive. Before they'd responded, we'd reviewed other options and installed HelpCrunch.
Pourquoi passer à HelpCrunch
(We also considered a few other chat clients). We plan to use the chat largely for direct interaction and solving of issues, and HelpCrunch seemed best suited to that purpose - e.g. we could use the built-in knowledge base. Other chat clients were either targeted at lead generation or were just too expensive for a small team.
Réponse de

HelpCrunch

Thanks a lot, Grant!

Répondu le 14/09/2020
Secteur d'activité : Photographie
Taille de l'entreprise : Auto-entrepreneur
Logiciel utilisé

tous les jours

pendant

plus d'un an

Provenance de l'avis
---
Excellent chat software for your Wordpress site!
Avantages
Helpcrunch is very easy to setup and configure. They offer a very low cost (free) entry level so you can evaluate as long as you want. Helpcrunch has very low impact on the site performance, which is very important to me. Helpcrunch has an app on tablets and mobile phones which is extremely responsive. I hardly ever miss a chat because the app is so fast.
Inconvénients
I can not think of anything I don't like about the software. It is technically ok, and the developers are not harassing me with commercial mails like many other do. It is friendly software, made by friendly people.
Réponse de

HelpCrunch

Appreciate the kind words, Peter!

Répondu le 21/08/2019