En savoir plus sur Paymo
Paymo est une solution cloud de gestion de projets et de tâches destinée aux PME basées sur des clients. Cette solution prend en charge le travail à distance et offre des fonctionnalités de collaboration d'équipe, planification des ressources, gestion du temps et comptabilité de projet au sein d'une même suite. Ses fonctionnalités de gestion de projet vous permettent de créer des projets, d'ajouter des tâches comptant plusieurs destinataires, puis de les enregistrer comme modèle pour une utilisation ultérieure. Il ne vous reste plus qu'à surveiller l'évolution du projet (suivi des heures vs budgets initiaux) et à gérer les tâches via l'une des quatre vues de tâches proposées : liste, tableau, tableau de bord et diagramme de Gantt. Paymo vous offre également une minuterie intégrée, des applications de bureau et mobiles, ainsi que des feuilles de temps précises qui vous donnent un aperçu de votre productivité. Les données peuvent être exportées ultérieurement en tant que rapports d'heures et partagées avec vos clients, pour garantir un niveau de transparence supplémentaire. La fonctionnalité de comptabilité de projet permet de suivre les dépenses, de créer des factures client automatisées et de transformer les offres en projets, afin que vous puissiez étroitement gérer vos finances et garantir de recevoir vos paiements dans les délais. Paymo propose deux forfaits payants et un forfait gratuit pour les particuliers et les freelancers.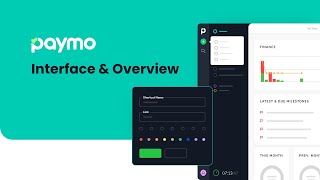 Paymo est disponible en version gratuite et propose un essai gratuit. La version payante de Paymo est disponible à partir de 0,00 $US/mois.
Version d'essai gratuite :
Produits similaires à Paymo
Évaluation des fonctionnalités
Secteur d'activité : Services et technologies de l'information
Taille de l'entreprise : Auto-entrepreneur
Logiciel utilisé

tous les jours

pendant

plus de deux ans

Provenance de l'avis
---
My time and sanity saver!
I've increased my productivity with Paymo's Kanban board view, combined with Table view, and saved TONS of hours on admin, invoicing, timesheets, client and project management.
Just this time saving alone pays off the monthly subscription.
Sanity and nerves saving is the bonus! :)
Why? Because Paymo helped me maintain good client relationships, timesheet transparency and great records&data representation for a client. So when a client comes up with a random question about a specific task, Paymo's records make finding (and presenting) a specific information or record so much easier, transparent and more reliable.
Avantages
Paymo has been a lifesaver in many business management areas: project management, client management, time tracking, accounting.
With built-in budgeting, time tracking, expense tracking, estimate calculations, professional invoicing and getting paid online (and on time!), different project 'views' (list, table, board for kanban, gantt), extensive filters, dashboard and insights, resource scheduling, live time reports, client portal - and all that in one app - it's a sanity saver!
One of the things I also personally quite appreciate is the professional and clean look of the invoices (and how easy it is for clients to pay them online). With a click of a button, you can add the unbilled time/fees for a specific time period and/or projects to an invoice. Paymo does all that heavy admin stuff for you and it has saved me a lot of time!
Cherry on the top: all invoice items are presented so neatly and professionally, so that my clients can see exactly everything I've worked on for them and what I'm billing them for, as well as how much time is tracked for each project and task.
And Payoneer, in addition to PayPal/Stripe/Authorize.Net payment gateways is a big plus!
It's brilliant.
The moment I first tried it, I could immediately feel that Paymo is the tool designed for actual freelancers in mind, whether you work on a project basis, or a pay-as-you-go basis.
It's not complex, and all the features it has are just *right*. Exactly what I need.
And it's getting even better!
Inconvénients
I wish the app was just a little bit faster, but I read somewhere that they already have this improvement on their roadmap.
Still, if you ask me, it's totally worth the wait for every new feature and improvement their team is cooking for us :)
Réponse de

Paymo

Thank you, Jelena <3

Speed improvements are already something that we're addressing. Stay tuned for more goodies such as a task calendar view, improved mobile app with team collaboration features and guest access.

Cheers,
Marcel

Répondu le 10/07/2020
Secteur d'activité : Marketing et publicité
Taille de l'entreprise : Auto-entrepreneur
Logiciel utilisé

tous les jours

pendant

6 à 12 mois

Provenance de l'avis
---
I finally found the one!
It is important to note that Paymo isn't idle in enhancing its software. Not only that, but new features are thoughtful and integrated seamlessly with the tool. I appreciate this because I have used other software that seem to have their priorities mixed up when releasing enhancements; adding things that don't move the needle ahead of things that do.
Avantages
After years of using project management software for both myself and companies I've worked for, I found the right tool for the job for my personal, small business as a marketing coach and online entrepreneur.
Until I build a team, I'm using Paymo for myself, and other tools are not always price-sensitive for a solo user. I appreciate that Paymo provides an option to pay for one user until I'm ready to grow.
A particular feature I was looking for was the option to view all projects on a single Kanban board. In the rare case that I found this option, it was a significant upgrade to acquire. But Paymo offers this and it's super easy to use!
Other features I love:
- Time-tracking/timesheet: Visual representation of where my time goes. I use the in-app timer every day.
- Flexible viewing options: I can easily switch between list, table, board, and Gantt views, with easy to use filters that allow me to see exactly what I want. No custom reports or views need created - which can be time-consuming and inflexible (enterprise tools).
- Note: The user experience of the Gantt chart was also what I was looking for. It is drag and drop and allows you to adjust your timeline from within the view.
There's so much to love about Paymo! And that is saying a lot coming from someone who has researched and used as many tools as I have - including enterprise solution, Workfront.
Paymo is definitely worth giving a try!
Inconvénients
I wish there was a way to invite collaborators/reviewers like there is in Asana. If I want a coaching client to be able to collaborate, there is no way to do this without paying for another user.
This is superficial, but, the name! When I tell people about Paymo, they immediately think it's a financial tool, not a project management tool, based on the name. I would hate for this to hold Paymo back in the market.
Pourquoi choisir Paymo 
I switched from Asana, Teamwork, and Things. I was looking for a tool with a kanban board option that allowed me to view tasks across all of my projects and I needed a cost-effective tool for someone who is currently solo but building a business. Asana was cost-prohibitive in that I could not pay for a single user, but had to pay for 5 minimum. Also, the kanban board option I was looking for was an additional upgrade for Asana and Teamwork, making these options even more expensive. Additionally, user experience was a factor. Asana generally has a good UI but I just like Paymo better. Teamwork has some work to do in this regard.
Réponse de

Paymo

You sure did your researh, Krystle, thank you for the review :)

Actually, we're working on an improved client portal with in-app access to guest users, so they can collaborate with you on the same page. This is our #1 priority atm, so stay tuned!

As for our name, this goes back more than 10 years when we started out as a time tracking and billing tool. The purpose was to use the app and GET PAID MORE, hence Paymo :)

Hope this helps, thank you again!

Répondu le 30/06/2020
Secteur d'activité : Gestion de l'enseignement
Taille de l'entreprise : 2-10 employés
Logiciel utilisé

tous les jours

pendant

plus d'un an

Provenance de l'avis
---
Helpful!
Avantages
It helped me a lot in my billing routing and planning work. Made my work schedule so much easier. Very useful app for my company.
Inconvénients
I asked customer service for help on a few issues, but unfortunately there was no response, other than that it was a good experience.
Secteur d'activité : Marketing et publicité
Taille de l'entreprise : 2-10 employés
Logiciel utilisé

tous les jours

pendant

1 à 5 mois

Provenance de l'avis
---
Monopolize you cause you can't export ANYTHING easily
Would NOT recommend it to anyone who has even the slightest of "outside the box" process for projects or billing/invoices.
Avantages
Yet another system that after several months of use only did what we needed it too at 75% of the way, then AFTER buying into the "huge discount" and special they had going, did I find out they do not allow refunds at all!
If you put ANY data into the system and ever need to export it for any reasons ...find a data entry person and hope you didn't enter a lot of information because unless you are a developer that can setup custom API's...your info is stuck in their system!
You can enter clients, companies, etc. and change view to "Table" and see it in table mode, but that view still only gives you the general company information, NOT the contacts for that company and that is 1 of 2, yes that is right 2 places in the entire system of everything you may have entered where you can download/export that view into Excel/CSV file....everything else is PDF if you are lucky!!
If you are a VERY small, VERY basic bookkeeping/accounting freelancer (NO TEAM, just you and very basic billing) - fine, it may work...but if you have more than 1 person in your team other than you, have different rates or even the SLIGHTEST out of the norm billing or cycles...GOOD LUCK!!!
I am furious with this system after being told what it could do and I explained in detail, and "oh yeah, that is not a problem at all"...only to find out, everything I explained about what we needed, went in one ear and out the other just to make the sale...now I have a barely usable system and wasted $$$$!!
Inconvénients
Can't export anything unless you have a developer standing bye.
System is very "inside the box" thinking even after being told it would easily do what I had explained that I needed it to do
support seems to take longer than usual and they are quick to respond with an answer that has NOTHING to do with what you originally asked (bots maybe?!?!)
Can't get a refund, no matter how many lies they told you to make the sale in the first place!!!
Réponse de

Paymo

Hi Cameron,

Sorry to see you disappointed. Our goal is to help you improve the way you work, not to sell you on something.

Indeed, you can export client, project, user lists, as well as time reports in csv format - invoices and Gantt Charts are available in PDF only.

However, due to the fact that there's no standardised data structure for project management data, the only practical way to export it is via our API.

And no, we're no bots, and don't force anyones hand to make a sale.

Répondu le 28/01/2020
Secteur d'activité : Hôtellerie
Taille de l'entreprise : 5 001-10 000 employés
Logiciel utilisé

tous les jours

pendant

6 à 12 mois

Provenance de l'avis
---
zzp
goed bedrijf keep the good work
Avantages
fijn dat ze alles goed bij houden zo als wat ik op de planning heb
Inconvénients
tijdregestratsie was beetje last voor me