En savoir plus sur Paymo
Paymo est une solution cloud de gestion de projets et de tâches destinée aux PME basées sur des clients. Cette solution prend en charge le travail à distance et offre des fonctionnalités de collaboration d'équipe, planification des ressources, gestion du temps et comptabilité de projet au sein d'une même suite. Ses fonctionnalités de gestion de projet vous permettent de créer des projets, d'ajouter des tâches comptant plusieurs destinataires, puis de les enregistrer comme modèle pour une utilisation ultérieure. Il ne vous reste plus qu'à surveiller l'évolution du projet (suivi des heures vs budgets initiaux) et à gérer les tâches via l'une des quatre vues de tâches proposées : liste, tableau, tableau de bord et diagramme de Gantt. Paymo vous offre également une minuterie intégrée, des applications de bureau et mobiles, ainsi que des feuilles de temps précises qui vous donnent un aperçu de votre productivité. Les données peuvent être exportées ultérieurement en tant que rapports d'heures et partagées avec vos clients, pour garantir un niveau de transparence supplémentaire. La fonctionnalité de comptabilité de projet permet de suivre les dépenses, de créer des factures client automatisées et de transformer les offres en projets, afin que vous puissiez étroitement gérer vos finances et garantir de recevoir vos paiements dans les délais. Paymo propose deux forfaits payants et un forfait gratuit pour les particuliers et les freelancers.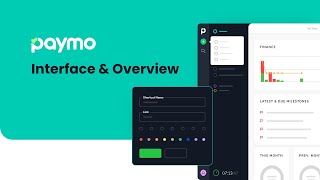 Paymo est disponible en version gratuite et propose un essai gratuit. La version payante de Paymo est disponible à partir de 5,95 $US/mois.
Version d'essai gratuite :
Produits similaires à Paymo
Évaluation des fonctionnalités
Secteur d'activité : Marketing et publicité
Taille de l'entreprise : Auto-entrepreneur
Logiciel utilisé

tous les jours

pendant

6 à 12 mois

Provenance de l'avis
---
I finally found the one!
It is important to note that Paymo isn't idle in enhancing its software. Not only that, but new features are thoughtful and integrated seamlessly with the tool. I appreciate this because I have used other software that seem to have their priorities mixed up when releasing enhancements; adding things that don't move the needle ahead of things that do.
Avantages
After years of using project management software for both myself and companies I've worked for, I found the right tool for the job for my personal, small business as a marketing coach and online entrepreneur.
Until I build a team, I'm using Paymo for myself, and other tools are not always price-sensitive for a solo user. I appreciate that Paymo provides an option to pay for one user until I'm ready to grow.
A particular feature I was looking for was the option to view all projects on a single Kanban board. In the rare case that I found this option, it was a significant upgrade to acquire. But Paymo offers this and it's super easy to use!
Other features I love:
- Time-tracking/timesheet: Visual representation of where my time goes. I use the in-app timer every day.
- Flexible viewing options: I can easily switch between list, table, board, and Gantt views, with easy to use filters that allow me to see exactly what I want. No custom reports or views need created - which can be time-consuming and inflexible (enterprise tools).
- Note: The user experience of the Gantt chart was also what I was looking for. It is drag and drop and allows you to adjust your timeline from within the view.
There's so much to love about Paymo! And that is saying a lot coming from someone who has researched and used as many tools as I have - including enterprise solution, Workfront.
Paymo is definitely worth giving a try!
Inconvénients
I wish there was a way to invite collaborators/reviewers like there is in Asana. If I want a coaching client to be able to collaborate, there is no way to do this without paying for another user.
This is superficial, but, the name! When I tell people about Paymo, they immediately think it's a financial tool, not a project management tool, based on the name. I would hate for this to hold Paymo back in the market.
Pourquoi choisir Paymo 
I switched from Asana, Teamwork, and Things. I was looking for a tool with a kanban board option that allowed me to view tasks across all of my projects and I needed a cost-effective tool for someone who is currently solo but building a business. Asana was cost-prohibitive in that I could not pay for a single user, but had to pay for 5 minimum. Also, the kanban board option I was looking for was an additional upgrade for Asana and Teamwork, making these options even more expensive. Additionally, user experience was a factor. Asana generally has a good UI but I just like Paymo better. Teamwork has some work to do in this regard.
Réponse de

Paymo

You sure did your researh, Krystle, thank you for the review :)

Actually, we're working on an improved client portal with in-app access to guest users, so they can collaborate with you on the same page. This is our #1 priority atm, so stay tuned!

As for our name, this goes back more than 10 years when we started out as a time tracking and billing tool. The purpose was to use the app and GET PAID MORE, hence Paymo :)

Hope this helps, thank you again!

Répondu le 30/06/2020
Secteur d'activité : Services aux consommateurs
Taille de l'entreprise : 11–50 employés
Logiciel utilisé

tous les jours

pendant

6 à 12 mois

Provenance de l'avis
---
Small team planning
I really care about our employees. Because we're a small flock doing what we love every day we're even more like a family. The expense and time tracking tools help me get everyone paid accurately which is greatly appreciated.
Avantages
Billing, invoicing, expenses, time tracking, project planning, task planning and tracking (in app), Gantt charts. 50 or 100 GB storage. With every new account user I invite I can select their permissions.
Inconvénients
Time tracker doesn't shut off or pause if left on by accident or if I step away from the screen. Project manager isn't as robust as the rest of the software and Gantt charts aren't included in the small office plan.
Alternatives envisagées 
Wrike
Pourquoi choisir Paymo 
Paymo is a bit beefier
Secteur d'activité : Services et technologies de l'information
Taille de l'entreprise : Auto-entrepreneur
Logiciel utilisé

tous les jours

pendant

1 à 5 mois

Provenance de l'avis
---
Project and task management without surprises
overall sufficient experience. It does not create particular problems for you, nor does it give you particular satisfaction. to work in a group it's fine, as long as you don't have high customization requirements
Avantages
Paymo's ease of use is disarming: it allows you to configure your project and your tasks in an instinctive, fast and reliable way
Inconvénients
Working in Paymo I often feel the need to represent my projects in alternative ways, such as a mind map, or generally a graphic board .. but this is not possible in Paymo
Secteur d'activité : Produits chimiques
Taille de l'entreprise : 51–200 employés
Logiciel utilisé

toutes les semaines

pendant

plus d'un an

Provenance de l'avis
---
Paymo represents agility in the execution of projects and quality assurance.
Paymo is an effective platform, which does not require a learning curve on the part of the people who use it, in addition to the fact that many business rules associated with the execution of projects are already implemented. On the other hand, we have visibility for the prioritization of tasks, the notification to the participants of each activity, and in general, Paymo can grow based on the needs and projects that our organization can handle.
Avantages
Paymo focuses on providing a simple and efficient platform, with the implementation of those functionalities that really generate value, in addition to offering a fairly complete Dashboard for generating reports and useful information for stakeholders. With Paymo we keep our work team focused, in addition to having the mobile APP to be able to record progress directly from where we are, in real time, and notify about progress. People and users can work on more than one project at the same time and each of them knows the tasks they must perform, the times in which they want the activities to be completed, as well as being able to attach support information.With Poymo we can register with the Timer option the work dedicated to each activity and in this way we can give greater visibility to the Project Management.
Inconvénients
Paymo has demonstrated that it meets the objectives of any project, and they are precisely: being able to offer visibility for the fulfillment of each and every one of the tasks, also guarantees that team members have delivery dates at hand and can report the advances, considering the participation of multiple projects, however, it may be that for more complex projects in which team management, use of tools and acquisition of supplies for execution are required, project managers require other complementary tools such as sheets calculation to manage what we cannot detail from the software itself, however this does not apply to all projects and may or may not be a limitation in many service areas related to traditional activity tracking.
Secteur d'activité : Design
Taille de l'entreprise : 2–10 employés
Logiciel utilisé

tous les jours

pendant

plus de deux ans

Provenance de l'avis
---
Simple to use Paymo
It's easy to use, I have no reason to change.
Avantages
Simplicity, intuitiveness, speed, Good user experience (UX).
Inconvénients
Frequent updates, I have nothing more to add.