En savoir plus sur JobNimbus
JobNimbus is a CRM and project management solution suitable for home service companies. Manage your contacts, tasks, and projects from start to finish along with detailed reporting capabilities. With JobNimbus, businesses can manage all their contacts in one central place. Contacts can be imported from multiple sales channels including emails and phone calls. The solution allows project managers to assign tasks to their teams, monitor progress, and send notifications to clients and stakeholders. The document management functionality allows users to store and organize project-related documents and photos. Users can also email documents to their customers and partners and get then approved digitally using e-signature. JobNimbus allows businesses to customize workflow and define the sequence of work. With pre-built custom forms, users can create and share invoices. JobNimbus can be accessed by users from anywhere at any time. Users can subscribe to JobNimbus on a monthly fee based on the number of users.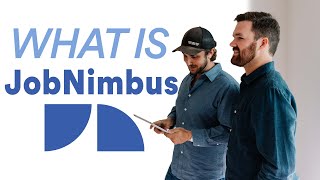 JobNimbus est disponible en version gratuite et propose un essai gratuit.
Version d'essai gratuite :
Oui
Produits similaires à JobNimbus
Évaluation des fonctionnalités
Secteur d'activité: Construction
Taille de l'entreprise: 2-10 employés
Logiciel utilisé

tous les jours

pendant

6 à 12 mois

Provenance de l'avis
---
JOB TASK SCHEDULING,CLIENTS MANAGEMENT AND JOB TRACKING MADE EASY
life has being easy, the tension we get from tenant/client, that we should to their respond to their services failures has reduced, and get response from our team quickly.
Avantages
My firm have being got a job to manage residential facilities and building services maintenance for clients and developers, we had a lot of job and calls from clients for over a year, with out a software, finally when we got a recommendation, we started with a trial version, the application was easy to learn through the help of videos, and the customer care response,tracking our jobs, technicians and client information and emergency needs on a mobile application software was a break through for my firm.
Inconvénients
Learning how to use the software with just videos was difficult, it would have being easier, if the customers care line can be available to respond at every instant,training the technicians and advising our client to subscribe to this application was not easy, but they now enjoyed its, they get their problems solve on just with the application on their mobile devices.
Réponse de

JobNimbus

Thanks, Stephen!

We're working on improving our app education and onboarding, so new features should be easier for you to learn and get going.

We appreciate your feedback!

Répondu le 25/07/2019
Secteur d'activité: Construction
Taille de l'entreprise: 2-10 employés
Logiciel utilisé

tous les jours

pendant

plus d'un an

Provenance de l'avis
---
Sharp Construction Thinks JobNimbus is Amazing
We have been bringing on additional salesman and being able to track the leads that we distribute has allowed us to see who is weak and where. We have also used JobNimbus to increase the amount of reviews that are coming in (93 5 Stars and counting). It has allowed us to measure lead success or failure, which has whet the taste buds to have more understanding and to discover deeper ways to measure our success in other ways. It makes you realize what could be if..... When you have questions that a product like JobNimbus answers, it makes you realize that with a little extra effort, you can explode your business. We are thrilled to have found JobNimbus.
Avantages
We did not come from another CRM to this platform. This was our first experience and the choice to team up with JobNimbus has been exactly what we were hoping and looking for to help manage and grow our business. The automation features are, by far, what we have enjoyed the most. Adding automation has helped us seal up the cracks that occur when taking a customer thru the construction process. Nimbosa, as we affectionately call it for no apparent reason, has been a major factor in leveling up our company with regards to communication and customer management.
Inconvénients
This requires thought, which, I think, means that we would have to search to find a problem. We are anxiously anticipating the roll out of the tracking and measurement graphs that were dropped at the Orlando convention. So I guess, the fact that those are not fully rolled out yet would be one of the things that could be a negative.
Réponse de

JobNimbus

Thank you so much, Ryan! We're so glad we found you guys, too, and are excited to build more powerful features into your workflow.

You guys rock!

Affectionately yours,
Nimbosa

Répondu le 02/12/2019
Secteur d'activité: Construction
Taille de l'entreprise: 2-10 employés
Logiciel utilisé

tous les jours

pendant

plus de deux ans

Provenance de l'avis
---
A solid application
It's a seller application that allows me to check up on jobs input notes easily and upload photos.
Avantages
I enjoy that I receive emails the day before (regarding my up and coming tasks).
User face is easy.
Inconvénients
The app crashes and glitches sometimes. All I do is close abs reopen and it works.
Irritating at times.
Secteur d'activité: Construction
Taille de l'entreprise: 11-50 employés
Logiciel utilisé

tous les jours

pendant

6 à 12 mois

Provenance de l'avis
---
Great concept for construction companies - Massive room for improvement
JobNimbus was built specifically for construction companies and offers an end-to-end solution, from Lead Acquisition to Invoicing. It's extremely difficult to tweak and configure more "generalist" CRM's and Project Management apps to fit the construction industry workflows and specific steps, so there definitely is value in this software. Although it is far from perfect, it offers an almost ready-made solution for construction and roofing companies, allowing for a fairly quick onboarding.
The starting idea is great, but it is definitely perfectible. The biggest flaw with JoNimbus is the fact that it has different workflows for Contacts (homeowners and people in general), and for Jobs (actual work being performed). While it sounds great, once you dig a little deeper, you realize that the pre-defined statuses for Contacts and Jobs are the same! This, instead of creating clarity and differentiating both aspects of a job, leads to massive confusions with low-tech employees: if a Sales Rep saves a contract under a Contact instead of a job, the person looking for that contract under Job will not find it unless they look under Contact. It might be hard to understand if you have never used JobNimbus, but the bottom line is it creates (many) mix-ups.
Additionally, the mobile apps are so bad our people have stopped using them and are opening the desktop version on their mobile devices. All in all, we are better off with JN than without, but needs a lot of improvement.
Avantages
- Designed specifically for Construction and Roofing companies
- End-to-end solution, from Lead Acquisition to Invoicing (not advanced financials though, it won't replace your accounting software)
- Highly customizable (although not as much as we'd like or need)
- reasonably priced when compared to alternatives, no setup fees
- Great customer support
Inconvénients
- Confusing workflows (more on that below)
- Not the easiest program for people who are not tech-savvy, steep learning curve
- TERRIBLE mobile apps (IOS & Android). It's so bad our field guys have resorted to opening the desktop version on their browsers
- Custom template building somehow limited: no math formulas allowed, inserting tables and making them fit the page is a pain
- The main dashboard and the constant notifications and task reminders are overwhelming instead of being useful
Secteur d'activité: Construction
Taille de l'entreprise: 51-200 employés
Logiciel utilisé

tous les jours

pendant

plus d'un an

Provenance de l'avis
---
JobNimbus, simple but powerful CRM
A great experience overall, I've been able to synchronize other software that the company works with seamlessly and without issues.
Avantages
JobNimbus is easy to implement and it has integrations with much other software out there, I have been able to integrate with Leap, CompanyCam, Quickbooks, etc.
Inconvénients
The pipeline management is not that fluid, it's still a work in progress. Another thing is that the Support is not that good sometimes.
Réponse de

JobNimbus

Hi Alex,

Thank you so much for taking the time to review us.

Répondu le 18/05/2021