En savoir plus sur Confluence
Confluence est une solution de gestion de projet qui permet aux organisations de créer, de collaborer, d'organiser et de réviser des documents de projet. La plateforme offre des déploiements cloud et locaux. La fonctionnalité d'éditeur de Confluence permet aux employés de créer du contenu tel que des notes de réunion, des exigences produit et des rapports de recherche. La solution permet aux responsables de vérifier et partager les retours d'opinion directement dans les documents. Le module de gestion des connaissances de Confluence fournit aux utilisateurs un référentiel centralisé au sein duquel ils peuvent rechercher et consulter des contenus pertinents en fonction des exigences du projet. Le système permet aux responsables de limiter les accès aux données confidentielles et de collaborer au sein de groupes fermés. Les utilisateurs peuvent publier, organiser et consulter les informations de l'entreprise dans un emplacement centralisé. La fonctionnalité de gestion de tâches de Confluence permet aux responsables de déléguer, surveiller et suivre les modifications apportées aux tâches affectées à chaque employé. La fonctionnalité de gestion de tâches informe les responsables avec différents statuts relatifs aux tâches terminées, impayées ou en retard. Le logiciel s'intègre à JIRA pour garantir la transparence du projet.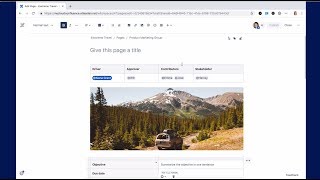 Confluence est disponible en version gratuite et ne propose pas d'essai gratuit. La version payante de Confluence est disponible à partir de 5,50 $US/mois.
Prix :
- Team Collaboration : $10 /mois pour 10 utilisateurs - Team Collaboration + Calendars : $20 / mois pour 10 utilisateurs - Team Collaboration + Q&A : $20 / mois pour 10 utilisateurs - All-in : $30 / mois pour 10 utilisateurs
Voir les tarifs
Version d'essai gratuite :
Non
Produits similaires à Confluence
Évaluation des fonctionnalités
Secteur d'activité : Conseil en gestion
Taille de l'entreprise : 10 000+ employés
Logiciel utilisé

tous les jours

pendant

6 à 12 mois

Provenance de l'avis
---
Confluence - The Best Team Workspace for a Product Manager
My experience with Confluence has been really great. As a fellow Atlassian tool to JIRA, it has provided our team with templates for a variety of tasks like Goal Planning, Requirement Gathering, and Meeting Notes. For the Product team at ZS, we have integrated JIRA and Confluence, to create requirements in the JIRA board from Confluence, and present these requirements in a structured format in Confluence using the Requirement Gathering template available in Confluence.
Avantages
Confluence hosts a whole lot of great features, such as Spaces, Access management, document upload, and on-platform editing among others. But. the feature I like the most is the Templates. Our Product team at ZS uses readily available templates of Creative Brief, Product Requirements, and Product Roadmap for goal planning, requirement gathering & requirement documentation, and roadmap planning respectively. The best thing is we replicate these templates as-is for all the products in our product portfolio and this helps maintain standardisation of the documents.
Inconvénients
There is nothing that I dislike about Confluence. The only thing which I would suggest is that Confluence pages are really cluttered with information, providing too many things for the user to explore on the first try, which becomes really intimidating. Maybe the Overview page of a Space could be simplified further and a help guide link could be provided to understand the host of features provided in detail.
Secteur d'activité : Logiciels
Taille de l'entreprise : 501-1 000 employés
Logiciel utilisé

tous les jours

pendant

plus de deux ans

Provenance de l'avis
---
Confluence For the (Easy) Win
Avantages
Confluence has become the defacto wiki tool for most of the companies that I've worked with. The barrier to entry is super simple and VERY easy to setup (either Enterprise deployment or in the Cloud). Either way, most engineers I know these days are very familiar with Confluence.
There are also a ton of plugins and enhanced features that you can bolt onto Confluence which make it robust and scalable.
Inconvénients
There are a few things I don't like about Confluence:
1. The search functionality is a bit... wonky (?) to use... they try to load predictive results, which don't open in a new page automatically, it takes too long to load sometimes and if you press 'enter' and don't wait for the predictive results to load it takes you to entirely new page where the results have to load again. Also if you try to search before the JS has fully loaded the search doesn't work, takes your focus away. This means I have to be very slow when using the search feature and it easily frustrates me.
2. They advertise all these awesome plugins and support widgets, which cost a ton of money, but they only apply at the space level, not an individual account level. I'd be more inclined to buy stuff if I could also apply it to my personal Confluence account and take it with me. There are features like enhanced project management, and task management, and charting, and RTF features that I want, but the last two organizations LOCK THIS DOWN and getting a plugin installed is like moving heaven and earth.
3. Im a web dev and an embedded systems engineer. I like to touch things. Confluence can be a bit locked down sometimes and regid in the HTML5 layouts and JS run on page. I wish I could be an 'advanced user' and just make the changes within page. But I cannot. Im stuck with the one size fits all.
All of that said, they are gripes of a dev, but otherwise the wiki space is pretty fantastic. I use it daily!
Pourquoi passer à Confluence
The price + feature set met the needs of everyone.
Secteur d'activité : Services financiers
Taille de l'entreprise : 10 000+ employés
Logiciel utilisé

tous les jours

pendant

plus de deux ans

Provenance de l'avis
---
Best tool for Project Management in Industry
Confluence helped to decommission code check in tools like SVN and fileshare in organization.
Verison control feature always helps to mitigate any risk during release and build deployment activities.
It saved enough time and human efforts for data n file managments for multiple projects.
Confluence turned to be life savior for many projects in cost effctive model.
Avantages
Confluence is very user friendly so no need to spend time and money on employee training and learning.
It is time saving tool in agile project lifecycle reducing heavy documentation and support.
Better customer support compared to other vendors and softwares.
Cost effective and resilient for Risk management and project planning activities.
Inconvénients
Build deployment sometimes take time and version controlling mechanism require better practice for stability
Pourquoi choisir Confluence 
Efficiency and ease of use for confluence is better than Jira. It can be integrated to different sources for data management. Easy to work within Service Now platform compatibilty with Confluence
Pourquoi passer à Confluence
Easy,user friendly,cost effective and version control ability to mitigate project risk
Secteur d'activité : Logiciels
Taille de l'entreprise : 10 000+ employés
Logiciel utilisé

tous les jours

pendant

plus de deux ans

Provenance de l'avis
---
Feature rich, but not very user friendly
Avantages
It's a great content management/Wiki tool for collaboration and knowledge base creation. It has many integrations available out of the box, especially Atlassian products. Once you understand how it works for authors, many powerful features are available. I really like the tree structure that lets you nest topics. This makes organization easy to create and locate relevant information quickly by skipping directly to the info.
Inconvénients
It can be daunting to get the hang of how things work as a new user. The user interface is simple, but some of the more powerful features require a bit of research and playing around to understand.
We also frequently run into permission issues and user syncing with our IDP. We have tickets open with the vendor that took a long time to be acknowledged as bugs and after months, they are still not fixed.
Secteur d'activité : Services d'information
Taille de l'entreprise : 11-50 employés
Logiciel utilisé

tous les jours

pendant

plus de deux ans

Provenance de l'avis
---
Life saver for software projects
I have been using confluence every day for the last five years and I love how efficient and easy confluence is to use. It allows you to organize your pages into different spaces according to your needs and has an amazing set of tools for content editing. I remember before we used to store our data in JIRA cards or in MS word everything was just all over the place without any management. Now confluence is our one-stop solution for all our documentation needs. Using confluence we have all our content in one place and well organized
Avantages
Confluence is the most useful documentation tool of all time. It allows you to have all your documents in one place and not only that but it organizes them so very well. The number of tools it provides for editing a document is just amazing, something that is missing in all other documentation tools. The customizable templates are very useful too. I love adding images and videos to my documents, arranging the texts in blocks or tables, highlighting the important notes, etc. Confluence lets me do all of this. I also like how it allows collaboration of multiple people and highlights the contributors.
Inconvénients
I did not find any cons in the product itself but I would like to see better support service for confluence