En savoir plus sur GloFox
Glofox est une solution d'application et de gestion de salle de sport et de studio, conçue pour répondre aux besoins uniques des salles de sport, de fitness, de yoga et de pilates. La solution aide les propriétaires de salles de sport et de studios à améliorer les tâches administratives telles que la planification des cours, la gestion des membres, la facturation, le reporting et l'enregistrement. Glofox permet aux propriétaires de salles de sport et de studios de générer des réservations via une application dédiée aux membres sur les appareils iOS et Android. Les membres peuvent réserver et payer des ateliers, des cours, des rendez-vous et des adhésions via une application mobile et un portail web. Le même portail peut être connecté aux pages de réseaux sociaux, afin que les membres puissent réserver et payer directement à partir des comptes de réseaux sociaux. La solution aide les utilisateurs à suivre les horaires, les adhésions, les réservations et les paiements. Glofox fournit une fonctionnalité de reporting qui aide les utilisateurs à examiner des indicateurs clés tels que les ventes d'adhésions, les taux de présence et les échecs de paiement. Les utilisateurs peuvent également maintenir l'engagement de leurs membres et les informer des modifications via les notifications et les messages de l'application. La tarification est mensuelle et payée sur une base trimestrielle.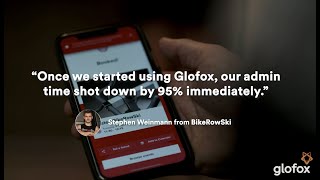 GloFox n'est pas disponible en version gratuite. La version payante de GloFox est disponible à partir de 110,00 $US/mois.
Version d'essai gratuite :
s/o
Produits similaires à GloFox
Évaluation des fonctionnalités
Secteur d'activité: Santé, bien-être et fitness
Taille de l'entreprise: Auto-entrepreneur
Logiciel utilisé

tous les jours

pendant

1 à 5 mois

Provenance de l'avis
---
First steps into new business made easier with GloFox
Sales, leads, marketing, basically everything I need to operate a boutique studio. I like the waiting list feature and how easy it looks to make it both branded to my company and tailored to exactly what me and my clients need. I'm looking forward to starting the build process to see how it goes.
The experience so far has been all good Fromm y perspective.
Avantages
Ease of Communication, with regular follow ups from sales team. Very friendly and helpful, giving lots of experienced based tips to help me get started. Seems to be simple system to operate, which is important for me as I'm not very technical with IT.
I liked that we could discuss everything about the product and there wasn't any pressure to go with GloFox. It just simply was the best value product for what I need.
The app looks great, and I think going for the Gold option from the outset was the best idea, as it means my clients can be used to using the app right from the start, rather than just using web services initially and then having to change.
Inconvénients
Nothing really, only thing I have noted is no compatibility with Spivi - which won't be an issue but just something I'll need to sort separately.
I can't see too many downsides at the moment, everything so far from first contact to agreeing to partner has been flawless.
Pourquoi passer à GloFox
Price, software visuals, communication, reviews.
Réponse de

Glofox

Hi Natalie, thanks so much for taking the time to leave a review. We really appreciate it. Glad to hear you're having a good experience.

- The Glofox Team

Répondu le 26/02/2021
Secteur d'activité: Santé, bien-être et fitness
Taille de l'entreprise: 11-50 employés
Logiciel utilisé

tous les jours

pendant

plus de deux ans

Provenance de l'avis
---
Not getting any better
Avantages
It's easy to use for the customer, but so are most other booking apps
Inconvénients
Being ignored by customer support. System is very slow. Lots of glitches, although less in the last year to be fair. I cannot recommend Glofox. I've been a customer for 3 years and I've tried to stick with then through all their setup problems (of which there were many), but lately their customer service has gotten worse and worse. Now a major issue has come to light on the accuracy of their reporting, so I can no longer make accurate reports on income. As a result I misreported my income for 2018 by quite some margin, I cannot lodge my income for 2019 and am late filing VAT returns. I first reported this on the 16th of September and it's been with their "engineering team" ever since with no updates and they are now ignoring me completely, even the [SENSITIVE CONTENT HIDDEN] is ignoring me. If they can't get something as simple as the income to report accurately then I've lost all faith. The system is also extremely slow and despite using different laptops, several browsers, PC and Mac and various internet connections, I get fobbed off that its an issue at my end. Yet when I reset filters it works straight away. But then slows down again very quickly afterwards. I have over 500 support issues back and forth with Glofox support in 3 years.
Réponse de

Glofox

Hey Andy, first off let us start by saying we're sorry to hear you had so many issues with us. We strive to bring our customers exceptional products and service. I hope since leaving this review we've found a resolution for you. If you have any questions or concerns please drop us a mail at [email protected] and we'll make sure to review them for you.

Thank you
- The Glofox Team

Répondu le 26/02/2021
Secteur d'activité: Gestion de l'enseignement
Taille de l'entreprise: 11-50 employés
Logiciel utilisé

tous les jours

pendant

1 à 5 mois

Provenance de l'avis
---
Build a Partnership
So far - so good.
Glofox has a huge impact on the way I look at my business right now.
The glofox time is always ready to help and teach us how to use the app - whic made my time realize how we could become more professional and trained. It had a good impact on us in so many ways .
Our comunication with our students are much more clear and we can see the great results of it.
When we are talking about online servive sometimes it is easy to become just like roobots, and glofox showed us that there is a way to make it more human.
It made my life easy and closer to my future dreams.
Avantages
For me, as a owner of a really small business, it was really hard to work during pandemic time.
Our reality was too much work and not enough clients, not because we were not good enough to sell, but because we did not have the people to deal and give the propper service for all our new customers.
We were always struggling with delay of communication - and not enough time to respond all the clients doubts. With glofox, some questions are alredy answered by email and by the app itself.
Now we have more time to focus and train our time, so we can have a high standarts customer service.[
We were afraid to make the full transaction to an online system because the prices were really higher for us.
But in three months of the system we managed to have more than 3 times more students now.
it´s gave us the opportunity to sell ir large scale and to delivery our work for people all over the globe.
Me and my time are happy with the results.
Thanks a lot.
Inconvénients
There is nothing I would say, I would like least.
But from my experience - all my students don´t realize they have access to recorded classes in the app.
I would make this botton more easy to notice - because it is important for us that all the people do benefit from the classes we are leaving ther eofr them.
Secteur d'activité: Santé, bien-être et fitness
Taille de l'entreprise: 2-10 employés
Logiciel utilisé

tous les jours

pendant

plus de deux ans

Provenance de l'avis
---
Really wish I could give this software a better score.
Asides from the frustrating technical issues outlined above, the support is very poor. Issues take weeks to resolve often with a "We don't know what the cause of the issue is" as a response, and then the same problem will reoccur later. The customer support team were great when I first signed up, I imagine there were fewer clients on their books and it was easier for them to manage. Now it takes weeks to resolve issues, the support team sound fatigued and are often defensive and salty when speaking on the phone (same applies to email correspondence).
Glofox also make regular "upgrades" to the software and do not take time to explain to their customers in full detail what the updates involve. An "upgrade" was made to the payments integration in 2019 which meant that access to the separate back-end Stripe system was lost, which was massively frustrating given the inaccuracies of the built-in Glofox reporting software and clients information randomly going missing from their back-end website. I get the impression that this "upgrade" was not fully tested as there were numerous issues with it (eg: old clients being reactivated and billed years after the fact).
I unfortunately cannot recommend this software to anyone as it has only caused frustration, disappointment and countless hours of extra work for myself and my team. The issues above caused a lot of upset to our clients which lessened their experience as our customers: this is the opposite of what any business needs!
Avantages
Glofox is a highly visual platform and easy to use (aside from the glitches which I will get to later). It looks very pretty and it would be amazing if it actually worked properly.
Inconvénients
It simply does not work. And I'm talking about the bare basics here. The reporting features are inaccurate and have added uncountable extra admin hours to my month. Regular glitches occur, a few of these are: payments being processed from users and then their purchased class credits disappearing, buttons on the back-end or admin website randomly disappearing or not working, classes / events / staff members being deleted from the calendar and then they re-appear randomly, start / end date functionality of classes randomly not working, clients being billed randomly following the completion of their payment periods, courses not visible on the admin app. I could go on.
Réponse de

Glofox

Hi Arlene,

Thank you for the honest review and feedback. I am sorry that you seem to have had such a poor experience with the Glofox platform.

We take customer feedback very seriously and will take your comments to the team. A member of our team will have been in touch with you to discuss the issues you outlined.

Best regards,
The Glofox Team

Répondu le 27/01/2020
Secteur d'activité: Santé, bien-être et fitness
Taille de l'entreprise: 2-10 employés
Logiciel utilisé

tous les jours

pendant

plus d'un an

Provenance de l'avis
---
Satisfied Customer
Good customer service, good on-boarding, flexible during Covid-19 crisis
Avantages
Reservation and payment - very easy to use
Inconvénients
I find it expensive for a small studio.