En savoir plus sur Campaigner
Campaigner est une solution cloud d'e-mail marketing qui s'adresse aux petites et moyennes entreprises de divers secteurs spécialisés. Les professionnels peuvent créer des flux de travail d'automatisation à l'aide d'une interface de type glisser-déposer et améliorer l'engagement client grâce à des déclencheurs conditionnels, comportementaux et basés sur les événements. Parmi les fonctionnalités, citons les tests comparatifs, les modèles personnalisables, le suivi de la géolocalisation, la bibliothèque multimédia, l'éditeur d'images, le reporting, la conformité réglementaire, les formulaires d'inscription, etc. Grâce à Campaigner, les organisations peuvent importer des données sur la plateforme et remplir automatiquement les profils des abonnés en ajoutant des champs de données personnalisés. Les responsables peuvent planifier des campagnes par e-mail récurrentes et créer des segments de public cible en fonction de l'activité de contact des clients, des données démographiques et du comportement d'achat. Campaigner facilite l'intégration à diverses applications tierces telles que Google Analytics, Magento, Shopify, PieSync, etc. La tarification est disponible pour des abonnements mensuels et annuels et l'assistance est assurée par téléphone, via une documentation et un formulaire de demande.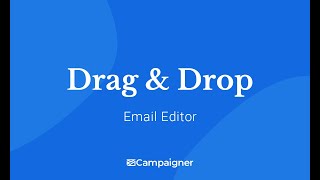 Campaigner n'est pas disponible en version gratuite mais propose un essai gratuit. La version payante de Campaigner est disponible à partir de 29,00 $US/mois.
À partir de :
29,00 $US/mois
Version d'essai gratuite :
Oui
Produits similaires à Campaigner
Évaluation des fonctionnalités
Secteur d'activité : Urbanisme et architecture
Taille de l'entreprise : 201-500 employés
Logiciel utilisé

toutes les semaines

pendant

plus de deux ans

Provenance de l'avis
---
Use What You Know
We send a weekly email to 40k users and this program has worked for us for the last 8 years.
Avantages
This program was already in use when I joined the company and the learning curve was minimal. It has all the standard templates, contacts, and reports that you would need. Every time I have called customer service, they have been helpful.
Inconvénients
Working with the templates can be really finicky. It can be difficult to get it to do what you want at times. It is also not as user friendly as MailChimp, for instance. Their reporting is there but you have to do click more time to get to it and comparing email sends can be annoying the way it's laid out.
Réponse de

j2 Global

Hi Kristi,
Thank you for leaving a review of Campaigner.

We are happy to hear that the platform works well for you and your team. We also appreciate th feedback you provided and have passed it along to our product team.

If you have any additional questions please do not hesitate to contact us.

-The Campaigner Team

Répondu le 15/10/2018
Secteur d'activité : Marketing et publicité
Taille de l'entreprise : 2-10 employés
Logiciel utilisé

tous les jours

pendant

6 à 12 mois

Provenance de l'avis
---
Terrible customer service
Not very good
Avantages
Functionality, emails, database, user friendly
Inconvénients
Terrible Customer Service. Very Overpriced, billing department is garbage, alot of my mailing goes to spam even when marked as 'not spam', media library not good
Secteur d'activité : Études de marché
Taille de l'entreprise : 11-50 employés
Logiciel utilisé

toutes les semaines

pendant

6 à 12 mois

Provenance de l'avis
---
There are Better Options
I am not only disappointed in the functionality of the platform, but when I purchases the service I was promised a solution to spambot clicks - albeit a universal problem - I was promised they had it addressed. They didn't. While support has generally been good, what good is it if you CONSTANTLY need support (I'm not a novice)?
Avantages
I guess I like the flexibility of the drag and drop email construction... when it works.
Inconvénients
There are SOOOO many glitches in the software. Sometimes images appear, sometimes they don't. Sometimes previews are sent, sometimes they are not. The constant duplication of effort is frustrating.
Pourquoi choisir Campaigner 
Spambot "ghost" click problems
Pourquoi passer à Campaigner
Promise of resolving false clicks.
Secteur d'activité : Musique
Taille de l'entreprise : 11-50 employés
Logiciel utilisé

tous les mois

pendant

plus de deux ans

Provenance de l'avis
---
Winterfolk Festival Bulk Email Program
It provides a great way to connect and inform our customers, and we get many action items, clicks, and responses.
Avantages
The reporting software is excellent. After analyzing the numbers after time, we have learned when is the best time to send, which formats work best, and it helped us optimize and improve the number of client opens, clicks, responses, and increase ticket sales. It works very well for that. We get more action from clients on a single email release then from all of our social media combined. It works well for us to increase our business.
Inconvénients
1. We don't like nor use ANY of the stock templates supplied, so we write our own code in an external HTML compiler. Their stock HTML compiler is OK, but becomes tedious and lacks features. So we write our emails in an external HTML compiler, and then paste it into Campaigner. Sometimes, after a test email, we need to make changes in the external compiler. Then we repaste it into Campaigner, for reasons unknown sometimes the formatting becomes corrupted, esp when using tables. It tends to add information that we did not supply.
2. We find the 'Save' command - should be simple - very confusing. Sometimes if we worked on an email for hours, and we want to send - there is a message asking if we want to send this version or the prior version that was not saved? We never know how to respond to that. Occasionally we have unknowingly sent out the wrong version.
3. Our old email software had a 'read more' feature, which was very convenient and functional. Campaigner does not supply this function.
4. The image library is very confusing. If we use an image in our email, we would expect it to be saved in the Image Library for future use. But it is not saved. We have learned to upload all of our images to the library in advance, otherwise there are always problems.
3. The uploading of new contacts often has problems occasionally. We go through the process, and nothing happens. Then we connect with customer service, and end up sending them the files via email for uploading.
Secteur d'activité : Services financiers
Taille de l'entreprise : 5 001-10 000 employés
Logiciel utilisé

tous les jours

pendant

plus de deux ans

Provenance de l'avis
---
The best in email marketing and testing.
Avantages
It is a simple-to-use solution that includes the essential feature for running email marketing campaigns and A/B testing. The media library is faultless and allows you to manage your data quickly. The email designs are well-designed and simple to modify. You may also submit your HTML-based email template. We can prioritize our follow-up by seeing who has opened the email and how often they have clicked the email we sent. This is amazing!
Inconvénients
I don't like the dashboard design, especially when navigating the menus and settings. By default, you will be sent back to the main menu and must use the arrow keys to navigate the various menus until you reach an item you want again. Additional information on what has been clicked and by whom would have been more beneficial. Alternatively, a record of each connection and their email behavior might be helpful.