En savoir plus sur AWeber
AWeber fournit des services d'e-mail marketing pour les petites entreprises. Cette solution permet d'automatiser le suivi des e-mails et la diffusion des bulletins d'information. AWeber propose des répondeurs automatiques qui permettent aux entreprises de fournir des messages ciblés, personnalisés et opportuns aux clients. Elle permet aux utilisateurs d'intégrer leurs comptes d'e-mail marketing à divers services en ligne, améliorant ainsi le partage d'informations entre les différentes fonctions de l'entreprise. AWeber permet aux utilisateurs d'insérer des formulaires d'abonnement par e-mail sur leurs blogs, sites web et pages Facebook. Les comptes utilisateurs AWeber peuvent également être intégrés à la plupart des outils de panier d'achats, ce qui permet d'ajouter les nouveaux clients aux listes d'adresses électroniques dès qu'ils effectuent un achat sur le site web de l'utilisateur. Les utilisateurs peuvent également utiliser l'API AWeber, une interface de programmation, pour créer leurs propres applications et outils personnalisés pour répondre à leurs besoins spécifiques.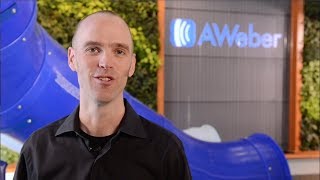 AWeber est disponible en version gratuite et propose un essai gratuit. La version payante de AWeber est disponible à partir de 0,00 $US.
Version d'essai gratuite :
Oui
Produits similaires à AWeber
Évaluation des fonctionnalités
Secteur d'activité : Marketing et publicité
Taille de l'entreprise : 2-10 employés
Logiciel utilisé

toutes les semaines

pendant

plus de deux ans

Provenance de l'avis
---
Aweber is the prefect email service for beginning and advanced marketers
I have several clients using Aweber, and they love it. Aweber does have a learning curve, but it is well worth taking the time to learn how to use it.
Avantages
Aweber is designed for marketers. It has a great automation system with many advanced features, like "if/else" and segmentation, that are well worth investing the time to learn. It is a great service for online marketers looking to make the next step. The telephone support is very helpful.
Inconvénients
Aweber usually costs more than other services, but it is usually worth spending the extra money because it provides benefits like 24/7 telephone and chat support.
Secteur d'activité : Marketing et publicité
Taille de l'entreprise : 2-10 employés
Logiciel utilisé

Autre

pendant

plus de deux ans

Provenance de l'avis
---
AWeber: A Good Start With Email Marketing
I enjoyed using AWeber. It was easy to set up lists and broadcast emails. And it made it possible for me to get started building my business online without much tech skill. However, as I became a more advanced marketer and wanted more control in my business, the way AWeber was set up did not seem to make certain advanced automation features possible. Or the interface was set up in such a way to dissuade you from using it for more complex features.
Avantages
The best part about AWeber is how easy it is to use. There aren't a whole lot of bells and whistles which means that it's super fast to get up and running. And honestly, though it's not my favorite tool, most businesses would do better to use AWeber than their current email marketing system. Also, it's got good deliverability which means your emails actually show up in the inbox instead of spam.
Inconvénients
I call AWeber a "beginner" email marketing tool because that's what it feels like. Yes, it'll get you up and running. But it doesn't "feel" powerful and the lack of features leave some things to be desired. But "something" is better than "nothing", so if using something easy gets you and your business to do email marketing, than by all means use AWeber.
Pourquoi choisir AWeber 
I don't have anything good to say about MailChimp. Not only is the interface clunky, but oftentimes deliverability suffers. And as if that isn't enough, a lot of businesses that are totally ethical, GOOD businesses are forbidden from using the platform. I have many friends who have woken up to their accounts banned, locked out of all their email contacts without so much as a reason. And these weren't people running aggressive offers. They were just regular businesses (like flower shops) that apparently tried to sell their products a little too "hard" and therefore caught the ban hammer.
Pourquoi passer à AWeber
At the time I was just getting started in internet marketing, I wanted to use what the "big names" used. So I looked into the platforms they "recommended." This was before I understood affiliate marketing and didn't know they were getting paid to say how awesome these platforms were. When in reality, yes they are super powerful. But they're also really clunky and take a SUPER long time to learn. Plus, I quickly realized I wouldn't use MOST of what these other platforms offered, so I quickly decided on AWeber so I could get started with my business.
Secteur d'activité : Santé, bien-être et fitness
Taille de l'entreprise : Auto-entrepreneur
Logiciel utilisé

toutes les semaines

pendant

6 à 12 mois

Provenance de l'avis
---
Has everything but hard for beginners
Avantages
Aweber has everything I need for my small business and much more! It's an easy go to because I can do so many things through it
Inconvénients
As a beginner and no email marketing experience it's overwhelming to start using. I wish was more streamline. I didn't know I needed a new list and email automation for every landing page or freebie. I had 5 things attached to one list. Whoever develops Aweber they need to look at their system as "Aweber for dummies". If the developers looked at their systems that way and created the system for the newbies its functionality would highly improve. The left side of options are too many and not described enough.
Secteur d'activité : Formation professionnelle et coaching
Taille de l'entreprise : Auto-entrepreneur
Logiciel utilisé

toutes les semaines

pendant

plus d'un an

Provenance de l'avis
---
Came back to Aweber
I was an Aweber customer for several years and left to try other competitors. Even though some competitors were a little less monthly cost, they probably cost me more in the long run because of the time wasted in frustration. Aweber works seamlessly with my OptimizePress Smart theme. I enjoy the peace of mind again.
Avantages
I love the ease of integration with other platforms. I used Aweber for several years and left to try other low-priced autoresponder services. I learned my lesson. I came back to Aweber recently. They are the best.
Inconvénients
I have no negatives to list. It's the easiest, most intuitive service I have used.
Pourquoi passer à AWeber
I felt Aweber was easier to use and very affordable.
Secteur d'activité : Marketing et publicité
Taille de l'entreprise : 2-10 employés
Logiciel utilisé

tous les jours

pendant

6 à 12 mois

Provenance de l'avis
---
The Aweber Review
Great autoresponder for digital marketing/ affiliate marketing professionals. Your potential to grow and maintain active lists is entirely up to your competencies.
Avantages
Aweber provides great email templates with superb integration with other top tier programs. It even offers email marketing training and split testing functionality.
Inconvénients
The only con I can think of is that the price increases dramatically as your list size increases. However it still remains very competitive with other autorepsonders.
Pourquoi choisir AWeber 
Mailingboss is a part of the Builderall system that I used before. Aweber also provides better looking and better integrated templates.
Pourquoi passer à AWeber
I found it was a lot more user friendly and offered a great 30 day trial with which to test the product with.