En savoir plus sur Apptivo
Apptivo is a cloud-based suite of applications designed to help small businesses manage a range of functions including financials, human resources and supply chain management. Apptivo's customer relationship management (CRM) applications provide modules for contact management, lead management, opportunity management and customer service ticket management. Marketing applications include campaign management, lead segmentation and loyalty management. Businesses can select necessary applications and omit applications they do not need. Other applications include expense reports, license and insurance tracking, sales planning and territory management, cash management and budgeting. Users can access Google app integrations for Drive, Calendar and Tasks, and mobile apps are also available. Pricing is per user per month, billed annually.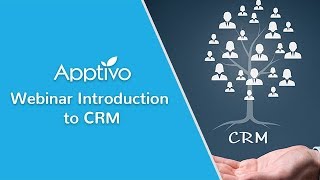 Apptivo est disponible en version gratuite et propose un essai gratuit. La version payante de Apptivo est disponible à partir de 10,00 $US/mois.
À partir de :
10,00 $US/mois
Version d'essai gratuite :
Oui
Produits similaires à Apptivo
Évaluation des fonctionnalités
Logiciel utilisé

tous les jours

pendant

plus de deux ans

Provenance de l'avis
---
Customer Support is very Responsive
Our business started Apptivo when we were quite small, and there were several issues with the program when we first began using them. The support at Apptivo is awesome, every time that we have a difficulty using any of the programs feature, they have gotten back to us within hours or sometimes days. The recent issue with using their Ledger App took a bit longer to resolve but we enthusiastically appreciate their dedication to resolving the issues, and how thoroughly they did resolve it.
The features we use most often include: Emailing Invoices and Estimates, keeping track of our Finances with their Ledger App, and keeping track of correspondence with Clients. There are some many other features to the program including tracking Inventory, tracking Accounts with Suppliers, and creating Projects with clients/collaborations with other professionals just to name a few.
I will continue to use and support the Apptivo program. They continue to grow and offer more features, clearer and efficient options for tracking the growth of our business as it continues to grow!
Avantages
Easy to use features - Sending out invoices - Receiving payments and notifications - Receving Emails and Client feedback - Tracking client info - Reviewing, Updating, and tracking Inventory and Accounts Payables. There are many other features but these we use in general.
Inconvénients
Some errors with Invoices through paypal that require the client to input the info more than once, especially when there is Updates to the program. This has happened on some occasions, but is no longer an issue that we experience.
Secteur d'activité : Sécurité et enquêtes
Taille de l'entreprise : 51-200 employés
Logiciel utilisé

tous les jours

pendant

plus de deux ans

Provenance de l'avis
---
Flexible Software Platform
Cloud-based product is easy to use from anywhere, including mobile device. We required significant system customizations and most were successfully implemented. While we have trouble resolving issues using Apptivo's general Tech Support chat function (probably due to our breadth of customizations), our PM and Apptivo's technical team always provide good support when we have issues to address!
Avantages
Its ability to accommodate the range of sales and technical information we track in a CRM. The Apptivo team was willing to affordably undertake necessary customizations to tailor the product to our business model.
Inconvénients
Certain basic tools (i.e. drag and drop column-builder) are not features of this system. List upload function is complex. Mobile functionality is somewhat limited. Outlook integration is less user-friendly / flexible than ideal. Reporting functionality is limited without customized reports.
Pourquoi choisir Apptivo 
Obsolescence
Pourquoi passer à Apptivo
Price relative to the feature set we required at the given time.
Secteur d'activité : Comptabilité
Taille de l'entreprise : 11-50 employés
Logiciel utilisé

tous les mois

pendant

1 à 5 mois

Provenance de l'avis
---
Client use
Not great. Wouldn't recommend to further clients. Customer help kept repeating the same thing which didn't help. Gave up on the connection.
Avantages
I liked the fact that it linked through to xero, however I can't get it to connect correctly.
Inconvénients
The fact I can't get it to connect to xero and is clunky in that area.
Secteur d'activité : Recherche
Taille de l'entreprise : 2-10 employés
Logiciel utilisé

tous les jours

pendant

plus de deux ans

Provenance de l'avis
---
Great Product
Overall, this product has streamlined and simplified the way we do business, contact our clients, and regulate their access to data.
Avantages
Apptivo CRM is very user friendly. It is also very flexible so it can suit your business the way you do business
Inconvénients
If I feel like there is something missing, I can report it to Apptivo and they usually put it in their pipeline and add it to the software.
Secteur d'activité : Biens de consommation
Taille de l'entreprise : Auto-entrepreneur
Logiciel utilisé

toutes les semaines

pendant

plus de deux ans

Provenance de l'avis
---
Decent Suite of Productivity Apps
I would give this 4 out of 5. I love the fact that it is offered for FREE for up to 3 users so great for small start up companies. There are tons of apps you can add and customize per your needs.
Avantages
One stop shop for many productivity apps such as supply chain, CRM, HR, Accounting etc. Customer service are always available via chat and very helpful. They will even do screen share and troubleshoot the issues.
Inconvénients
Some of the templates such as purchase order, packing slip are hard to customize. Some of the fields do not display consistently.