En savoir plus sur JOBPROGRESS
JOBPROGRESS is a cloud-based construction management solution for residential remodeling contractors. The solution works with small businesses and can be customized as per the needs of an organization. It offers estimating, project management, photo management, document control, contract management and customer management. The solution provides mobile apps for Android and iOS devices. The mobile app users can create instant proposals and contracts and have remote business control. JOBPROGRESS provides automated estimates and proposals for tracking features and customizable workflow stages or steps. The job scheduling management function and GPS functionality help users navigate to and from jobs and dashboard work centers help manage workflow. Users can add or track multiple jobs per customer. Other features include staff or production calendars, digital signatures, remote pay, insurance estimating and sales automation. Integrations include QuickBooks, Eagleview, Google, WordPress, Social media profiles and Zendesk. Pricing is per month per user with a one-time setup fee.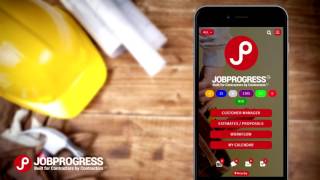 JOBPROGRESS n'est pas disponible en version gratuite et ne propose pas d'essai gratuit. La version payante de JOBPROGRESS est disponible à partir de 55,00 $US/mois.
À partir de :
55,00 $US/mois
Version d'essai gratuite :
Non
Produits similaires à JOBPROGRESS
Évaluation des fonctionnalités
Secteur d'activité : Construction
Taille de l'entreprise : 2-10 employés
Logiciel utilisé

tous les jours

pendant

6 à 12 mois

Provenance de l'avis
---
Best CRM For Your Money!!
Excellent or A++
Avantages
Easily the best and most customizable CRM for the industry our today. Their app is second to none and the desktop platform makes following jobs a breeze! Plus, grabbing an e-signature right on the contract on the app is cake. No extra app to use
Inconvénients
There really are none, if something arose the team at JP jumped to correct or add it right away.
Pourquoi choisir JOBPROGRESS 
Price and functionality.
Pourquoi passer à JOBPROGRESS
Having a mobile app was key to our sales staff success and talking to the team at JP sold it.
Secteur d'activité : Construction
Taille de l'entreprise : 11-50 employés
Logiciel utilisé

tous les jours

pendant

1 à 5 mois

Provenance de l'avis
---
Add More Features/Uses
I love the customer service you guys provide, and I hope that doesn't change as you expand. The database itself is user friendly, I just see potential for more features
Avantages
I love the separation of the production calendar from the staff calendar. The customer contact directory is great, and mainly why I got Job Progress to begin with so we could manage our customers better.
Inconvénients
I think this software could do more. I don't like the graph layouts we are given, I wish we could choose among different kinds of graphs that could help us better visualize our data. I also wish the proposals allowed me to customize the font more so whilst I am making a proposal that has already been merged to a customer. Instead, if I want to fix the font sizing on the proposal I have to exit where I am and edit the template itself and then that edit applies to all future proposals. I just want more flexibility on the customization side. Lastly, I think this program has so much potential to integrate a canvassing segment to it. Maybe integrate with Google maps or another program to create an option for companies to track their canvassers. Right now, I use Google maps to track my canvassers, but it would be great if we could do that all on Job Progress so they also have real time access to where they've gone and what neighborhoods are successful, etc.
Pourquoi choisir JOBPROGRESS 
Filemaker is computer based, rather than user based, and I wanted the flexibility for everyone to access our customer's information from anywhere. We are also expanding, so I thought a more organized, all-in-one system was necessary to make a successful business shift
Pourquoi passer à JOBPROGRESS
The price and the separation of staff and productions calendars
Secteur d'activité : Construction
Taille de l'entreprise : 51-200 employés
Logiciel utilisé

toutes les semaines

pendant

plus d'un an

Provenance de l'avis
---
JOBPROGRESS, ideal for startup businesses and small companies.
Avantages
JobProgress is easy to implement and it has integrations with CompanyCam, Zapier, DropBox, Quickbooks and so many others that help your business grow and have it all in one place.
Inconvénients
None that I can think of up until now, the support team is very well versed on the product.
Secteur d'activité : Équipements publics
Taille de l'entreprise : 201-500 employés
Logiciel utilisé

tous les jours

pendant

Essai gratuit

Provenance de l'avis
---
Administrator
Avantages
The job management product is easy to use and user friendly
Inconvénients
It cannot connect or read data from our company database
Secteur d'activité : Construction
Taille de l'entreprise : 2-10 employés
Logiciel utilisé

tous les jours

pendant

1 à 5 mois

Provenance de l'avis
---
Great software with room for improvement!
We use JP to run our entire operation and plan to use it in the near future. It's constantly getting better, mgmt is very engaging and always taking feedback and making progress.
Avantages
JP is easy to use once you get it configured to your business processes. Macros that streamline the estimate/proposal process along with integration to suppliers all within the job keeps the documentation process on the job easy to manage. Also, it doesn't take long to get new users trained on how to use JP on a daily basis.
Inconvénients
The ability to use Zapier and input new leads/customers needs to be cleaned up and more open to align with Referal Sources so it can in as a Zap and not manually entered. Right now, this integration isn't very well designed from a data input standpoint, only minimum fields.
We do a lot of insurance roofing jobs and the ability to bring those in as a PDF and autocreate the estimate is a big win BUT the inability to use that like other Estimates/Proposals in JP that a client can sign off on is a huge gap.
The customer web page could use the tweaking to make the experience a little more professional and appealing to the user.
Photos uploaded into JP already automatically shared with the client, the process to share photos is a pain especially when you have 50-100 job photos. It would make more sense to establish at the folder level what photos can be shared to the customer web page along with the ability to designate a photo as the main photo (like front picture of the home) as the key photo on the customer page seen everytime they go there. Also, allow different photo folders to be presented so the client can see different photos in groups from inspection photos vs. job progress photos vs. job completion photos.