En savoir plus sur Checkbox
Checkbox est une plateforme primée et sans code qui permet aux utilisateurs de créer leurs propres applications professionnelles pour automatiser des processus. Les applications sont créées à l'aide de l'interface intuitive de type glisser-déposer de Checkbox qui ne nécessite aucune connaissance technique. Checkbox permet aux utilisateurs de créer et de déployer des solutions en quelques heures et non en plusieurs mois, sans écrire une seule ligne de code. En tant que plateforme véritablement sans code, Checkbox permet aux utilisateurs de créer et de maintenir des applications sans dépendre de leur service informatique ou de Checkbox en tant que fournisseur, ce qui permet de mieux contrôler les couts et les délais de développement et d'être plus flexibles pour répondre aux avis des utilisateurs ou aux changements de processus.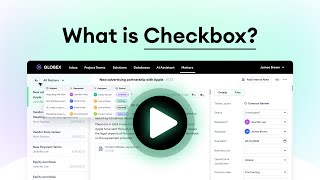 Checkbox n'est pas disponible en version gratuite et ne propose pas d'essai gratuit.
Version d'essai gratuite :
Non
Produits similaires à Checkbox
Évaluation des fonctionnalités
Secteur d'activité : Services et technologies de l'information
Taille de l'entreprise : 501–1 000 employés
Logiciel utilisé

toutes les semaines

pendant

plus d'un an

Provenance de l'avis
---
Easy design and implementation, effective workflow management
Excellent support, from initial conversations to module design to implementation. The Checkbox team was communicative, supportive and outcome driven.
Avantages
The product is adaptable to a variety of use cases, easy to tailor to specific needs, and provides an excellent end-user experience.
Inconvénients
No doubt the product will gain additional features over time - perhaps those related to reporting will be of most benefit for us - but at this time it has everything we need
Secteur d'activité : Enseignement supérieur
Taille de l'entreprise : 5 001–10 000 employés
Logiciel utilisé

tous les jours

pendant

plus d'un an

Provenance de l'avis
---
Transformation of highly administrative process
Very pleasant experience to date, team is very responsive, knowledgeable and solution driven, providing best practice advice. The Checkbox team has worked closely with us to roll out a very successful solution and assisted with preparing project plans to ensure the project meets the milestones for a successful roll out.
Post implementation, the Checkbox team has continued to provide support when requested. The Checkbox team has also been very open to user feedback provided to continually improve their platform.
Would highly recommend Checkbox if your organisation is struggling manual processes and high volumes of document generation. The platform can streamline and automate processes to free up time, allowing staff to work on value add activities.
Avantages
Checkbox has been able to transform an administratively burdensome process to an efficient process managed entirely within the platform. The workflow process is able to seek approvals from different stakeholder groups depending on the options selected and complex bespoke documents can also be generated at the end of the process.
The team at Checkbox worked with the project team to identify key pain points and proposed solutions to streamline the process and increase efficiencies. The no code platform was really easy to update through the consultation process with key stakeholders and is easily maintained post implementation to continually update the process, improving overall experience for all stakeholders.
From an end user perspective, the users have adapted to this technology very quickly with little complaints.
Inconvénients
Platform has been great so far and currently working with the Checkbox team to improve their dashboard capabilities.
Secteur d'activité : Biens de consommation
Taille de l'entreprise : 1 001–5 000 employés
Logiciel utilisé

toutes les semaines

pendant

6 à 12 mois

Provenance de l'avis
---
Checkbox
We have automated a number of previously manual or error prone tasks quickly using Checkbox and in situations where larger, less flexible incumbent systems have not been able to do so. In a rapidly changing environment, controlling your own destiny is important. We have learnt that it is critical to have a core team of people who can support those people who are building apps and provide them with some guidance, and time spent thinking about and designing solutions before you start building is time well spent.
Avantages
Checkbox provides a platform on which you can create your own automation solutions, so it lets you build whatever you want. Once you've done some initial training, key functionality is very simple to use and intuitive - the platform is also constantly improving. After deployment of solutions, Checkbox also provides analytics to help you understand how well that solution is working.
Inconvénients
Some of the more advanced functionalities are not currently well explained and really require someone from Checkbox to explain them to you - however the Checkbox team are constantly improving their support pages and in-platform tips. Finding and fixing errors in your solutions can also be time consuming and the Checkbox team have been proactive in launching things to assist with this.
Secteur d'activité : Cabinet d'avocats
Taille de l'entreprise : 501–1 000 employés
Logiciel utilisé

tous les jours

pendant

plus de deux ans

Provenance de l'avis
---
Modern low code toolset, great features, agile company very customer focussed and moving fast
We use it a lot for decision trees. Taking legal decisions, mapping them out and giving power to non-legal people. We also use it to manage workflow steps in some processes and to generate documents (assembkling them based on answers to questions). We have found it easy to develop in enabling us to develop prototypes very quickly which helps keep the pace of innovation up in the firm. When people see their ideas come to life so quickly they get inspired. The checkbox support team are fanstastic and the company is moving rapidly.
Avantages
Easy to use. We can put it in the hands of citizen developers easily, and the developers even like it because it is powerful and extensible. The releases always have something interesting in them so they are clearly improving it rapidly. We can code up a decision tree and document automation app in hours vs days or weeks with other platforms in this space.
Inconvénients
No cons. There isn't a use case that we have had a challenge with. Three years ago there were a few features missing because it was still quite new, but that is rectified now and improving beyond our requirements every month.
Secteur d'activité : Services juridiques
Taille de l'entreprise : 2–10 employés
Logiciel utilisé

tous les mois

pendant

plus de deux ans

Provenance de l'avis
---
Great team and product
Checkbox helps with automating certain manual processes so that they can be delivered at scale. The other big problem solved is avoiding the need to engage a software developer as it's all very easy to do yourself. Anybody comfortable for example with Excel formulas will be a pro in no time. If not, the learning curve is still pretty easy.
Avantages
I've been using Checkbox for many years in various legal contexts. The customer support team (and even the [SENSITIVE CONTENT]!) have always been fantastic to work with and very responsive. The product itself has come a long way over the years. It can serve simple use cases without much training needed, but it also has the power to serve more complex workflows.
Inconvénients
Apps built on Checkbox tend to have a similar look and feel, as there is relatively limited design customisation available other than changing font styles. This usually won't be a major problem, but manage your expectations accordingly.