En savoir plus sur Katana Cloud Manufacturing
Katana est un logiciel de fabrication et d'inventaire moderne pour les entreprises en pleine croissance. Les utilisateurs peuvent automatiser les flux de travail avec le moteur de réservation automatique intelligente et l'interface visuelle de Katana, qui permettent aux entreprises de hiérarchiser les commandes et de consulter les disponibilités de matières premières et produits finis en temps réel. Les utilisateurs peuvent facilement créer des nomenclatures pour les produits et leurs variantes, ainsi que gagner en visibilité sur l'inventaire de plusieurs canaux et en contrôle sur l'atelier. Katana s'intègre de manière transparente à Shopify, WooCommerce, QuickBooks, Xero, etc.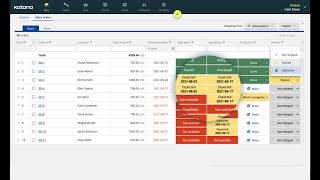 Katana Cloud Manufacturing - Prix
Katana Cloud Manufacturing n'est pas disponible en version gratuite mais propose un essai gratuit. La version payante de Katana Cloud Manufacturing est disponible à partir de 99,00 $US/mois.
À partir de :
99,00 $US/mois
Version d'essai gratuite :
Oui
Produits similaires à Katana Cloud Manufacturing
Katana Cloud Manufacturing - Avis
Évaluation des fonctionnalités
Logiciel utilisé

tous les jours

pendant

1 à 5 mois

Provenance de l'avis
---
I learned this product by using it; few hints from the online help. I decided on day one to...
I can now run my business without spreadsheet hell. I can actually make more product. This is not an exaggeration. I was stressed before using this software. I actually could not work out what I needed to order to satisfy our production demands.
Avantages
It answers my questions easily, what purchase orders do I need to make to satisfy the orders I have coming in. What should I work on next and when will it be ready for the customer! I can see delays in deliveries and the effect on production. It manages very complex bill of materials for our vast number of products. and it does so with a user experience that is simple and easy.
Inconvénients
Where there has been anything I didn't like about the software, I chat instantly to the development team and they listen, they come back to me with an instant work around; then in the longer term they have provided updates that fix the problem. They are an adorable bunch of people and really want to make this work for our busy little workshop.
Réponse de

Katana Technologies

Thank you Gaz for all the support!

Répondu le 09/09/2019
Secteur d'activité : Produits alimentaires
Taille de l'entreprise : 2–10 employés
Logiciel utilisé

tous les jours

pendant

1 à 5 mois

Provenance de l'avis
---
Intuitive, Fast To Implement, and Beautifully Designed
Avantages
The user interface is clean and very intuitive, requiring essentially no time to learn. Some of the other MRP solutions we tried were difficult to navigate and use, and training on them would have been labor intensive and costly. Katana is beautifully designed, and the batch-tracking and inventory management is easy to adapt to our business (MRPeasy/ERPAG were very clearly not designed with food manufacturing in mind, so making them even remotely functional for that purpose felt like a bit of a fools errand, whereas Katana just works).
Inconvénients
While it is very user-friendly and it has the ability to track batches/lots (which is critical for us), we've had to develop workarounds to make it function the way we need it to -- it doesn't quite handle this the way I would envision it should. There are also some minor time wasters. If there's one simple feature I wish they would change, it's being able to type in the expiration dates rather than having to scroll through the calendar manually to select the correct date. This becomes so onerous when receiving multiple items on a PO and having to manually click through/scroll through the calendar to select the correct date as opposed to simply having a field that allows you to type in the date and move on.
Pourquoi passer à Katana Cloud Manufacturing
Katana is a great small business solution that I can easily see growing with us. Fishbowl is cost-prohibitive (and honestly at this point, I'd rather just use Katana). MRPeasy and ERPAG are not as well designed and don't work well as a food industry solution -- they made simple tasks feel like running through a maze. The developers at Katana did a beautiful job of creating something intuitively designed that works well across multiple industries while also making it as clean and aesthetic as it is functional. It's a pleasure to use. I've noticed that they also seem to be regularly implementing improvements and updates, which is awesome. Customer support is friendly and responsive. Highly recommend.
Secteur d'activité : Machines
Taille de l'entreprise : 51–200 employés
Logiciel utilisé

tous les jours

pendant

1 à 5 mois

Provenance de l'avis
---
First time Katana user
Overall, we have been very happy with the product. There are some features we would like to see implemented, and those have been passed onto to their support team. But the value has far exceeded the cost and we are excited to get completely rolled out soon!
Avantages
The setup is quick and easy and the customer service is nothing short of excellent. We love the simple interface which makes it easy to train others on,. The Excel templates allow for bulk uploads of all of the required data categories which doesn't need to be uploaded manually.
Inconvénients
It could be more circular in that you sometimes have to jump back and forth within the system to complete a task. The production operation feature should allow you to set a default number of labor hours per task so that it isn't required with each manufacturing order setup.
Secteur d'activité : Transport routier/ferroviaire
Taille de l'entreprise : 2–10 employés
Logiciel utilisé

toutes les semaines

pendant

1 à 5 mois

Provenance de l'avis
---
Promised so much delivered far short of what we hoped
Disappointed. They are pretending this software is the best thing since sliced bread and its more like a stale baguette.
Avantages
It works on a basic level for stock management and also bills of materials.
Inconvénients
It fails to have any sort of calender or gantt chart. It also fails terribly with time planning/recording of how long a task can take. For example you can't even put into the system that you start your working day at half past the hour only full hours are allowed. Further to the time planning side you can not block out time for holidays or meetings. Making this software useless to plan your time and give acreate lead times to customers.
Réponse de

Katana Technologies

Hi Daniel! Thank you for your honest feedback. We are continuously working on improving on the points of time planning and will be ready with better capabilities in the coming months already.

Répondu le 09/03/2022
Secteur d'activité : Textile
Taille de l'entreprise : 11–50 employés
Logiciel utilisé

tous les jours

pendant

1 à 5 mois

Provenance de l'avis
---
Katana for a small manufacturer
We're still in the implementation stage, but Katana has met the majority of our business requirements with ease. It's been easy to transfer and upload data into Katana and we're feeling very confident about go live. Customer support is outstanding and they pass all improvement suggestions up to their development team for review. They embrace continuous improvement similarly to our manufacturing floor.
Avantages
The ease of building products and variants. Our products have a lot of variants, and Katana makes it very easy to manage them all simultaneously. The previous MRP system used required us to build a unique BOM for every variant, which took significant time.
Inconvénients
Minimum order quantity feature. Ability to reject/second quality part of a manufacturing lot. Develop an easy way to see product list not broken down into variants. Have the ability to only show certain BOM items on the shop floor app. Consumables like glue and tape don't need to be shown.