En savoir plus sur Freshsales
Freshsales est une solution cloud de CRM (Customer Relationship Management) qui aide les entreprises de différents secteurs industriels à gérer leurs interactions avec les clients existants et potentiels. Ses principales fonctionnalités sont le téléphone en un clic, le suivi des leads, la gestion des ventes, le suivi des événements, etc. Les utilisateurs peuvent également envoyer des e-mails personnalisés en masse à partir de la solution, puis surveiller les activités liées à ces e-mails. La boîte de réception donne automatiquement la priorité aux e-mails des contacts et des leads en attente d'une réponse. Freshsales suit les pages web avec lesquelles les prospects interagissent, puis segmente les contacts en fonction de leur comportement. Une fonctionnalité de lead scoring classe les leads en fonction de ces données et donnera la priorité à ceux qui ont un score plus élevé par rapport à ceux qui nécessitent davantage d'accompagnement. La vue client à 360 degrés donne des informations complètes sur les clients et les prospects, notamment les conversations, les points de contact, les rendez-vous et les tâches. Freshsales s'intègre à Freshdesk, au suivi des événements Segment et au Google Agenda. Les services sont proposés sous forme d'abonnement mensuel comprenant une assistance par téléphone et via d'autres ressources en ligne.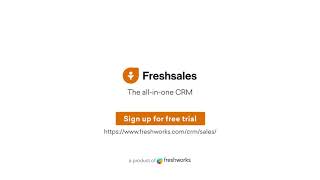 Freshsales est disponible en version gratuite et propose un essai gratuit. La version payante de Freshsales est disponible à partir de 15,00 $US/mois.
À partir de :
15,00 $US/mois
Version d'essai gratuite :
Oui
Produits similaires à Freshsales
Évaluation des fonctionnalités
Secteur d'activité : Services et technologies de l'information
Taille de l'entreprise : 11-50 employés
Logiciel utilisé

tous les jours

pendant

plus de deux ans

Provenance de l'avis
---
Freshsales
Avantages
Excellent logiciel pour les ventes et la gestion de client.
Inconvénients
On ne peut pas être plusieurs sur le même deal.
Secteur d'activité : Banque
Taille de l'entreprise : 1 001-5 000 employés
Logiciel utilisé

tous les jours

pendant

plus d'un an

Provenance de l'avis
---
Best high end software for sales manager and their team working in startups
There are many alternative sales tools out there but freshsales helped me in my initial days of lead generation, hence I will recommend this tool to those who have just started into marketing & sales department.
Avantages
I was using this software for 1 and half year, I started with just live real-time chat service and now I have started using its premium features to manage my leads and sending them sales pitch and updates with easy campaign manager.
I loved the user interface which takes no brains to understand the features that you need to solve your purpose. I have used their reporting tools that helps me make decisions based on results I have got from campaigns.
Inconvénients
I would love this tool if they provide integration with social networks too like Instagram and Facebook messages along with LinkedIn. Currently they have limited integration modules.
Also importing files takes much time then managing and sending them sometimes it got stuck and I need to reiterate everything again.
Pourquoi choisir Freshsales 
tawk.to is much easier tool but its not beneficial for lead generation, its mostly useful for customer support or after sales service. Freshasales is all round tool that made me choose this software.
Secteur d'activité : Cosmétiques
Taille de l'entreprise : 11-50 employés
Logiciel utilisé

tous les jours

pendant

plus d'un an

Provenance de l'avis
---
If you need support, look elsewhere
In short, great app, downright awful support
Avantages
Very easy to implement. Currently using FreshDesk, FreshCaller and FreshSales. Great integration, everything works quite well.
Inconvénients
As long as you do not need help from support, you will be fine. Every time that I have contacted support it has unfortunately been very disappointing. Even the most basic question takes an inordinate amount of time to get a response. Specific issue on FreshSales that really was upsetting is the fact that under the blossom program you get absolutely no reports, zero. In order to get reports, you have to upgrade to the next plan, garden. The cost per user goes from 12 to 25 if you are on the annual plan or 19 to 35 on the monthly. It is really hard to understand why some basic reports were not provided under blossom. Yes, the app is very useable without reports, however, if you are managing a team and want to see data across users, forget about it. You need reports and will have to migrate to the next plan up. I cannot stress the fact that the support is just simply not a priority for them, for many folks this could be the one thing that will force them to look somewhere else.
Pourquoi passer à Freshsales
The decision to choose freshworks was for most part driving by cost.
Secteur d'activité : Assurance
Taille de l'entreprise : 11-50 employés
Logiciel utilisé

tous les jours

pendant

6 à 12 mois

Provenance de l'avis
---
It's a great CRM!
All-in-All it's a great software to use. I conclude with the fact that freshsales is ever changing and in my 6 months of usage I have seen anticipated improvements appear right before my eyes. It's perfect for users who are looking for a cost effective and flexible solution to customer relations. The kinks in its usage can be ironed out through support and further improvement of the software itself. It's a great CRM!
Avantages
The BEST part about Freshale's is the endless capability for customizations and integrations. This allows users to create systems of follow up with multiple points of contact to the client. The new future to manage duplicates was a great addition. I also love the capability to attach documents to client files, really comes in handy.
Inconvénients
The system is relatively easy to understand however when it comes to usage I find it's very clunky. I can see how the open set up and free customization may overwhelm even experienced users. I would even say that, the coders and web designers at freshsales had more of an influence on this product then the relation management professionals. It sort of like a "Droid" cell phone. The technology in the phone is superior and far more advanced, yet users are not acclimated to the application of it. I would like to make two suggestions to address such.
First, I'd like to point out that even though I'm bring this up in the 'con' section, I have NEVER had a problem with Freshsales support team. When in reference to the wieldiness of the software I think that Freshsales could benefit from a hand on approach and a thorough process in training the users. You see if the users understood Freshsales as much as you folks do I'm certain the above 'con' would be null.
Second, in relation to the same 'con' described above I believe this can be solved more directly. What I mean by that is creating an internal prioritization based on recent actions, recent stage changes, number of exchanges, lengths of conversation and what ever variables you guys think that can measure and use as info to prioritize leads. Then possibly a dashboard view, displaying these prioritized leads as well as up coming tasks and appointments, metrics on call volume and possible targets or goals.
Secteur d'activité : Machines
Taille de l'entreprise : 11-50 employés
Logiciel utilisé

tous les jours

pendant

plus de deux ans

Provenance de l'avis
---
Freshsales suite fulfills our needs
Overall experience is good. Now that we are on an enterprise plan, support is good. When we were not enterprise client, the support was often slow.
Avantages
This product offers a lot of features and does offer a multi-touchpoint approach. Email journeys, Whatsapp integration, Chatbots, SMS...
Inconvénients
I miss if/than functionality in workflows. That would greatly reduce the manual work when setting up the workflows and adding new conditions.
Another thing that I do not like is the policy and the pricing related to the marketing contacts. All plans have the limitation of 1000 marketing emails per month. This can be quickly exceeded especially if you are sending newsletters to your contacts. There is an option to upgrade, but that is way too expensive and completely unscalable when a business grows. We have overcome that with integrating CRM with SMTP service that takes over this part and is calculated on the number of emails sent.
Pourquoi passer à Freshsales
We were using Freshsales for 2 years now. We searched for alternatives, but we saw that Freshsales serves all our needs.