En savoir plus sur Price2Spy
Price2Spy est un service en ligne de suivi et de comparaison destiné aux petits et grands commerces de détail, aux fabricants, aux marques et aux distributeurs en ligne de divers secteurs d'activité. La solution offre des outils visant à surveiller, suivre et analyser les tarifs et disponibilités des produits concurrents. Les utilisateurs ont accès aux données de tarification et à plusieurs mécanismes de reporting pour l'analyse des données. Les fonctionnalités de comparaison des prix présentent aux utilisateurs des données historiques qui montrent la façon dont les prix de chaque concurrent ont évolué au fil du temps. Le tableau de bord de tarification indique aux professionnels les changements de prix et de stock les plus récents et fournit des alertes de changement de prix instantanées ou quotidiennes qui peuvent leur être envoyées directement par e-mail. Price2Spy s'intègre à des plateformes e-commerce telles que Shopify, Magento, BigCommerce, etc. Price2Spy propose différents types de licence en fonction du nombre d'"URL de produits" à surveiller au sein d'un compte et des fonctionnalités requises par l'utilisateur. L'équipe du service client de Price2Spy fournit une assistance en direct dans différentes langues à ses clients. La solution propose une assistance en ligne et par téléphone, ainsi que des tutoriels, des démos, des documents et des FAQ.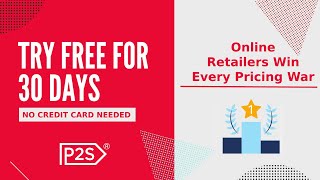 Price2Spy n'est pas disponible en version gratuite mais propose un essai gratuit. La version payante de Price2Spy est disponible à partir de 26,95 $US/mois.
À partir de :
26,95 $US/mois
Version d'essai gratuite :
Oui
Produits similaires à Price2Spy
Évaluation des fonctionnalités
Secteur d'activité : Impression
Taille de l'entreprise : 11-50 employés
Logiciel utilisé

tous les jours

pendant

6 à 12 mois

Provenance de l'avis
---
The software every ecommerce and marketing manager needs
We have had a great experience with P2S. I initially set out to evaluate the top three products and then choose the most suitable. Right from that initial trial, the experience we have had with P2S has been excellent, from the features the platform provides all the way through to the help and advice from the support team. You really feel like you have a genuine person to go to about anything in relation to the platform. Setting up the products in the system was even assisted by the P2S team, we simply gave them the products we wanted to compare to our competitors along with our competitors URL's and they helped set them all up.
Avantages
The cost is so competitive for what you get in comparison to other price comparison sites.
The functionality and features.
Linking to Woocommerce and others.
Inconvénients
The only thing I would say is that the interface could be modernised a bit to use a more up to date look. But to be honest it does not affect the functionality so it's not really important anyway.
Réponse de

Price2Spy

Thank you very much for your kind words, Chris! We really do appreciate your feedback and we'll continue to do our best in order to help you benefit most from using Price2Spy.

Répondu le 09/09/2019
Secteur d'activité : Matériel informatique
Taille de l'entreprise : 11-50 employés
Logiciel utilisé

tous les jours

pendant

1 à 5 mois

Provenance de l'avis
---
Easy to use yet high-end to meet information analysis
When we started the evaluation, in 48 hours we were already receiving daily information about the prices we were interested in following in 2 countries, and in a week we had already generated automated reports for our employees so they could start working with the relevant information in each country. In the end, we require information from 10 countries. It is very important, to take the time to properly define the information you want to obtain.
Avantages
The software exceeds the competition in several topics. The most relevant is the possibility to incorporate additional fields into the database and the management of multicurrency.
Support equipment also stands out. In our case, they always presented different solutions to our particular needs.
Inconvénients
The software solved 100% of our needs.
We only request an addition to include resellers in Market Places.
Pourquoi passer à Price2Spy
Because Prysinc requires a license for each country as it cannot handle the same multicurrency license. This increases the cost considerably for our solution. Additionally, the software does not allow you to easily incorporate new fields into the product database. Requires support intervention.
Réponse de

Price2Spy

Thank you so much for your kind words, Arturo! We really appreciate you taking the time out to share your experience with us. We will do our best to keep delivering the service you need!

Répondu le 21/07/2020
Secteur d'activité : Biens de consommation
Taille de l'entreprise : 11-50 employés
Logiciel utilisé

tous les jours

pendant

plus d'un an

Provenance de l'avis
---
Great Customer Service for an affordable service
Price2Spy provides great value for their service. If you are looking for a basic Price2Spy plan, then I would highly recommend them. We are primarily using them as a price scraping service and not to manage MAP compliance.
Avantages
The customer service at Price to Spy is excellent. You receive a dedicated account manager, and there are back-ups if they are unavailable. They are intelligent, responsive, and easy to work with. They do not change extra fees to set-up, code minor adjustments, or to perform batch loads. They have a data team that can help rematch or search for new URLs, and they are pretty accurate at matching to the correct products even when dealing with changes in packaging/branding. Their web interface and reports is very intuitive.
Inconvénients
Like many price scrapes, there are errors with incorrect prices being scraped due to changes on the website. I often have to check the prices myself and raise the the issues. It usually takes the 1-4 days to resolve depending on how busy they are.
Réponse de

Price2Spy

Hi Andrea!
Thank you very much for your review and your kind words about our service! We are glad to hear that we provide you with a good overview of the market prices. We always strive to have a timely reaction and adapt as quickly as possible when a website changes its structure or tries to avoid data scraping. If you have any suggestions as to how to improve the overall impression, please feel free to write to your account manager.

Répondu le 11/02/2019
Secteur d'activité : Vente en gros
Taille de l'entreprise : 51-200 employés
Logiciel utilisé

tous les jours

pendant

1 à 5 mois

Provenance de l'avis
---
Great company - awesome service
Great customer service and affordable subscription plans.
Avantages
Customer Service is great and the platform analytics is extremely helpful.
Inconvénients
There is no way for customers to import a csv with product URLS. It has to be done through customer support.
Pourquoi passer à Price2Spy
Easier to use. Better customer service. Affordable plans.
Réponse de

Price2Spy

Many thanks for your feedback, Livio! We are very happy to hear that you're satisfied with our support and services. Please let us know if you have any suggestions or need help with anything, we will be happy to assist you.

Répondu le 09/09/2019
Secteur d'activité : Agriculture
Taille de l'entreprise : 11-50 employés
Logiciel utilisé

tous les jours

pendant

plus de deux ans

Provenance de l'avis
---
Very fast and helpful support
We use the tool on a daily basis and it gives us a quick overview of what prices we need to lower (or raise) to achieve the maximum effect of profitable sales.
Avantages
The software is well developed from a market perspective. All functions are there. But most importantly, Price2Spy's support is very fast and knowledgeable. The company has an agile way of dealing with any questions or errors in a fast way
Inconvénients
If one could wish for anything, it would be that P2S would be better to sniff out identical products from competitors without us having to manually enter their urls