En savoir plus sur Zoho Projects
Zoho Projects est une solution de gestion de projets basée sur le cloud computing, conçue pour les petites et moyennes entreprises. Elle offre la planification et la budgétisation des projets, ce qui permet aux gestionnaires de projet de définir des tâches de projet, de les affecter à leurs équipes, d'estimer les coûts du projet et de suivre les tâches en cours. Zoho Projects automatise les processus documentaires tels que le suivi des révisions, le contrôle d'accès, la recherche et la récupération. Les autres caractéristiques du produit comprennent la gestion des documents, qui fournit un portail pour le partage des documents entre les membres de l'équipe. Zoho Projects propose également des fonctionnalités de gestion des problèmes, qui aident les responsables à résoudre les erreurs dans les tâches du projet. Le module de tableaux de bord et de reporting aide les utilisateurs à préparer des rapports commerciaux et des résumés de gestion. Les utilisateurs peuvent utiliser des diagrammes de Gantt pour obtenir une présentation visuelle de l'avancement des tâches et les comparer aux prévisions. Le tableau d'allocation des ressources aide les utilisateurs à savoir combien de membres de l'équipe sont disponibles et combien de membres sont sollicités par des tâches. Les jalons et les listes de tâches aident les utilisateurs à organiser des projets complexes en les décomposant en sous-tâches. Tarification mensuelle.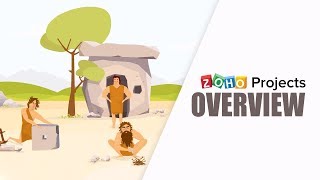 Zoho Projects est disponible en version gratuite et propose un essai gratuit. La version payante de Zoho Projects est disponible à partir de 18,00 €/mois.
Version d'essai gratuite :
Produits similaires à Zoho Projects
Évaluation des fonctionnalités
Secteur d'activité : Art/artisanat
Taille de l'entreprise : Auto-entrepreneur
Logiciel utilisé

tous les mois

pendant

1 à 5 mois

Provenance de l'avis
---
Super !
Avantages
Zoho Projects m'offre des capacités étendues de planification, de suivi et de collaboration.
Inconvénients
Le service de support est relativement difficile à joindre
Secteur d'activité : Services et technologies de l'information
Taille de l'entreprise : 10 000+ employés
Logiciel utilisé

tous les jours

pendant

plus de deux ans

Provenance de l'avis
---
This easy-to-use app keeps track of chores and projects quickly
I really like the functions, the tools, and everything else that this software provides us with in order to manage a project. Those tools are really useful and important at the moment in order to manage a project and collaboration, and this software, it's absolutely useful if you want to manage like a professional.
Avantages
Zoho projects have a number of great features, but one of my favorites is the option to personalize the parameters for the project management. In addition to being incredibly simple to operate, the customization function meets the vast majority of the needs that my firm has in regard to project management.
Inconvénients
Zoho Projects is, without a doubt, one of the least user-friendly and most aggravating pieces of software I have ever worked with. It has some of the worst user experience and interface (UI) that I have ever seen, and it is missing some of the most fundamental capabilities that a project management software ought to have. It has been nothing but a hassle from the beginning to the end.
Secteur d'activité : Vente au détail
Taille de l'entreprise : 1 001-5 000 employés
Logiciel utilisé

tous les jours

pendant

plus de deux ans

Provenance de l'avis
---
Amazing feature for project management
Zoho Projects has been one of the best cloud based project management software that has been really helpful for us in managing and tracking all the progress of the project.
Avantages
ZOHO projects have many great features, but one of my favorites is the option to personalize the parameters for project management. The part that allows for customization is elementary to use, but it also meets most of the needs that my company has for project management. I enjoy the functionalities, the facilities, and everything else that this program provides us with to manage a project. Those tools are beneficial and vital at the time to maintain a project and collaborate on it. I like all of the features that this software provides.
Inconvénients
It might be challenging to make changes to Zoho prototypes. Its scalability is slightly limited for specific features due to the constraints. Although it helps establish projects, it does not have a platform for individual dialogue. People prefer not to lean on Zoho tasks to convert their work over to Spreadsheets to interact with other people since they find it cumbersome.
Secteur d'activité : Mode et vêtements
Taille de l'entreprise : 1 001-5 000 employés
Logiciel utilisé

tous les jours

pendant

plus de deux ans

Provenance de l'avis
---
Excellent tool for task management
My overall experience is great with Zoho projects, it works fine if given the right technology support. In past three years we have done multiple updates and customization on Zoho projects and they have worked well for us. I personally would recommend Zoho projects to others to built a very good project management tracking system.
Avantages
Zoho projects has been part of our organization from past 3 years. It is a very useful tool for project management. It has high importance in task management especially in tracking down deliverable in kanban projects. The user interface is very friendly and the dashboard is highly interactive. Milestones can be easily set and can be tracked throughout its completing period. Project lags, time delays, and bottlenecks can be identified easily in the system. This tool also helps to manage teams and individual tasks assigned to each person. Notifications can be enabled to track individual performances. Overall, this tool is multi-purpose tool that can perform wide range of tasks.
Inconvénients
Zoho projects are hard to customize. Its scalability is very limited to certain tasks. It is good in project management, but it fails to provide a communication channel between people. Chat windows lag a lot between communication and real time forums take lot of time to update. Zoho requires high internet bandwidth, slow internet creates problem with updates and Zoho starts lagging. Multi user portal has also lot of issues. Even multi user portal is a common feature. The feature creates issues with file sharing. It takes lot of time for file transfers.
Secteur d'activité : Marketing et publicité
Taille de l'entreprise : Auto-entrepreneur
Logiciel utilisé

tous les jours

pendant

plus de deux ans

Provenance de l'avis
---
Love this product- others don't compare!
Love this product and I recommend it for anyone managing something on their own, or with teams.
There's just minor improvements, like the Tasks and Time tracking thing I mention above, that need refining.
And while customer service is also great (I can always reach a human),the knowledge base and Help sections needs user experience streamlining.
With the value pricing and the robustness of this product, I will always recommend this product to anyone - and do!
Avantages
Clear user design with logical and clear content and category designations. Love that they offer multiple view options for those who, say for example, would rather have a Kaban view over a more linear list breakdown.
I have yet to find anything else as clearly user friendly and LOGICAL in organization. A lot of other sites I've used try too hard to be cool and modern, and actually end up causing user confusion with all their different layers. It's exhausting. But with Zoho Projects, I can go in quickly and get what I need!
Also love how it interfaces with other Zoho products, such as Invoices, and I can export my time sheets.
I love that I can hit a timer on my tasks, too.
Overall, it has great standard operations with plenty of options for customization.
Inconvénients
Sometimes the invoice functions seem redundant to someone using the Zoho Invoices, and that has caused me to accidentally create some duplicates within Projects (when I was really just trying to create an invoice in Invoices), and I have had to clean up my own mess. That's the one area I think they made things a little more convoluted.
I can't think of any other major cons - I've never had issues with this product. I don't use the Bug Tracker at all, so I can't speak to that.
In Documents, it's unclear up front whether, when I pull a document in from a cloud, if it's going to sync any changes with that cloud app (like Google Drive, etc), or if it's just importing as is.
Their Learning Center is also woefully organized. I can't search any topics, though the visualization videos you first land on are helpful for starters. But the info I REALLY can search is in the general Zoho Getting Started section...those knowledge centers should be merged and not be so confusing. Even the Forums in Projects help, I can't even search a topic on them on the landing page...so odd!
And, lastly, it would be so great if Tasks had more Duration options. If it had an option where I could set a Task in HOURS, rather than only Days, then I could actually track something regularly hourly per week as well as track my weekly progress on it. Right now, I can't do that, I have to do that manually :(
And, you can't seem to delete a Duration period once you've put it in (without also setting an end date). what if I just accidentally put in a duration?!