En savoir plus sur Zoho Inventory
Zoho Inventory est une solution cloud de gestion des stocks conçue pour les petites et moyennes entreprises. Elle comprend des modules de gestion des stocks, notamment le reporting et l'analyse, un outil de Vendor Managed Inventory et la traçabilité des lots. La solution est fournie avec une application mobile pour les appareils iOS et Android. Zoho propose des fonctionnalités intégrées d'estimation des expéditions, de suivi et de confirmation de livraison qui permettent aux utilisateurs de facturer, d'expédier et de suivre des produits. La solution permet aux utilisateurs de créer des bons de commande, des commandes en attente et des livraisons directes. Les utilisateurs peuvent suivre chaque élément de l'inventaire avec des numéros de série et une fonctionnalité de suivi des lots. Zoho Inventory peut intégrer plusieurs sites d'e-commerce comme eBay, Etsy et Amazon. Elle est proposée sur la base d'un abonnement mensuel qui est calculé en fonction du nombre de commandes traitées par mois. En tant que produit Zoho, la solution est intégrée à Zoho Finance Suite. et comprend une intégration à Books, la solution de comptabilité de Zoho. La solution est disponible sous forme d'abonnement mensuel.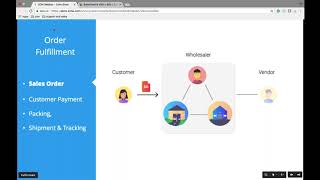 Zoho Inventory est disponible en version gratuite et propose un essai gratuit. La version payante de Zoho Inventory est disponible à partir de 79,00 $US/mois.
Version d'essai gratuite :
Produits similaires à Zoho Inventory
Évaluation des fonctionnalités
Secteur d'activité : Automobile
Taille de l'entreprise : 2-10 employés
Logiciel utilisé

tous les jours

pendant

1 à 5 mois

Provenance de l'avis
---
Fit Our Client's Needs Very Well
Although it's early the client has a much better grasp of their unique inventory management challenges and have been quickly adapting to a much more comprehensive solution that is ultimately easier to use
Avantages
Our client, a trucking parts supplier, needed a warehouse/ inventory management system that would integrate with their new Shopify sales channel. The seamless integration and robust features of the software are what fit the bill for this particular business situation perfectly.
Inconvénients
For the Canadian market the accounting module of Zoho has some minor shortcomings when compared with more popular accounting solutions in the region.
Pourquoi choisir Zoho Inventory 
The accounting that the company had been using was not sufficient to manage their complex supply chain and multiple selling channels. Staying with the existing software would require a custom integration solution that would have been financially prohibitive for the company at this time. Zoho came with the features and integrations that were required for a small fraction of the comparative costs.
Pourquoi passer à Zoho Inventory
The main factors were the excellent integration with Shopify, as well as the attractive pricing
Secteur d'activité : Fabrication électrique/électronique
Taille de l'entreprise : 2-10 employés
Logiciel utilisé

tous les jours

pendant

plus d'un an

Provenance de l'avis
---
Zoho Inventory
Solving all my issues in keeping a check on y stocks,in my different locations...
Avantages
Cloud Based, Accurate Inventory Accounting,seamlessly works with zoho books.
Inconvénients
That i had to pay for Zoho Inventory seperately inspite purchasing zoho books,also its a lil long to get it to check all the shipment fulfilment process,should be a lil more customized ,like a click away
Pourquoi choisir Zoho Inventory 
Because this is easier for a novice to understand,unlike tally.
Pourquoi passer à Zoho Inventory
Because it is easier to understand for new comer,also has an easier cloud based approach
Secteur d'activité : Produits alimentaires
Taille de l'entreprise : 11-50 employés
Logiciel utilisé

tous les jours

pendant

1 à 5 mois

Provenance de l'avis
---
Zoho Inventory for Trading business and Manufacturing concerns
Though I am still exploring ZOHO Inventory but the best part was ease of use and instant impact on inventory management.
Avantages
1- Its best for the Trading business.
2- The best thing is the ease of use. you don't have to be an accountant or a professional inventory manager to understand this software.
3- It is real-time. You don't have to wait for a department or server to process the command so that the information gets reflected.
4- Any prior period adjustment of cost or quantity, automatically adjust the costing and all the other accounts.
5- The best feature of Zoho is availability of customer service 24/7
6- For bulk data, you don't have to key in one by one. You just have to arrange the whole data in a specific format and upload it.
7- Composite items is the Bill of Material, which is gives you the option of calculating variances.
8- If you want to add an extra material, other than what is defined in the standard formula, you can do that.
9- The warehouse option helps you to keep track of inventory in each warehouse. While invoicing your customer, you can select the specific warehouse.
10- It is very well integrated with the ZOHO Books.
11- The Taxes can also be handled easily through Inventory module
Inconvénients
1- For large organizations where multiple levels of warehouses exist and they require different approvals before issuance and receiving of materials or products, ZOHO inventory doesn't seems to provide that functionality.
2- You cannot print delivery notes on ZOHO Inventory, for that you have to go to ZOHO Books.
3- If you want to receive a product on multiple purchase orders together, you cannot. You have to receive the product of one purchase order at a time.
4- You can specify a purchase or sales price of a product but you cannot specify that as per the supplier of customer.
Secteur d'activité : Hôpitaux et soins de santé
Taille de l'entreprise : 11-50 employés
Logiciel utilisé

tous les jours

pendant

plus de deux ans

Provenance de l'avis
---
Practical, economical option for Inventory Management
Functional company, hands on management. Can write to them any time, it's a different thing that they don't reply, but get the ball moving through their team !
Avantages
Practical features that are used by any warehouse daily, pick list, packing list, item management, batch / serial number management etc... all in all a complete package for warehouse management.
Inconvénients
Can be more economical due to scale of zoho, they could pass some more discount to clients.
Pourquoi passer à Zoho Inventory
Complete solution / package to run a business, not only inventory management.
Secteur d'activité : Hôpitaux et soins de santé
Taille de l'entreprise : 51-200 employés
Logiciel utilisé

tous les jours

pendant

1 à 5 mois

Provenance de l'avis
---
A Robust And A Well Designed Tool
It is a great tool for anyone looking to start off with E-commerce business and handling over 100 plus orders a month, to keep a track of the equipment or inventory.
Avantages
There are plenty of options out there in the market for a well-integrated tool, however, the features in Zoho Desk come at a low cost and are at par with other players, the top features which I loved about the product are:
1) Order Management
2) Invoicing
3) Integration with other tools available
4) works closely with other Zoho Products
5) Ease of access
6) Reporting and Dashboard is better than other players in the same domain
7) Handles RMA easily
Inconvénients
Each tool comes with a few drawbacks though:
1) Lack of Equipment Rental feature
2) Composite Items feature doesn't function well, needs more tweaking from the user
Pourquoi choisir Zoho Inventory 
The older tool was not enough for equipment tracking and invoicing, we had to switch between tools to get both of them done, Zoho Inventory provides both of them under the same umbrella, thus giving my team the ease of access and saving valuable time.
Pourquoi passer à Zoho Inventory
It provided the same or in some cases more features at a lower cost.