En savoir plus sur Saleshandy
Saleshandy est une plateforme de cold e-mailing qui aide les petites et moyennes entreprises à contacter leurs prospects avec des e-mails hautement personnalisés. Le logiciel permet de suivre les e-mails, de modifier les modèles d'e-mails et d'évaluer les performances. Les fonctionnalités principales de Saleshandy incluent le suivi et la planification des e-mails, les campagnes par e-mail, les suivis automatisés, la gestion des garanties et les analytics concernant l'engagement. Saleshandy est fourni avec une version d'essai gratuite de quatorze jours et est facturé sur la base d'un abonnement mensuel par utilisateur.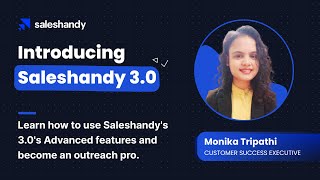 Saleshandy est disponible en version gratuite et propose un essai gratuit. La version payante de Saleshandy est disponible à partir de 29,00 $US/mois.
À partir de :
29,00 $US/mois
Version d'essai gratuite :
Oui
Produits similaires à Saleshandy
Évaluation des fonctionnalités
Secteur d'activité : Vente au détail
Taille de l'entreprise : 10 000+ employés
Logiciel utilisé

tous les mois

pendant

6 à 12 mois

Provenance de l'avis
---
I used SalesHandy for email outreach for my blog
Avantages
It has almost all of the features you get with much more expensive mail providers like MailChimp or ConvertKit. And unlike the big mail providers, emails show up as coming from your real email address instead of being sent from the mail provider on your behalf. This is great for making emails appear a lot more personalised. You can't send to thousands at a time like you can with a mail provider because your mail server would shut you down, but you can batch it to around 100 per hour. This saves heaps of time as compared to sending the emails individually yourself or using a VA.
The web based interface is very intuitive and easy to use. I preferred this to the Outlook integration which is also available. It's easy to set up your campaigns and to understand the reports.
The support is outstanding. I've had several questions and always received an answer within a couple of minutes.
Inconvénients
You can upload your document to Saleshandy and include a link to it (or you can link to a doc you have on your own website), but you can't include your doc as a standard attachment to the email message. This won't matter for most campaigns so it's not a big problem. Hopefully, it will be added as a new feature in a later version of the software.
Secteur d'activité : Services et technologies de l'information
Taille de l'entreprise : 2–10 employés
Logiciel utilisé

toutes les semaines

pendant

1 à 5 mois

Provenance de l'avis
---
Great features for value
Any business should try it, it is easy to use.
Avantages
I liked that SalesHandy uses my huge data base to send mails throughout my Gmail account without me having to check its status frequently.
Inconvénients
Not many cons, maybe the fact Gmail sometimes disconnects
Secteur d'activité : Internet
Taille de l'entreprise : 2–10 employés
Logiciel utilisé

tous les jours

pendant

1 à 5 mois

Provenance de l'avis
---
A Sales Engagement and Email Platform for Small Sales Team
This is a really crowded space. Until recently, I've been using Yesware (which is amazing), but I wanted to test other cost-effective alternatives for our small Business Development Team. Saleshandy seems to be what we need: a sales tool based on email engagement that help us send 1 to 1 emails, but also create campaigns based on templates, which helps engage with prospects and leads. These are some of the main features that Saleshandy offers:
- Easy to use
- Integrated with Gmail
- Zapier integration
- CRM connections
- Mail Merge
- Cost-effective
- Team stats view
- Templates
- Presentation mode for sales presentation (which I haven't tried yet)
It has, so far, what we need.
Avantages
The support has been great so far. It is a cost-effective tool and it seems they have small sales teams in mind. I think this guys are on the good track for a great service and tool.
Inconvénients
I've had some problems with the Gmail extension (some options are not displaying anymore), which I assume it will be fixed by reinstalling the extension. Also, the Google Connect has some issues since it seems that I need to reconnect every X minutes, which is not convenient.
I'm missing a email reminder within Gmail, which I've used a lot with Yesware.
Secteur d'activité : Produits alimentaires
Taille de l'entreprise : 501–1 000 employés
Logiciel utilisé

tous les jours

pendant

plus d'un an

Provenance de l'avis
---
Saleshandy – management of sales in safe hands
Saleshandy lends a helping hand to a sales team of any size to easily manage data of leads, potential leads, and successful leads in the best manner. Sharing and storing data are also under one roof. You can easily transfer and share important files through this platform in a trouble-free manner. When everything is organized already for the sales team, they spend less time organizing stuff and more time closing deals. Any company from any field and any size can benefit by using Saleshandy. It suits and caters to the need of your company according to your preferences. It can be modified and made to work under your finger wraps. Ease and comfort are guaranteed here. The best deal you can get at the best rates.
Avantages
The sales or marketing departments are one of the most crucial departments in any company. A lead generated and converted into customers makes growth and positive results for your company. They are the partial breadwinners in your company. Small or large sales department, every team faces the management of the whole process difficult on daily basis and that's where Saleshandy comes in handy!
Inconvénients
Saleshandy is easier to work with the platform but there are some features and workflows on this platform that needs some serious work and updates. When a process is difficult it will take you lots of time and eventually you will be stuck on issues less important. We share a huge amount of informational as well as work files through this platform and it works fine. However, there is one thing that needs to be sorted on an immediate basis and it is their being very choosy in files. We can only play with CSV files, nothing more nothing less and it bothers us more than anything to be limited to CSV only.
Secteur d'activité : Internet
Logiciel utilisé

tous les jours

pendant

plus d'un an

Provenance de l'avis
---
Saleshandy allowed me to set up a client's email system within minutes and quickly start...
Avantages
The setup and implementation is focused and intuitive. You can upload your own lists easily to mail merge, and set up sequences of emails to send out over a specific period of time. Segmentation tools allow you to send, or not to send, to those who take action, which is a great way to avoid bugging people who've already seen and clicked on your email. The reporting tools give you what you need and you can download the results for merging into other email programs as well, with indicators of who bounced back or took action, allowing you to avoid mistakes.
Inconvénients
Not many, though when setting up an email sequence, the time it was scheduled to send was repeated on the next send. Even though you can change the date, it didn't allow you to change the time, which is a minor inconvenience but stops from being able to figure out when people open (beginning or end of the day for example).