En savoir plus sur Clio
Clio est une solution cloud de gestion de cabinet juridique adaptée aux cabinets d'avocats de petite à grande envergure. La plateforme permet aux cabinets d'avocats et autres entreprises du secteur juridique de suivre des délais importants, de gérer les cas et documents de leurs clients, de les facturer et d'accepter les paiements. Le tableau de bord de Clio affiche des objectifs concernant les heures facturables et suit les performances en fonction de ces mesures. Clio Payments permet aux avocats de recevoir des paiements directement sur les sommes détenues en fiducie pour le compte d'un client ou sur un compte d'exploitation. Sa fonctionnalité de facturation permet aux utilisateurs de créer des plans de facturation personnalisés, de gérer des structures tarifaires, de saisir les heures de travail de manière manuelle ou automatique et de facturer par e-mail tout en permettant à leurs clients d'accéder à des informations par e-mail ou via le portail client sécurisé. Ses fonctionnalités de gestion des documents comprennent l'automatisation des documents, la création de champs personnalisés, la capture de signatures électroniques, etc. L'application mobile de Clio pour iPhone, iPad et Android permet aux employés des cabinets d'avocats d'interagir avec leurs clients, de gérer des documents, de suivre les heures facturables, de gérer des cas et plus encore, où qu'ils se trouvent. L'application mobile propose également des notifications push et des outils de messagerie pour aider les utilisateurs à rester connectés. Le prix de Clio varie selon si les cabinets d'avocats achètent l'application Clio Manage, l'application Clio Grow ou l'ensemble de la suite Clio. La plateforme Clio s'intègre à plus de 200 applications logicielles tierces, notamment d'autres solutions logicielles de gestion de cabinet juridique, des outils marketing, des plateformes de paiement, etc.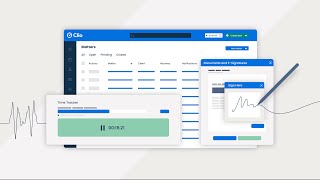 Clio n'est pas disponible en version gratuite mais propose un essai gratuit. La version payante de Clio est disponible à partir de 39,00 $US/mois.
À partir de :
39,00 $US/mois
Version d'essai gratuite :
Oui
Produits similaires à Clio
Évaluation des fonctionnalités
Secteur d'activité : Services juridiques
Taille de l'entreprise : 2-10 employés
Logiciel utilisé

tous les jours

pendant

plus de deux ans

Provenance de l'avis
---
Fantastic Practice Management Solution
Avantages
Clio's intuitive design is easy to use for anyone from the tech savy to the "how do I turn this thing on" person. They are constantly adding features and functionality to the software solution making the administrative side of practicing law much easier and less time consuming. Clio's support team is always quick to respond and is always friendly and helpful. The growing list of integrations is definite plus and gives us the ability to extend the already great functionality to the next level. And if you are into coding, you can always create a custom integration to suit your needs.
Inconvénients
Really the only complaint I have about Clio is the reporting capabilities. While it has some great canned reports within the interface, there is no ability to customize reports to massage out information that would be useful to my practice. We make do, of course, but this has been my complaint for some time now. Last time I checked there was a pay integration that allowed for more robust reporting but adding yet another subscription isn't appealing when it would be relatively easy for Clio to add this capability to their platform.
Secteur d'activité : Cabinet d'avocats
Taille de l'entreprise : 2-10 employés
Logiciel utilisé

tous les jours

pendant

plus de deux ans

Provenance de l'avis
---
Don't know where we'd be without Clio
Clio allowed us to get bills out timely and to collect more money than our previous practice management software.
Avantages
Very intuitive and easy to use; allows us to collaborate on cases; centralizes all work and notes online; easy to use with Ipad and Iphone when traveling.
Inconvénients
Some of the reports could be improved but you can still get the answers if you know how to manipulate the data.
Secteur d'activité : Recrutement
Taille de l'entreprise : Auto-entrepreneur
Logiciel utilisé

tous les jours

pendant

plus d'un an

Provenance de l'avis
---
Credibility Issues but Great Platform
Despite all the good things I can say about the software itself, we had MAJOR issues with Clio representatives and their lack of credibility. We had to deal with Clio leaving us in the dark about their failure (and subsequent settlement with the state) to collect and remit sales/use tax. We had a few reps promise to get back to us or meet with us on a particular day and become a no call, no show. One of our tickets went months without being resolved, and we discovered it was because Clio dropped the ball. They made up for all of these things, but one thing remains unresolved: Clio promised us our subscription would be locked in so long as we did not leave Clio. Recently, we received an email stating our price would increase as of February 1, 2023. We contacted Clio and tried to resolve this. They claimed they had no recording on the day we called to turn our subscription on. For this reason, they refused to honor the original agreement that our rate would be locked in. We are now looking into next steps as we want to continue using their software, but their lack of customer service and honesty put us in a position to have to consider legal options.
Avantages
I absolutely love the software for the most part, even with all of the issues we experienced, it still is very intuitive and I've enjoyed seeing how Clio has grown and fixed some of these problems. My favorite part of the platform is the one-stop-shop idea where I can manage my pipeline, case management, invoicing, messaging clients, etc. from one place (well, two if you count both Clio Manage and Clio Grow environments).
Inconvénients
There are some basic features that are surprisingly missing. Some of the initial features I noted have been added since I first subscribed to the service. Another issue I have is that not all integrations seem to work as well as others. For example, we have a problem with QuickBooks properly pulling data.
Secteur d'activité : Cabinet d'avocats
Taille de l'entreprise : 2-10 employés
Logiciel utilisé

tous les jours

pendant

plus de deux ans

Provenance de l'avis
---
One of the first users of Clio and still give five stars.
Overall experience has been fantastic, and I have no intentions of ever-changing software. I will retire using Clio. Clio, along with Clio Grow, has enabled us to develop a smooth process for evaluating potential new clients using an intake questionnaire and customizing a pipeline.
Avantages
It's too difficult to describe what is best, I could not manage my practice without this software. It is incredibly user friendly and easy to learn. I use pretty much all aspects of the software on a daily basis and have been using it for more than 10 years. My practice has grown from just one attorney, me, to now four along with paralegals and clerks. Clio has made the growth seamless.
Inconvénients
I don't have any complaints whatsoever. The software has been essential to my practice in all ways.
Pourquoi choisir Clio 
I used these at other firms. When I opened up my own practice I chose to use Clio.
Pourquoi passer à Clio
Price, options, versatility, tech support.
Secteur d'activité : Cabinet d'avocats
Taille de l'entreprise : 2-10 employés
Logiciel utilisé

tous les jours

pendant

plus d'un an

Provenance de l'avis
---
Streamline your Legal Practice
Avantages
Client management, billing and invoicing, and file management are all great features of the Clio software, and has allowed our legal practice to grow quickly in the last couple years. Helps everything stay more organized and allows for simple and effective client communication and management.
Inconvénients
It would be nice for clio grow and clio manage to be merged into one app which doesn't require separate logins. Other than that, there isn't much to improve on I can think of at the moment.