En savoir plus sur Lansweeper
Lansweeper est une solution de gestion de réseau sur site adaptée aux entreprises de toutes tailles de divers secteurs d'activité. Elle offre des outils intégrés pour gérer l'inventaire du réseau, les actifs commerciaux, les opérations du centre d'assistance, etc. La solution peut analyser et surveiller les performances de l'infrastructure informatique en temps réel. La fonctionnalité de centre de service informatique et de centre d'assistance intégrée permet aux équipes d'assistance informatique de centraliser et de gérer les demandes d'assistance des utilisateurs finaux. Les administrateurs informatiques peuvent suivre les logiciels, déployer de nouveaux logiciels, mettre à jour les versions existantes ou désinstaller des logiciels sur plusieurs postes de travail à partir d'un système distant centralisé. Lansweeper permet aux entreprises de créer une base de connaissances centrale, qui peut être utilisée pour répondre aux requêtes et problèmes répétés des utilisateurs, ainsi que pour documenter des informations importantes sur l'entreprise. La fonctionnalité intégrée de gestion SNMP (Simple Network Management Protocol) analyse les performances de divers appareils partagés tels que les imprimantes et redirige vers l'équipement le plus efficace en temps réel. Les autres fonctionnalités comprennent l'audit et l'inventaire logiciel, le déploiement d'Active Directory et la gestion de la conformité des licences. Lansweeper propose des services sur la base d'un abonnement annuel.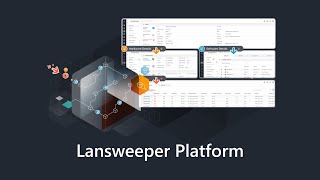 Lansweeper est disponible en version gratuite et propose un essai gratuit. La version payante de Lansweeper est disponible à partir de 1 500,00 €/année.
À partir de :
1 500,00 €/année
Version d'essai gratuite :
Oui
Produits similaires à Lansweeper
Évaluation des fonctionnalités
Secteur d'activité : Services et technologies de l'information
Taille de l'entreprise : 51–200 employés
Logiciel utilisé

tous les jours

pendant

plus de deux ans

Provenance de l'avis
---
Lansweeper
One of the simplest technologies to deploy and manage. Asset, software and forensic audits are so much simpler and safes a lot of man hours.
Avantages
Deployment is easy and simple. This can also be said of the overall management of the software. A very important factor in my line of work is reporting. Lansweeper simplifies this with a whole list of standard reports that can also be used as templates for custom reports. Besides using Lansweeper for asset and software management, we also use it to report on vulnerable applications and assist in some of our internal forensic investigations.
Inconvénients
There are currently no SIEM integration. This would be a great feature to integrate with our SOC.
Pourquoi choisir Lansweeper 
Ease of use and pricing. Lots of online help.
Pourquoi passer à Lansweeper
Ease of use, pricing and reporting.
Secteur d'activité : Aviation et industrie aéronautique
Taille de l'entreprise : 51–200 employés
Logiciel utilisé

tous les jours

pendant

plus de deux ans

Provenance de l'avis
---
The Perfect Network Map
They have been a solid company to deal with. Licensing is always on time upon renewal date and the software upgrades almost on its own. There are endless amounts of customizing you can do to suit your needs.
Avantages
I love the ease of scanning our entire network and getting the full spectrum of what we have. When it comes to auditing software and equipment there is no more guess work. I can look at everything from a 10,000ft view or right down to individuals event logs with a few clicks of the mouse. No more jumping over multiple hurdles to troubleshoot a PC any longer.
Inconvénients
I wish there was a better way that when a user switches IP addresses that it easily detects the change and can discard the old record. I find myself clearing out multiple assets at times.
Pourquoi passer à Lansweeper
Very user-friendly and it makes our internal and external audits a breeze. With a few clicks of the mouse, I can give full reporting of all software and equipment. The options are endless on what it can do.
Secteur d'activité : Divertissement
Taille de l'entreprise : 5 001–10 000 employés
Logiciel utilisé

tous les jours

pendant

1 à 5 mois

Provenance de l'avis
---
A really good starter tool for endpoint management
I recommend this for a small (<2K nodes) single site environment. If they beefed up the deployment tools and added an agent based WOL, this would be a rockstar of a product.
Avantages
Simple to setup and easy to use. With a little SQL skills you can easily setup dashboards to monitor some critical information, like primary software versions or percentage of total deployment of AV software.
Inconvénients
Deployment tools are really weak. Installer logic is very limited with no access to WMI for creating conditions. Deployment packages do not survive reboot (ie multi reboots in a single installation package).
Deployment installations are flakey. I can push the same package to a computer and it will fail 3x in a row and successful on the 4th. Tech support is based in UK, so if you are in the States forget phone support.
"Software" inventory is based on Add/Remove registry, not file based. Any taught files to scan for are not included in any "Software" reports. They are completely separate
Secteur d'activité : Énergies renouvelables et environnement
Taille de l'entreprise : 51–200 employés
Logiciel utilisé

toutes les semaines

pendant

plus de deux ans

Provenance de l'avis
---
Good product with some odd quircks but not expensive
For the money, it does what it needs to do, and it is always available, and security s reasonable for the price.It is very comprehensive once you know how to drive it.
Avantages
It is cheap, and it is easy to run on-premise.It has a cloud version you can sync, but it is not as comprehensive.Self-updating agents is a bonus.
Inconvénients
The reporting engine is way too complex. Why do you need to know database query methodology to get a simple report?Migrating a database from one scanning device to another is not a straightforward process, and you need to invest a good amount of time learning how this tool work.
Secteur d'activité : Services et technologies de l'information
Taille de l'entreprise : Auto-entrepreneur
Logiciel utilisé

tous les jours

pendant

plus d'un an

Provenance de l'avis
---
Keep your IT assets on touch easily
Managing hundreds of servers and users' computers in different sites is a challenge. Users can connect any kind of USB or Bluetooth accessories, and the technical team can install any software, without administrators knowledge and permission.
Lansweeper can help you gather relevant information in a few minutes, from all computers connected in your network, without users knowledge or interference. Then you can keep your software licensing controls updated and prevent risks of unauthorized use software or leak of critical information.
Avantages
Lansweeper offers many kinds of asset searching methods, with support for the main operating systems and virtualized servers.
The interface is powerful, allowing the administrators to navigate through trees of sites, assets, and all components of hardware and software.
You can configure alerts of changing in assets configuration to verify if that asset had a recent incident (problem) or a change request.
The cost of licensing per asset is very low compared with most popular asset management software.
Inconvénients
It is not ready for all kind of software licensing and needs improvements to control software on the cloud (licensed by CPU, cores or access).
The offline asset inventory tool is helpful to gather information on external computers, but it is difficult to start the inventory and integrate it with online assets results.