En savoir plus sur InfoFlo
InfoFlo est une solution CRM intégrée, accessible en ligne ou installée localement. Le système fournit la gestion des contacts, le couplage de la téléphonie et de l'informatique, le marketing automation, l'automatisation des ventes et le support client. Les utilisateurs ont également accès aux fonctionnalités principales d'InfoFlo, comme l'e-mail marketing, les rendez-vous et réunions, la gestion de projets, l'intégration à Skype et Outlook ainsi que la gestion de tâches ; le tout est partageable entre les membres de l'équipe en temps réel. InfoFlo travaille avec les clients pour créer un CRM adapté à la taille et aux besoins de leur activité. La solution peut être utilisée par les entreprises B2B de petite à grande envergure dans divers secteurs, notamment la comptabilité, les logiciels, le bâtiment, l'immobilier, les soins de santé, etc. De plus, la plateforme propose des modules complémentaires de gestion de projet, d'e-mail marketing, de facturation et de gestion documentaire. InfoFlo offre aux clients un accès aux outils et vidéos de formation sur leur site web, tout en fournissant un support client grâce à un système de cas d'assistance en ligne.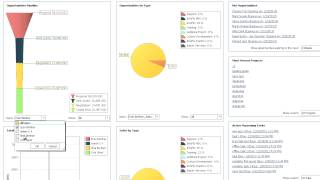 InfoFlo n'est pas disponible en version gratuite mais propose un essai gratuit.
Version d'essai gratuite :
Oui
Produits similaires à InfoFlo
Évaluation des fonctionnalités
Secteur d'activité : Études de marché
Taille de l'entreprise : 2–10 employés
Logiciel utilisé

tous les jours

pendant

6 à 12 mois

Provenance de l'avis
---
Le client, éventuellement.
Compte tenu de la taille de mon entreprise, j'ai opté pour la licence simple. J'ai donc payé 99 dollars au départ. J'ai dû rapidement acheter plusieurs add-on (89 dollars chacun) pour accéder aux fonctionnalités permettant à ce CRM de remplir ses promesses. Avec 14 heures de décalage horaire (ils sont au Canada et moi au Japon) et une réactivité qui ne dépend que de leur bon vouloir, mon activité peut être durablement pénalisée lorsqu'un bug survient. Mon avis est qu'InfoFlo est à la fois un beau concept particulièrement adapté à la très petite entreprise, un produit insuffisamment abouti et un service dans lequel le client ne compte vraiment qu'en tant que payeur.
Avantages
Prise en main, ergonomie intuitive, look
Inconvénients
Nombreux bugs aléatoires et pénalisants.
Secteur d'activité : Logiciels
Taille de l'entreprise : 2–10 employés
Logiciel utilisé

tous les jours

pendant

plus d'un an

Provenance de l'avis
---
Great Software
Keep control of my customers
Avantages
Easy to use. Got on top of it in hours. Simple interface, simple screens. Particularly like the "relations" so you can go from Company to Employee or Employee back to company. Far more powerful than a "folder" structure which I have used previously.
Inconvénients
Have only ONE style of email template. I suggest an alternative or rather an addition. Have MANY buttons on the email screen that are programmable. First button could be programmed to have the caption THANK YOU. Which on clicking simply inserts into the email text "Thank you for your email". Another button programmed to have the caption TRIAL which on clicking inserts some text into the email "You can download a trial version from our website www...... Another button SIGNATURE which inserts your signature as text.
With ten buttons you can personalise the email in a few button presses. I have been thanked so many times for my personal email using a button system. I ignore one template emails - they are a lot of text that is mainly irrelevant. The buttons give you the opportunity to personalise emails and makes a real point of difference. I have used such a system and loved it. Don't get me wrong InfoFlow is great - but this is one feature that I would use many times a day and I would warrant so would everyone else. The more buttons the better. Got other ideas too if you like this one! I develop software myself. Jeff Bilkey
Secteur d'activité : Rédaction et correction
Taille de l'entreprise : Auto-entrepreneur
Logiciel utilisé

tous les jours

pendant

plus de deux ans

Provenance de l'avis
---
Carmel Vision's InfoFlo is software I can't live without!
It keeps all my data organized in a manner that ensures nothing gets lost or forgotten.
Avantages
InfoFlo is a powerful organization tool that puts all your data, emails, notes and documents at your fingertips. Incredibly powerful linking system lets you set up webs that ensure data and documents can be accessed from everywhere. Forgot what you named the document? Find it by accessing a company or contact it related to, in the project history, or in a category. Attach phone recordings to the caller, company and project. Emails file automatically against the sender/receiver and, optionally , project.
This is a CRM, document manager (including version control), email client, task manager, event manager, project manager and notes manager all rolled into one powerful and very inexpensive product. A host of highly affordable optional add-ons enable integrated invoicing or integration with your accounting system, PBX integration, phone call recording, email marketing, email analytics, list management, automated backup, Google integration, Outlook integration, use on mobiles and tablets... The add-ons list just keeps growing.
The system allows a high degree of customization to accommodate the data you want to store, arranged your way.
Fully network-capable with sophisticated access management, this is a tool no business should be without. Actually, it's a tool every Windows user should have on their computer and use daily. Take a free trial. By the end of the month, you will wonder how you ever lived without it.
Videos help you learn to use it and the support is good.
Inconvénients
Very few: No comprehensive user guide, but it's quite intuitive.
Sometimes support staff can be a little unclear in responses, but they always clarify if asked.
It freezes or throws an error message very occasionally, which I suspect is related to memory. Seems to occur when there's a lot going on. Thankfully, merely closing and immediately re-opening the application fixes everything with no data loss.
I cannot access documents in InfoFlo to upload to a website. I have to copy them to somewhere else on my computer first. A very minor inconvenience. Doesn't apply to email - it's easy to pick a document from anywhere in InfoFlo and copy into an email, or use Attach in the usual way.
Secteur d'activité : Transport routier/ferroviaire
Taille de l'entreprise : 2–10 employés
Logiciel utilisé

Autre

pendant

1 à 5 mois

Provenance de l'avis
---
No Support During Paid Program Integration - No Refund After It Never Worked Fully
It was one of the most time exhausting experiences that ended up in me losing money for a piece of software that we do not use.
Avantages
I thought it was going to be an inexpensive alternative to ACT, for the functions that we use, but once we added on multi-user and Outlook integration, it was the same price as my annual ACT upgrade. Things worked well on "single user" trial mode so we bought the software. Then when we tried to integrate the two users we had issues and were told we would have to buy support at $149/hour. We were given a bunch of links to "resolve our issue", but no one even bothered to explain from the beginning that there would be a "Server/Host (database)" account and all others would be a "Mini Client". The secondary users were stuck on the trial version for more than a week. If I had not been persistent, we would never even gotten the paid for licenses to activate on each machine. In the end, it was really not useable. I had my assistant spend hours on data entry from histories and notes that did not carry over from ACT and in the end, you couldn't even change the dates on the notes and there was no information visible on the summary screen without clicking into each and every note to try and find the information you were looking for. This would be the opposite of useful CRM. I tried to ask for my money back and just received a no. DO NOT WASTE YOUR MONEY ON THIS SOFTWARE!
Inconvénients
The interface is cheap looking, looks like something that was designed 15 years ago. Some parts are not intuitive to use. There is no support offered at all. It seems to be run by one individual and he is very condescending. After all the problems, we were never able to get it to work for us as it had on trial version, and on the aspects that were not available during trial version. We were not offered a refund because we "trialed it". We do not use the program, because it has too many shortcomings, so we ended up renenwing ACT and having a double expenditure. DO NOT BUY THIS SOFTWARE unless you are a single user and have no previous data. Only then, it might work for you.
Secteur d'activité : Services financiers
Taille de l'entreprise : Auto-entrepreneur
Logiciel utilisé

tous les jours

pendant

1 à 5 mois

Provenance de l'avis
---
InfoFlo offers an excellent CRM solution for both small and medium sized businesses.
InfoFlo offers an exceptional CRM platform enabling you to boost concentration and stay on focus to complete your workflow.
Avantages
- InfoFlo's software design is unique among its competitors due to InfoFlo having a mainframe where modules or "add-ons" may be added or removed according to the end user's needs. As a result, InfoFlo's software is not bloated resulting in superior end user experience. The navigational experience is responsive, super reliable and fast - an important consideration when working within the same software environment daily.
- Price for start up is very reasonable - and there are no monthly subscriptions - This allows the smallest of businesses to enjoy a sophisticated CRM without the worry of monthly overhead.
- InfoFlo form editor offers an endlessly number of customized fields to address unique business needs. Having built over 100 field items in a single form within InfoFlo, I can attest InfoFlo accepted all my customized fields without the slightest hint of impacting performance nor any instability concerns during the upload process. Actually using this form is a breeze.
- Email function simple yet complete (no confusing clutter).
- Able to rename internal functions that best suits the nomenclature for my business.
- As your business grows, InfoFlo is able to grow with you - there's no worry to outgrow your InfoFlo CRM.
- Offers categories function to facilitate in search results with superior accuracy.
InfoFlo is one of the best purchases yet I have made for my business.
Inconvénients
No cons but for future suggestion it would be nice to
1) add url links as an option in the form editor;
2) add links between contact and contact. Rationale: Allow you to know your contact's social circle.