En savoir plus sur Hubstaff
Que les entreprises mettent en place une nouvelle équipe ou qu'elles cherchent un meilleur moyen de gérer les employés, Hubstaff a tout ce qu'il faut pour gérer les équipes en toute confiance. Grâce à cette solution innovante et robuste de gestion du temps et des tâches, les entreprises peuvent suivre le temps de leur équipe avec des feuilles de temps détaillées, le suivi GPS et de la gestion de projet à l'aide du module des tâches. Alors que les employés suivent le temps avec les applications légères de bureau, web, iOS et Android, les entreprises pourront surveiller leur activité avec la gestion du temps, des captures d'écran optionnelles et le suivi des applications, l'utilisation de la souris et du clavier et même le temps sur site avec des barrières géographiques. Hubstaff permet aux chefs d'équipe d'afficher des rapports détaillés, d'envoyer des factures aux clients et même de payer les employés directement en fonction de leurs heures de travail et de leurs taux de rémunération personnalisables. Avec plus de 30 intégrations d'applications telles que Basecamp, Trello, Asana, Github et PayPal, Hubstaff est adapté à de nombreuses entreprises, ce qui signifie que les utilisateurs peuvent travailler sans aucune interférence dans leurs opérations quotidiennes.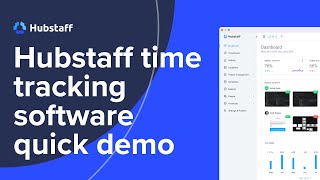 Hubstaff est disponible en version gratuite et propose un essai gratuit. La version payante de Hubstaff est disponible à partir de 7,00 $US/mois.
À partir de :
7,00 $US/mois
Version d'essai gratuite :
Oui
Produits similaires à Hubstaff
Évaluation des fonctionnalités
Secteur d'activité : Médias en ligne
Taille de l'entreprise : 11–50 employés
Logiciel utilisé

tous les jours

pendant

plus de deux ans

Provenance de l'avis
---
The best Employee Monitoring Software in Market for Remote Employees
It was a great experience, the software is scalable and affordable. It only adds cost upon usage which is critical.
Avantages
As a company with lots of employees working remotely for us, we need strong software to monitor employees' performance and act according to the efficiency analysis. Its best feature is idle time management which helps you know if some employee is sitting idle.
Inconvénients
Customer support is delayed a bit. We sometimes faced problems with Windows computers, this is somewhere Hubstaff needs to work it more user-friendly for Windows.
Secteur d'activité : Informatique et sécurité réseau
Taille de l'entreprise : 11–50 employés
Logiciel utilisé

tous les jours

pendant

plus de deux ans

Provenance de l'avis
---
Hubstaff App Review
This app, is the best of it's kind and I believe that, I'll use it for a long time.
Avantages
The app is very easy to use.
The ability to take screenshot of worker's screen is great.
Very customizable.
I like the fact that it's free for a single user.
Inconvénients
At a point in time, it gives different recorded times. A different time sent via email from the actual recorded times.
Pourquoi choisir Hubstaff 
Toggl was not working to my expectations...
Pourquoi passer à Hubstaff
Per reviews, hubstaff was the best so I decided to give it a try.
Réponse de

Hubstaff

Hello Paul, thank you for providing your input regarding our product.

When it comes to the daily emails that get sent out automatically by our system, there are a couple of reasons to consider for why they can appear to be incorrect.

Firstly, the hours displayed in those emails are always in the organisation's timezone, and not in the member's own one. So, if there is a big time difference between the two, for example organisation having EST (New York) and user CST (Shanghai), then the hours tracked can appear to be incorrect due to the big difference between timezones.

Also, if the user's Hubstaff tracker has not been able to upload all of its tracked data as intended, then the summary report will only display hours tracked and uploaded to our servers at the time of the email being sent out.

We do encourage the usage of the timesheets area to more accurately see the hours worked by the members of your team. On there, information can accurately be seen in both timezones.

Répondu le 25/04/2022
Secteur d'activité : Gestion d'organisme à but non lucratif
Taille de l'entreprise : 11–50 employés
Logiciel utilisé

tous les jours

pendant

6 à 12 mois

Provenance de l'avis
---
Efficient and Effective, Yet Privacy Considerations Exist
Avantages
As a user of Hubstaff, I find the software to be a reliable and efficient tool for managing my team and tracking our time. The automatic time tracking feature eliminates the need for manual entry and ensures accurate recording of work hours, making payroll and invoicing processes smoother. The GPS tracking functionality has been particularly useful for remote workers, allowing me to stay updated on their location and optimize resource allocation.
Inconvénients
One concern is the potential perception of intrusiveness due to the monitoring features offered by the software. Some employees feel uncomfortable with the level of monitoring provided.Another consideration is that Hubstaff's extensive features may not be necessary or suitable for all types of businesses. Smaller teams or organizations with a more flexible work structure might find the software to be too robust for their needs. Implementing and managing the software could increase administrative overhead, which may not be worth the benefits for certain companies.
Secteur d'activité : Marketing et publicité
Taille de l'entreprise : 51–200 employés
Logiciel utilisé

tous les jours

pendant

1 à 5 mois

Provenance de l'avis
---
Constantly Rated As Poor Productivity Even When Working Hard
My overall experience with this software is a very poor one. While I appreciate what you're trying to accomplish with the software, especially for remote employees such as myself, it just isn't working out for me personally. As I said earlier, it's going to wind up costing me my job because the software is telling my management that I'm not working when I am. The software also doesn't account for things like needing a lavatory break or taking our (legally required) paid time breaks. If I were to take my 30 minute paid time breaks every day, my productivity would just sink into the teens. There's also no way to account for meetings or times I am on the phone where I am still being productive and working but since I am not clicking anything or typing it thinks I am sitting doing nothing.
Avantages
I like the way Hubstaff is designed. It's intelligent and user-friendly. It's sleek and very polished and up-to-date with modern design standards and as a user I am easily able to access the dashboard and different features and see the differences in productivity from minute to minute, see the screenshots, see the tracking points, etc. From the perspective of direct user experience, it's ace.
Inconvénients
However, my qualms with Hubstaff far outweight its superior design structure. The program, to me, is broken. No matter how hard I work, I have never had a day above 40% productivity - and that only happened once. I am usually rate in the mid to high 20s, even on days when I am busting my butt to get work done. I don't know why I am having these problems with the software, because I know I am working, I know I am getting work done, but why am I being rated so poorly? This software is going to wind up costing me my job, and that makes me furious.
Réponse de

Hubstaff

Hey Diane,

Sorry you aren't having a good experience. Let me explain how Hubstaff tracks activity, and if you still think you should be getting a higher score, please contact our 24/7 support team at [email protected].

Your activity levels may be lower or higher depending on your responsibilities. Manual and mobile time tracking can also lower your productivity levels so include a note to your employer letting them know what you were working on. Here is a helpful article about how activity levels are tracked: https://support.hubstaff.com/how-are-activity-levels-calculated/

Répondu le 08/02/2019
Secteur d'activité : Marketing et publicité
Taille de l'entreprise : 11–50 employés
Logiciel utilisé

tous les jours

pendant

1 à 5 mois

Provenance de l'avis
---
Your Asset when it comes to time tracking
Very good. Easy to use and definitely a tool I will keep using in the future.
Avantages
The best feature of HUbstaff is how easy it is to add projects and assign someone to track them. We bill our clients for example 200 hours of design and resource management and Hubstaff has been our go-to for tracking this time for our invoicing. It's also a really lovely reporting feature where you can easily switch between per project and per member to track the resources effectively.
Inconvénients
The timesheets have an error with the buttons that need to be fixed. I have contacted support before, but I have never once received feedback from Hubstaff support. So definitely zero stars for their support structure.