En savoir plus sur HotSchedules
HotSchedules is the hospitality industry's most widely adopted intelligent scheduling software. Managers can cut their scheduling time down to 45 minutes or less with the intuitive drag and drop interface while maintaining federal, state, and local labor compliance with automatic and configurable scheduling rules. But a scheduling provider is just a glorified spreadsheet until there's data behind it. Powered by Fourth Intelligence, HotSchedules integrates with your POS to generate labor and sales data so your managers schedule the optimal number of employees every shift. Historical data, weather, events, and more are all considered! When you're ready, publish the schedule and all employees will be notified via our app, rated the #1 business app for 5+ years. Employees love how easy it is to swap and release shifts, message co-workers, and request time-off. Their schedules also integrate with Google calendar! We'll also ask them to rate their shift on a scale of 1-5 when they clock out, giving you much-needed insight into employee satisfaction levels. Larger organizations will also love the Above Store Console giving admins a bird-eye view into the performance of multi-location operations. And for a deep dive, there's a myriad of reports available, the most popular including labor snapshots, OT alerts, and even the average time managers take to approve shift swaps. Our support team will help you uncover what reports are most important to your business and can set up automatic delivery on a cadence of your choosing. Further empower operational excellence with our digital Logbook allowing you to maintain control of your brand's communications and operational procedures. Create mobile-first tasks lists, delegate to-dos, and assign follow-ups (use our 70+ pre-built templates if you're not sure where to start). Eliminate communication breakdowns and Post-it note nightmares with digital store logs and staff journals, allowing you to easily store important information like store deposits, complaints, and employee incidents (great for performance appraisals!). And finally, ace health inspections with food safety compliance measures including recording wireless temperature readings and time-stamped verification of all compliance tasks. HotSchedules Time & Attendance solution ensures payroll accuracy, further maintains labor compliance, and reduces processing time. Equally important, it will prevent early clock-ins (also called time theft or buddy punching). Just with enforced punctuality and overtime alerts, HotSchedules saved a store .5% in labor costs, putting an additional $17,500 per store back into the restaurant! HotSchedules is also equipped with employee surveys, health checks, and many customization capabilities. Your team will not only be equipped with the industry's most widely adopted scheduling software, but 24/7 support. In the spirit of making your lives easier, not harder, your onboarding process will include live trainings, an implementation team to set HotSchedules up for your unique needs, and a dedicated customer success manager who will never upsell you, only support you.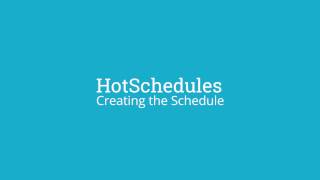 HotSchedules n'est pas disponible en version gratuite mais propose un essai gratuit.
Version d'essai gratuite :
Oui
Produits similaires à HotSchedules
Évaluation des fonctionnalités
Secteur d'activité : Produits alimentaires
Taille de l'entreprise : 10 000+ employés
Logiciel utilisé

tous les jours

pendant

6 à 12 mois

Provenance de l'avis
---
HotSchedules made life easier
Avantages
I used this software when I worked at Cheddars Scratch Kitchen as a server, made it much easier to keep up with my schedule and trade,drop,or pick up shifts. And really easy to use and understand!
Inconvénients
Sometimes there was a bit of a time delay on the app that made me to late to drop or pick up shifts but only sometimes.
Secteur d'activité : Produits alimentaires
Taille de l'entreprise : 10 000+ employés
Logiciel utilisé

tous les jours

pendant

plus de deux ans

Provenance de l'avis
---
Great tool to schedule your employees
Using for 7 years and if they would not keep changing the format I could say I love it. Anyhow it is great app for managers, easy quick access to employees list, phone numbers, emails and etc.
Avantages
I'm doing schedules for my employees weekly and this app has few great features. Coping, modifying and automatically feeling schedules are only few of them.
Inconvénients
Constantly changing the format. Right after I'm used to one they changing it again.
Secteur d'activité : Eau/gaz/électricité
Taille de l'entreprise : 11-50 employés
Logiciel utilisé

tous les jours

pendant

plus de deux ans

Provenance de l'avis
---
The best in the business!!!
Pay the money, reap the rewards, save time and be on the floor with your team where you should be!
Avantages
RELIABILITY!!!It never goes down, support is always helpfulBest scheduler features in the gameTemplates for quick entry are great weekly startersColor coding makes my life so much easierTransparency, every stroke documented
Inconvénients
Takes getting used to and learning as it is complex software but get hot keys down and you've got it! Make sure you have a fairly beastly computer...it's a lot of real time processing.
Secteur d'activité : Hôtellerie
Taille de l'entreprise : 51-200 employés
Logiciel utilisé

tous les jours

pendant

plus de deux ans

Provenance de l'avis
---
Powerful
I miss using it in many respects, it feels very HR orientated which I enjoyed - I don't miss the slow and clunky loading and saving of data though.
Avantages
A lot of really useful templates in terms of recording personnel records, plus a lot of really powerful automation ie. sick pay and holiday calculation - employee checklists etc - The payroll integration was excellent also.
Inconvénients
unfortunately we found it to be very slow and glitchy, often having to refresh the webpage, or being unable to load properly.
Secteur d'activité : Restaurants
Taille de l'entreprise : 51-200 employés
Logiciel utilisé

tous les jours

pendant

plus de deux ans

Provenance de l'avis
---
So convenient!
The convenience of NOT having to drive to the restaurant like in the old days to swap a shift or request off, or even look at the new schedule!
Avantages
I come from working in restaurants in late 90s & 2000s, so this app is a dream come true! It's so awesome to be able to view schedule, swap shifts, & send messages to staff all in one place!
Inconvénients
I dislike not being able to request off past a certain point (less than 3wks before the shift, I think?). But that's likely a restaurant decision vs the app.