En savoir plus sur Hiver
Hiver est l'un des premiers services d'assistance au monde conçu pour Google Workspace. Hiver aide les équipes à fournir un service client rapide et empathique directement à partir de l'outil qu'elles connaissent déjà : Gmail. Cela signifie qu'elles peuvent affecter, suivre des e-mails client et collaborer sur ces derniers, ainsi qu'exécuter les analyses et automatisations les plus avancées à partir de l'interface Gmail, sans consacrer de temps à la prise en main de nouveaux logiciels ou à passer d'un onglet à l'autre. Hiver dispose de toutes les fonctionnalités puissantes d'un service d'assistance, telles que les balises d'e-mail pour les boîtes de réception partagées, l'attribution automatique pour une distribution en tourniquet des e-mails aux équipes, les modèles d'e-mail et les analyses pour suivre tous les indicateurs clés du service client. Grâce aux alertes de collision, les utilisateurs peuvent recevoir des notifications lorsqu'une personne répond à un e-mail et ainsi éviter les doublons et les réponses conflictuelles. Hiver permet aux responsables de configurer des SLA (Service-Level Agreement) et des heures d'ouverture et de mesurer la satisfaction des clients en envoyant une courte enquête à la fin des e-mails. Le logiciel offre un service client sécurisé à partir de Gmail et permet les conversations entre humains sans avoir à stocker d'e-mails. Hiver aide de nombreuses entreprises, des start-up de nouvelle génération aux entreprises traditionnelles telles que Canva, Lonely Planet, Flexport, Pluralsight, Oxford Business Group et Upwork.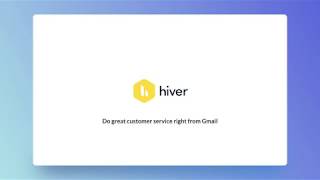 Hiver n'est pas disponible en version gratuite mais propose un essai gratuit. La version payante de Hiver est disponible à partir de 15,00 $US/mois.
À partir de :
15,00 $US/mois
Version d'essai gratuite :
Oui
Produits similaires à Hiver
Évaluation des fonctionnalités
Secteur d'activité : Services et technologies de l'information
Taille de l'entreprise : 11–50 employés
Logiciel utilisé

tous les jours

pendant

plus de deux ans

Provenance de l'avis
---
Hiver has been a game changer our account management team!
Avantages
Hiver has made it so much easier for our client-facing teams to collaborate with each other and better serve all of our clients' needs. Everybody can see all the emails coming in, leave internal notes for each other, mark emails as pending/closed, use templates...the list goes on. It's been a huge game changer!
Inconvénients
I wish we could use Hiver for even more. Everything about it is great, including amazing customer service, and so now I want to get rid of our other software/integration app providers and just use Hiver exclusively.
Pourquoi passer à Hiver
Hiver integrates with Gmail right in your inbox so you don't have to have multiple windows and apps open at the same time. It's all in one-place and it's affordable!
Secteur d'activité : Traduction et localisation
Taille de l'entreprise : 2–10 employés
Logiciel utilisé

tous les jours

pendant

plus d'un an

Provenance de l'avis
---
Hiver is the absolutely best Shared Inbox service and helped us optimizing our workflows by...
We tried several providers of Shared Inboxes and we ended up staying with Hiver for the solely reason that they choose to focus on the core aspects of mail management and not various other features, that businesses at our size usually use other Sales or Project services for. We have used Hiver for more than a year now and it has so far saved us from hundreds of hours by providing us with a great overview and management of all incoming mails/task to be taken care of. The service is not the cheapest on the market, but it's absolutely worth every penny. Hiver has given us the opportunity to work more effective, close deals faster, collaborate better resulting in overall higher turnover since we started using the tool. It integrates smoothly with G Suite and we would highly recommend this tool for any business.
Avantages
The mail management part is alfa omega. Its the core of this service, that makes it stand out from competitors. This tool allows you to manage hundreds of mails weekly without losing the overview. It integrates smoothly with G Suite, so are you already comfortable with Gmail, then you cannot miss Hiver!
Inconvénients
Setting rules for the automations could be optimized to handle more criteria and it would be great to be allowed to bulk add email adresses instead of manually adding one by one. It works though and its great.
Pourquoi choisir Hiver 
Gmelius had too many bugs. I wrote the support constantly and many of the features I needed were still on their roadmap. I believe Gmelius is a great mail management tool, but they need more development before they are able to compete with Hiver.
Pourquoi passer à Hiver
We tested all products out and evaluated them on the same criterias. Ease of use, integration, features, core focus and Hiver scored highest apparently.
Logiciel utilisé

tous les jours

pendant

1 à 5 mois

Provenance de l'avis
---
Awful experience!!! After integrating this tool, my clients stopped receiving my emails.
None. Hiver completely derailed our operations at a period of peak media coverage.
Avantages
Hiver features initially seemed great. I was eager to make use of their promised benefits. Unfortunately, Hiver completely halted our operations for over a week and lost us a great deal of business. Throughout it all, their team was unapologetic and dismissive of the role that Hiver had in derailing our email communications with clients. Rather than seeing this as an opportunity to resolve and repair clear technical defects, they blatanly blew off our repeated requests for support.
Inconvénients
I tested out many collaborative email tools before deciding to go with Hiver. I was impressed by the intuitive design, canned response functionality and mobile app. Unfortunately, several days after installing the tool, we began to suspect that our clients were not receiving our emails consistently. I reached out to Hiver several times over the course of a few days and received no response. This lapse in email functionality coincided with some significant and favorable press coverage - our site traffic was nearly double what it normally was - and yet we went for 10 entire days without a single new client at a time when we would normally have 10-15 new clients typically. I tried for an entire week to engage help from the Hiver team. They insisted - and continue to insist- that their tool does not impact email sending functionality. I would beg to differ. As soon as I uninstalled Hiver, my communications with clients returned to normal. On a final note, to top this off, my team and I are 3 women. When we called Hiver's India-based support team, they were loudy making obvious, derogotary remarks about our being female and unable to understand their tool - calling us 'Dumb Blondes'. Highly inept and unprofessional team. Also worst nightmare for a growing startup!
Secteur d'activité : Immobilier
Taille de l'entreprise : 11–50 employés
Logiciel utilisé

tous les jours

pendant

6 à 12 mois

Provenance de l'avis
---
First Year of Hiver
I have been very pleased with Hiver in our first year. It has really added some great features to Gmail and once we can get everyone on board I imagine we'll gain even more benefit from it. I am very happy with the service and would definitely recommend it. It has great potential when used to the fullest!
Avantages
I really liked the fact that emails can be added to a shared mailbox and everyone on the team will be able to see them. This makes it much easier when we change team members, as they can be added and will see all the email history. We no longer have to save emails that are worthy of archiving, as they are automatically filed nicely and accessible by the current team - with attachments in place! I really didn't like when you forwarded an email and you needed to reattach the attachments - We can now just add an email to the shared inbox and the new user can see everything as though they were there all along!I also really like the automations - As much of our email traffic is fairly routine, and we can use this to automatically route emails appropriately - And tag them automatically for metrics/analytics!Additionally, the fact that it integrates into Gmail is great, as we looked at competitors, but I didn't want to have another login with more emails. The fact that everything in one place was the major selling point for me
Inconvénients
The most difficult part of Hiver is our internal training - As getting everyone to use it as desired can be difficult. I can imagine everything working perfectly in my head, but getting the whole team on board has been the issue. I also wish we had more bulk features - Such as bulk tagging, bulk status updates, bulk tag adding, etc. Although your support team has been great!
Secteur d'activité : Marketing et publicité
Taille de l'entreprise : 11–50 employés
Logiciel utilisé

tous les jours

pendant

plus d'un an

Provenance de l'avis
---
Easy Email Management
Great overall experience that has helped us become more efficient and communicate very effectively.
Avantages
Hiver is a great way to manage a shared inbox efficiently and integrates easily with Gmail. Our team is able to assign emails, share notes, and easily see a chain of communication ensuring all incoming enquiries are dealt with quickly and efficiently.
There are easy ways to set up template copy too, accessible to the whole team.
Inconvénients
No cons, it's good to be aware that once an email is assigned to a staff member, you won't see this email thread again unless you actively search for it.