En savoir plus sur Dialpad
For quickly growing businesses looking to efficiently scale their support teams, Dialpad provides a cloud-based call center with access to real-time customer insights. Dialpad allows users to onboard quickly and focus on delivering a great customer experience. Key features include real-time call transcription, live customer sentiment, and live agent coaching. The solution offers integrations with Zendesk, Salesforce, Slack and many more. Priced per user per month, Dialpad Contact Center offers free calls to the US and Canada, no per-minute fees, unlimited inbound minutes and unlimited texting.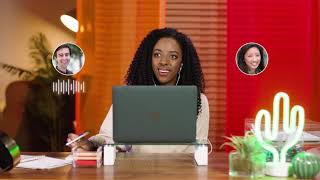 Dialpad n'est pas disponible en version gratuite mais propose un essai gratuit. La version payante de Dialpad est disponible à partir de 15,00 $US.
Version d'essai gratuite :
Oui
Produits similaires à Dialpad
Évaluation des fonctionnalités
Secteur d'activité : Logiciels
Taille de l'entreprise : 51-200 employés
Logiciel utilisé

tous les jours

pendant

6 à 12 mois

Provenance de l'avis
---
Great dialling solution for your sales/customer service team!
The experience of keeping my personal and professional life without having to use multiple devices has helped me.Setting up and getting started with the product was easy. The pricing was also apt and justified.
Avantages
The tool enables us to better connect with the prospects we are having a conversation with, and the nudges presented to us while having the conversation help us drive the conversation in a better direction. The fact that Dialpad enables us to use our regular phones is also an added advantage! Dialpad has helped us boost the productivity of our sales team significantly.
Inconvénients
The issue we faced here was that even if there were multiple phones associated with one single line, we couldn't use them simultaneously.
Secteur d'activité : Comptabilité
Taille de l'entreprise : 2-10 employés
Logiciel utilisé

tous les jours

pendant

1 à 5 mois

Provenance de l'avis
---
Artificial feature limitations soured my experience with Dialpad
Once the port issues were resolved it is generally fine and easy to use, although I am disappointed that several basic features are excluded at the price we are paying, which is not exactly cheap compared to competitors. I may switch to a different to gain access to the features that Dialpad refuses to provide without spending more money.
Avantages
Native app is easy to use, and easy integration with Google Contacts makes dialing a snap. All users can dial out VoiceIntelligence transcripts are useful and automatically generated. The accuracy is about 80%, usually good enough to easily tell what was being discussed even if some of the words are transcribed incorrectly.
Inconvénients
The port experience was a disaster. There was a goof somewhere and this left me without the ability to receive or make phone calls on my business' primary phone number at either Dialpad or at my prior provider (Google Voice) and the support did not make me feel like fixing this was a priority for them, never providing updates. It eventually got fixed.
The product has arbitrary and foolish feature limitations that feel unnecessary and petty. I am paying good money for this product and yet cannot access even a basic IVR because I am not an enterprise customer with more than 100 users. An IVR is absolutely basic functionality for a phone service with more than one user.
We also cannot set holidays on our service because we need to be in a more expensive plan to do that.
Pourquoi choisir Dialpad 
Inability to dial out using the main line or to receive texts to that number. Our customers had no idea who was calling them, and texts to our primary line vanish into the aether never to be seen or even known about.
Pourquoi passer à Dialpad
It seemed to meet my needs. In hindsight I wish I had gone with Openphone due to artificial and arbitrary product feature limitations that Dialpad imposes which Openphone does not.
Secteur d'activité : Services et technologies de l'information
Taille de l'entreprise : 2-10 employés
Logiciel utilisé

tous les jours

pendant

plus d'un an

Provenance de l'avis
---
Dialpad is a perfect solution for any business
We subscribed to Dialpad when we moved office suites. And it immediately became a very productive tool. I
had to travel for business and the mobility was very useful. I had all my call history, my notes, all at my fingertips. And when I received a call in the office, and it was too loud, I simply clicked on my cell and continued the conversation while walk. And the biggest advantage to productivity came when Covid-19 hit, because all the staff are working from home, still using the same numbers, the same process and the same way as if we are in the office. The common INBOX makes everyone aware of everyone else's communications, and the private phone numbers keep sensitive work separate. It has kept us going in these difficult times. And the one thing I really like the most? I can be anywhere in Europe and my NYC number will ring when someone calls.
Avantages
What we like most about this product is that it is intuitive and versatile. We ported out two business numbers, and we also received each our own cell number which is great to use for business. We can use it on the road, at the office and while traveling, so its perfect, we never miss a call. And by setting up groups we can put one phone on "do not disturb" and still have others answer, plus we can roll over to our personal phones. We have it running in our workstations and smartphones and it is so easy to answer in one and continue the conversation, seamlessly, in another simply by clicking a button. I usually answer through my laptop and if I need to walk away, I can simply just switch to my mobile in real-time. And I can text while I am speaking to a person, multi-task, or simply click a number and dial through it and then make a note on the screen. It remembers everything we do! This system's sound is crystal clear and it simplified our business. The support is also worth noting, they respond quickly and have resolved every single inquiry successfully and efficiently.
Inconvénients
I think some of the options should be included in every solution, for example, the dictionary. Other than that I cannot find anything I dislike.
Secteur d'activité : Logiciels
Taille de l'entreprise : 11-50 employés
Logiciel utilisé

tous les jours

pendant

plus de deux ans

Provenance de l'avis
---
Solid, easy to use, easy to administer platform
Dialpad is a solid platform that is very easy to set up and configure, and relatively cost effective, in relation to other platforms on the market. Our only complaint is the reliability of Dialpad. It's not a huge issue, but even if one call drops a week, it's annoying.
Avantages
We are a software start up with less than 25 employees, of which 12 have Dialpad accounts. We have fairly basic needs, in the sense that each user needs a direct number to place and receive calls/texts, and for those same users to take calls from 'shared' phone numbers, such as support, and sales.
The administrative features of Dialpad are easy to learn, use, configure, without having to spend hours self educating on a knowledge base, or through trial and error. This includes functions such as:
- Creating new users.
- Configuring phone lines (like sales or support) with voicemails, call routing, IVR.
Inconvénients
1 - Desktop app reliability (Mac)
I've found the Desktop top app to be consistently inconsistent, in the quality of calls, and general usability. I've used Dialpad for 3 years, and always have the newest Mac & software updates. For example, sometimes I will answer a call, and the person cannot hear me. This is even more frustrating in cases where I've been waiting on hold for a long time, only to be connected, and for the other person to not be able to hear me. Every time, if I restart Dialpad, the issue resolves itself. Again, I've tried multiple headsets/audio settings over the years, and the same issues occur.
2 - Mobile app
You can configure Dialpad so that when you receive a call, your cellphone rings (either using your cellular number, or over VOIP, if connected to the internet). I've again found the reliability of these features to be inconsistent. Sometimes I will answer on my mobile, and the call will drop. Other times, I'll answer on my Desktop app, and my mobile device will keep ringing.
3 - Pricing
I feel that Dialpad's pricing is in line with other providers, but I do feel that providers across the board have prices set too high, with no option to add 'light users'. For example, we have certain employees that we want to be able to take a call or two a week, or infrequently place outbound calls. We cannot justify paying for a full license for them. If we could add free, or heavily subsidized 'light' users, I believe that overall, our usage and adoption of Dia
Secteur d'activité : Services financiers
Taille de l'entreprise : 201-500 employés
Logiciel utilisé

tous les jours

pendant

plus de deux ans

Provenance de l'avis
---
This is the next step in IP phones - Perfect for working from home
This has been one of the best decisions our IT team has made. We tested the other cloud phone providers, with none providing the fully featured, simple and reliable system as Dialpad.
Adding users, configuring phone trees, configuring main lines, adding fax, everything is simple, fast, and intuitive in their system.
With integration into Hubspot, which we already used as our CRM, our management has even more insight into their sales team's performance.
Our user feedback has been overwhelmingly positive.
Our ability to have users work from home and have 100% full phone access cannot be overstated. This is probably the biggest takeaway anyone should take from reading this. Absolutely no disruption in our ability to call or make calls when switching our entire office to working from home.
Avantages
Deployment cannot get any more simple. Set up the user in the web interface, put in 4 digit activation code on phone. Done.
Work from home - SIMPLE. With Office 365 integration, users simply use their email and pass to sign into Dialpad from their personal cell phone, personal computer, work computer, anywhere.
Just moved offices, our phone system was the only system that required no extra setup. Just plug in at the new location, and everyone is working like normal.
Simple and intuitive. Reliable, priced perfectly, full of features.
Inconvénients
I used to have cons with the limited abilities admins had over users' settings like call forwarding (for example, if an employee is sick and forgot to set her calls to forward to someone else). This has been fixed recently, and at this point I cannot think of any con.