En savoir plus sur ProWorkflow
Créé en 2002 et acquis par ProActive Software Ltd en 2003, ProWorkflow est un logiciel cloud de gestion de projet et de gestion du temps qui s'adresse aux entreprises de toutes tailles. ProWorkflow comprend toutes les fonctionnalités d'une solution de gestion de projet traditionnelle. La solution propose également de nombreuses fonctionnalités supplémentaires : gestion de tâches, feuilles de temps, modèles, notifications et alerte, partage de fichiers, gestion des flux de travail, gestion des contacts, reporting et gestion des ressources. ProWorkflow fournit également un outil de calendrier et de disponibilité pour simplifier la planification des tâches. Le tableau de bord de gestion de projet ProWorkflow affiche un résumé des projets en cours sous forme de graphique. La fonctionnalité de collaboration permet à plusieurs membres de travailler simultanément. L'application de messagerie intégrée permet aux équipes de chatter, d'envoyer des notifications, de partager des documents, etc. La solution est accessible via divers appareils mobiles, notamment des ordinateurs portables, des tablettes et des smartphones (pour les téléphones Android, Windows et iOS).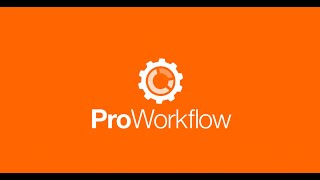 ProWorkflow n'est pas disponible en version gratuite mais propose un essai gratuit. La version payante de ProWorkflow est disponible à partir de 20,00 $US/mois.
À partir de :
20,00 $US/mois
Version d'essai gratuite :
Oui
Produits similaires à ProWorkflow
Évaluation des fonctionnalités
Secteur d'activité : Marketing et publicité
Taille de l'entreprise : 2-10 employés
Logiciel utilisé

tous les jours

pendant

plus de deux ans

Provenance de l'avis
---
Bring on tick Friday - Love ProWorkFlow
Our team are able to collaborate more. We have a greater transparency with clients & are overall much productive.
Avantages
Our team are able to collaborate & we are able to manage both projects (development/design) as well as monthly recurring tasks (agency social media posting/community management). ProWorkflow weekly workload app is a life saver & the team proactively have a "tick Friday" were we go home early if all boards are cleared and completed. Our business is able to see where the profitability lies within our services & where we can make improvements. Highly recommend this tool due to its ease of use & flexibility.
Inconvénients
For recurring tasks / monthly repetitive services of an agency you cannot just duplicate a current "project" and rename it. This would be an awesome time saving feature to have.
Secteur d'activité : Design graphique
Taille de l'entreprise : 11-50 employés
Logiciel utilisé

tous les jours

pendant

plus de deux ans

Provenance de l'avis
---
QA Graphics-Pro Work Flow Review
Overall Pro Work Flow has been a great experience. Their online chat and help service always helps when I'm stuck trying to update something or do something specific in a report. My customers have found it very easy to use as well which is a huge plus for me as we deal with hundreds of clients a month and multiple clients per project. The ability for me to be the administrator and to see everything for messaging, time reporting, time auditing, etc has also been a great tool for our business as well for my team.
Avantages
I like the ease of functionality on this software. I love being able to toggle between my work and my users and the ability to categorize projects, tasks, etc. The archive function is amazing and very easy to use. The ability to communicate between customers and my staff with the software is very smooth as well. Also, the ability of my customers to respond directly in their email inbox was a game changer. In the world where everyone has a million sites and passwords to remember, they don't necessarily have to remember this one in order to do business with us. My [SENSITIVE CONTENT HIDDEN] and I also really like the reporting that is available for staff time reporting, monthly project updates, etc.
Inconvénients
I feel like the app could use work. Honestly I don't use it and my clients tend not to use it as well. It's a bit hard to navigate to specific projects and the view is a lot different than the website so it's hard to communicate with them where they need to go.
Secteur d'activité : Services environnementaux
Taille de l'entreprise : 2-10 employés
Logiciel utilisé

tous les jours

pendant

plus d'un an

Provenance de l'avis
---
Good start but still a lot to be implemented
Whilst PWF has potential and I'm sure the intention to rectify and further develop the software is there, in it's current format it does not meet our business needs, requiring us to use external software sitting outside of PWF's functionality. It appears to be set up for a niche market and would do well to expand its capabilities to provide fuller functionality for all clients.
Avantages
I've been using PWF for a year now and see there is potential for this to be a convenient, easy to use tool once development improvements have been implemented. The support staff are friendly and provide assistance where possible. The software enables us to pay per user and grants multiple users to access the platform with individually allocated access rights, allowing us to set security levels pending the role of the user and adjust our monthly payments pending the number of consultants we currently have on board. You are able to live track time which is helpful for our consultants in allocating to billable projects. Review of time entered and staff workload is also a useful function.
Inconvénients
I feel this software is still in its developmental stage and has a lot of improvements to be implemented. For example, integration with MYOB is poor and non usable, invoicing fields need expanding (ie choice of PO or street address, ABN field for recipient, etc), templates and emailing tools are very basic and limited, contact listings are restrictive and missing vital fields (ie ABN, PO Box, etc) or requiring double handling (ie single contacts need to be connected to a non existent company, for example where no company is applicable you have to create fake one to connect them contact to), reports need to have more functionality and retrospective time reports come up with errors in date ranges making data inaccurate, add/edit tasks need further options such as sort functions, window resizing/positioning needs to be added, pro bono projects cannot be marked as non billable unless you tick them off as "invoiced" (which is incorrect and misleading). These are just a few of the issues we have recently been struggling with.
Secteur d'activité : Design
Taille de l'entreprise : 2-10 employés
Logiciel utilisé

tous les jours

pendant

plus de deux ans

Provenance de l'avis
---
I've tried everything else... ProWorkflow is the cream of the crop
I've been a customer for many years. I feel like a value to the company with the communication I get from you guys and support. I love how you take feedback and actually make your product better based on our suggestions. It makes me feel like I'm a part of building this great software.
Avantages
The customization is unmatched. You can really make this exactly what you need it to be. I have a very creative and visual brain but need to stay organized. This allows me to create what works best for my brain and has changed the game for onboarding clients, running projects and much more. I now come across like a type-a CEO.
Inconvénients
I wish there was more automation. That would be really great. I had tried out dubsado for this, but it is a really crap product in comparison. It automates and love the templates they had, but when it came to project management, there's no comparison.
Pourquoi choisir ProWorkflow 
PWF checked all the boxes. Accelo was close, but it wasn't as intuitive and not as customizable and the UI is so much better with PWF. I'm a designer. I need this to look great and work with my creative brain.
Pourquoi passer à ProWorkflow
Again, ease of use, features were unmatched, customizability, and it just looks great.
Secteur d'activité : Design graphique
Taille de l'entreprise : 2-10 employés
Logiciel utilisé

tous les jours

pendant

plus d'un an

Provenance de l'avis
---
ProWorkflow is the best task management tool
Avantages
Easy to use
Easy to customise
Easy to track time and projects
Connects seamlessly with xero
I love it, I tested many demos, it has an attractive interface, accuracy, great support - this task management system gets a 9.8/10 from me :)
Inconvénients
Sadly there is no pause button on the timer
When invoices transfer to xero they keep the hourly rate - so I can't activate auto invoice reminder in xero otherwise i have to remove that rate off each task (no time for that)
Large scale project management and team communication tools could have improvements made