En savoir plus sur Forma LMS
Forma LMS est un système de gestion de l'apprentissage open source conçu pour aider les entreprises à proposer une formation aux employés en fonction des besoins et des processus de l'entreprise. Ses principales fonctionnalités sont les cours en ligne, la visioconférence, la gestion des certifications, le reporting personnalisé, les cours mixtes et la gestion des utilisateurs. Les équipes qui utilisent Forma LMS peuvent générer des certificats au format PDF à la fin des cours grâce à des modèles graphiques personnalisables. Les responsables peuvent organiser des cours dans plusieurs catégories, catalogues et parcours de cours et créer plusieurs éditions du même cours avec des emplacements et des inscriptions distincts. Les utilisateurs peuvent également vendre leurs cours à l'aide de fonctionnalités d'e-commerce intégrées. Forma LMS permet aux membres du personnel de recevoir automatiquement des notifications à la fin des cours, des abonnements et des inscriptions des utilisateurs. Les administrateurs peuvent organiser les utilisateurs par groupes, organigrammes et rôles avec des autorisations spéciales. Forma LMS propose une API (Application Programming Interface) qui permet aux entreprises d'intégrer la plateforme aux systèmes existants et de configurer la solution à l'aide de plug-ins et de scripts personnalisés.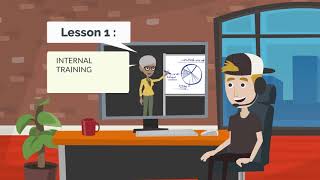 Forma LMS est disponible en version gratuite et propose un essai gratuit.
Version d'essai gratuite :
Produits similaires à Forma LMS
Évaluation des fonctionnalités
Secteur d'activité : Services financiers
Taille de l'entreprise : 1 001-5 000 employés
Logiciel utilisé

tous les jours

pendant

plus d'un an

Provenance de l'avis
---
Bringing revolution in e learning through Forma LMS. Its the need of the hour for businesses !
Forma LMS is the most comprehensive web based platform for making the e learning and authoring activities seamless without any major trouble. Also, its the savior for businesses as it meets the digital needs and requirements of businesses in most effective manner possible. Cheaper alternative to most of its competitors and stands out of the crowd due to its excellent features and utilities.
The authoring is collaborative and is fully available and functional on lower bandwidth also. The e content are stored in LMS appropriately and suits to the needs of the learners effectively.
Avantages
Best open source web based e learning platform and software for strengthened learning for hybrid and remote workforce.
The training and orientation of workforce is done effortlessly though Forma as it is one of the best collaborative tool for professionals and businesses presently.
Talent management is easy and comprehensive through Forma LMS as it helps in selection of candidates through online assessment evaluation and selection.
Online training in post pandemic era has become easiest than ever.
Authoring e content is easy and is securely accessible to target learners.
Inconvénients
No dislikes till date. Keep improving the addition of new features and utilities so that it never become obsolete from the market and stay relevant forever. The premium version should be provided in such a tariff mode so that utilities can be best met in most customizable mode. Rest of the features are superb.
Pourquoi passer à Forma LMS
Forma LMS has huge pros and advantages to be chosen above its other alternatives due to its best performing features and great outcome. It is the best due to its continuous upgradation and restructuring to meet the market demand in most desirable manner possible. We are also using the same for deploying online industry based learning followed by certification which is accurate, timebound and seamless activity . No operational lags or slowdowns in the system.
Réponse de

FormaLms

Thanks for your review!

Répondu le 08/09/2022
Secteur d'activité : Services d'information
Taille de l'entreprise : 501-1 000 employés
Logiciel utilisé

tous les jours

pendant

6 à 12 mois

Provenance de l'avis
---
Best-in-Class learning management system for delivering online training courses !
We all like Forma LMS a lot as it helped our organization in biggest way possible in post pandemic era. It helped us in streaming of our reading content in various languages at desired sink effortlessly. Also, it is accepted by everyone due to its high cost effectiveness and increased operational efficiency while working and operating . We never face any lagging and no complaints received from users also. The performance is good and it never hangs or slows down.
Avantages
Robust online learning management system for onwards and upwards learning curve in post pandemic age.
It helped to reach out to larger gathering and audiences remotely within shortest span possible.
It's an open source LMS software and is absolutely free for use by small, medium and large enterprises.
Likeable by all and accepted by all kinds of audiences due to its ease if use and usability
Inconvénients
We want more and more speedy and hi tech live streaming features with advanced recording facility and its later accessibility for use. The quality of sound and video recording can be further enriched and be more conspicuous. It would add more value and amazing customer experience.
Pourquoi passer à Forma LMS
Forma LMS was chosen by our tech and business team members jointly as we sat together and understood on our requirements and scope for customizations and flexibility for us. As a business user, we can confidently say that they are one of the highly professional organizations with high moral and ethical values which is highly acceptable and desirable by our organization and people. Their onboarding process was smooth and no cumbersome experience at all.
Réponse de

FormaLms

Thanks for your review!

Répondu le 08/09/2022
Secteur d'activité : E-learning
Taille de l'entreprise : 2-10 employés
Logiciel utilisé

toutes les semaines

pendant

plus de deux ans

Provenance de l'avis
---
Stable and reliable LMS platform with an improvable UX
We chose this platform to address the request of our cliente who wanted a low price LMS platform.
After 3+ years of using with 2000+ users, we can say that the choice has not been so wise.
The user support we had to set up and the difficult maintenance of the platform made the costs grow significantly.
Avantages
The platform is stable and reliable. It has advanced features and can be integrated with other services.
Inconvénients
The platform is not easy to use and it doesn't have an overall pleasant user experience.
Menus and functionalities are difficult to find and use for users and for the administrators.
Pourquoi passer à Forma LMS
Lower price
Réponse de

FormaLms

Hello,

thanks for your review, although I think it's a bit unfair. Forma is used by thousands of users and one of the main reasons is that it's much easier to use than Moodle, for example.

Also it's unclear to me what kind of user support you need, we have several installations with thousands of users and barely any support request.

If you think we can help you in any way, let us know.
Max

Répondu le 15/02/2022
Secteur d'activité : Formation professionnelle et coaching
Taille de l'entreprise : 11-50 employés
Logiciel utilisé

tous les jours

pendant

plus de deux ans

Provenance de l'avis
---
Impressioni di lunga data
Avantages
Il suo essere open source rende l'integrazione con gli altri sistemi aziendali semplice e alla portata di tutti.
Inconvénients
Talvolta la complessità del codice rende complicato capire perché avvengono determinati errori, o dove si originano.
Pourquoi choisir Forma LMS 
Il software precedente non era più fornito in versione open source, ed il loro nuovo modello di business mal si adattava alle nostre esigenze.
Pourquoi passer à Forma LMS
Forma è l'evoluzione di Docebo, quindi di sicuro l'esperienza maturata da noi con la precedente incarnazione ha contribuito non poco alla nostra scelta. Inoltre, pur avendo provato altri LMS, abbiamo ritenuto che la UI/UX di Forma fosse notevolmente migliore, sia lato amministrazione che lato utente semplice.
Réponse de

FormaLms

Grazie per la recensione articolata e ponderata

Répondu le 22/02/2021
Secteur d'activité : Services et technologies de l'information
Taille de l'entreprise : 10 000+ employés
Logiciel utilisé

tous les mois

pendant

6 à 12 mois

Provenance de l'avis
---
A Great Platform for your LMS needs with High Customization Support!
Overall it has been a great experience for me , Forma LMS has helped me in creating courses for the new joiners in the team for their faster training and ramp up. Have also allowed keeping track of compliance trainings. Also helped me in creating tests to check their project readiness.
Avantages
1. Easy to create and design training and learning courses.
2. Good support for plugins and integration option making it quite flexible for usage.
3. Allows you to easily keep track of your learnings
4. Users can easily setup test and assessments in the end of the trainings
5. Support for real time webinars and workshop trainings
6. Quick customer support in case of issues.
Inconvénients
1. User interface can be more robust and dynamic to increase engagement of learners.
2. Lesser documentation available thus takes sometime to understand and design courses