En savoir plus sur SuiteDash
SuiteDash est une solution de gestion d'entreprise qui aide les sociétés à simplifier les opérations liées à l'optimisation des flux de travail, à la gestion des abonnements, à la collecte des opinions, au stockage de fichiers, etc., sur une plateforme centralisée. Le module de gestion de projet fournit un tableau Kanban intégré, qui permet aux employés de visualiser l'état et l'avancement des tâches. SuiteDash permet aux membres du personnel de créer des propositions client en ligne et de les convertir automatiquement en factures pour recevoir des paiements. Les administrateurs peuvent suivre le temps passé par les employés sur des tâches ou des projets et générer des estimations ou des factures en fonction de tarifs horaires prédéfinis. La solution comprend un outil de messagerie instantanée interne, qui permet aux membres de l'équipe d'établir une communication bidirectionnelle en temps réel. De plus, les superviseurs peuvent créer des profils récurrents pour renseigner automatiquement les articles, les taxes et les remises sur les factures générées sur une base hebdomadaire, mensuelle ou trimensuelle. SuiteDash facilite l'intégration à plusieurs solutions tierces, telles que Zapier, Quickbooks, Stripe, Braintree et PayPal. Le produit est disponible sous forme d'abonnements annuels et mensuels et l'assistance est assurée à travers une FAQ, de la documentation, des tutoriels vidéo et par e-mail.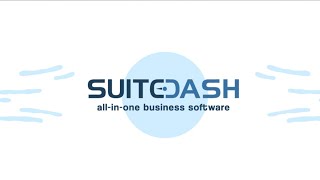 SuiteDash n'est pas disponible en version gratuite mais propose un essai gratuit. La version payante de SuiteDash est disponible à partir de 19,00 $US/mois.
À partir de :
19,00 $US/mois
Version d'essai gratuite :
Oui
Produits similaires à SuiteDash
Évaluation des fonctionnalités
Secteur d'activité : Génie civil
Taille de l'entreprise : 2–10 employés
Logiciel utilisé

toutes les semaines

pendant

1 à 5 mois

Provenance de l'avis
---
Tres bon produit
Avantages
Pratique un logiciel de gestion partagé entièrement en ligne et personnalisable.
Inconvénients
J'attends avec impatience une personnalisation plus poussée des devis / factures et la visionneuse excel !
Secteur d'activité : Génie mécanique ou industriel
Taille de l'entreprise : 2–10 employés
Logiciel utilisé

tous les jours

pendant

1 à 5 mois

Provenance de l'avis
---
Complete and reliable business management software with great customer support
Our whole team is satisfied with SuiteDash. Our work has been more organized and our customer outreach is also improving. No complains from customers while using SuiteDash client portal too.
Avantages
1) It has all the software needed to run a business in one place. Email marketing, CRM, Project Management, Client Portal, Invoicing, you name it.
2) Easy and intuitive navigation on their system. Easy to understand and can complete tasks really fast.
3) Automation on repeating tasks. For example adding customer data into the CRM from signup form and performing email marketing.
4) Whitelabel client portal! Previously we were using a different software for this. With SuiteDash, we can provide our client with needed information right from the same software. This saved us alot of time and money.
5) Their customer support is amazing. Really fast response to solve issues. They also listen to customer's requirements and make improvements on the system. Love them for this!
Inconvénients
The system is in improvement stage. Occasionally we do find small bugs but the customer support team has been great to solve them promptly.
Pourquoi passer à SuiteDash
To eliminate the use of different software for different tasks. With SuiteDashm our team was able to run everything from business chat, project management and CRM in one place. And since it combines everything in one place, the pricing is much more affordable. We save alot of money and time with SuiteDash.
Réponse de

SuiteDash

Thank you for your feedback! We really appreciate you reporting any small bugs that you find - we want to do everything we can to improve the platform for everyone.

Répondu le 07/08/2020
Secteur d'activité : Marketing et publicité
Taille de l'entreprise : 2–10 employés
Logiciel utilisé

tous les jours

pendant

1 à 5 mois

Provenance de l'avis
---
SuiteDash is an amazing all-in-one CRM (and so much more!)
I never really had a handle on my client interactions; they were always scattered. Now, with SuiteDash, everything is in one place. I can see all of the messages, tasks, client requests, files, etc, that are associated with a project *in one place*. It's practically magic.... truly.
I am appreciating how much time I save automating client interactions. Yes, they may take a bit to plan and add to the system but it's SO worth it.
Here's an example workflow: send proposal - proposal accepted > invoice is automatically generated; client pays invoice > 5 automations are triggered, including: project template generated, granting client access to resource files, project tasks auto-created and added to my calendar... the list goes on and on!
Avantages
SuiteDash is extremely full-featured. It replaces so many other SaaS tools I have cobbled together over the past 10 years. Now I'm able to run my business more efficiently while providing clients with a top-notch user experience. (Yes, I'm referring to the fully white-labeled client portal app that's included!)
I am amazed at the myriad ways I have automated my business processes and client interactions so that the experience is high-touch and nurturing. As a business owner who's used to doing everything myself, SD saves me time in the long run because I can set up a workflow once and reuse it forever (or until I change it!).
The SD team continually adds improvements and upgrades to the platform, and they actually LISTEN to SD users in their Facebook community. I made a case for adding an additional automation option and was pleased to see it implemented within a few weeks. Very impresssed.
Inconvénients
SuiteDash is a powerful, complex system, so it can be a bit intimidating at first. That's always the downside to any tool that is this feature-rich. It's not something you can learn in a day, but if you're committed to properly planning out your workflows, watching the SD tutorial videos, reviewing the excellent help documentation and taking advantage of the FB user community (don't forget to join!) and SD support team, you'll set yourself up for success.
My suggestion... don't rush it. Take your time to learn the system by creating test/dummy accounts and workflows so you can really understand how to use this tool most efficiently and effectively.
Secteur d'activité : Marketing et publicité
Taille de l'entreprise : Auto-entrepreneur
Logiciel utilisé

tous les mois

pendant

1 à 5 mois

Provenance de l'avis
---
It's too complicated to use - need to have an in-house IT to make this one work.
Avantages
Well, it's supposed to have everything. Invoicing, project management, CRM, LMS.
Inconvénients
Too bulky, too much work to set-up, quite slow. And cannot integrate with other software as they don't have a public API.
Secteur d'activité : Design
Taille de l'entreprise : Auto-entrepreneur
Logiciel utilisé

tous les jours

pendant

6 à 12 mois

Provenance de l'avis
---
Amazing. I'm so glad I found this!
Avantages
I've been blown away by how much Suitedash has been able to streamline my business. I used to have multiple subscriptions to different services and tools but since migrating to Suitedash, I feel so much more organised knowing everything is in one place.I'm also excited by the fact that there are even more things it can do that I haven't even explored yet (I feel like as my business grows, it'll be able to support me). I love how customisable everything is, they've really gone into a lot of detail to make their app adaptable to lots of different people's needs; I'm yet to find something I can't do with this thing.
Inconvénients
There is a bit of a learning curve, but it became intuitive once I learned the basics. As there's so much you can do with it, it can be a lot to take in at first but their documentation is awesome! They have a "lifesaver" button on each page which provides quick access to the specific documentation for that part of the tool, which means it's easy to work out bits and pieces as you go and as you need them.