En savoir plus sur Lightyear
Lightyear est une solution de comptes fournisseurs basée sur le cloud, conçue pour aider les entreprises à automatiser la saisie des données en extrayant les informations des factures, des notes de crédit, des relevés bancaires et des reçus, à rationaliser les approbations grâce à des flux de travail personnalisables et à conserver un registre des montants en souffrance. Les fonctionnalités comprennent la messagerie, la piste d'audit, le rapprochement des relevés, le marquage automatique multidevises et des doublons. La fonctionnalité d'automatisation des règles de l'application permet aux comptables d'attribuer automatiquement des postes avec des codes de GL (grand livre), des taux d'imposition, des catégories ou des services. Les professionnels de la finance peuvent vérifier les prix des produits par rapport aux prix vérifiés des fournisseurs et acheminer les factures vers les approbateurs concernés. Le tableau de bord permet aux superviseurs d'afficher le nombre de factures traitées, clôturées, examinées ou en attente d'approbation. Lightyear offre une intégration à diverses applications tierces telles qu'Abcom, MYOB, Xero, Sage 50, Fuelsoft, etc. La solution est fournie avec des applications mobiles pour iOS et Android. Cette solution est disponible sous forme d'abonnements mensuels et l'assistance est assurée via une documentation et une messagerie instantanée ainsi que par téléphone.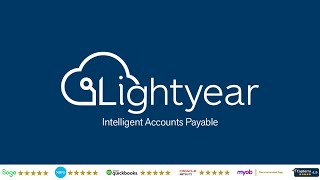 Lightyear n'est pas disponible en version gratuite mais propose un essai gratuit. La version payante de Lightyear est disponible à partir de 89,00 £GB/mois.
À partir de :
89,00 £GB/mois
Version d'essai gratuite :
Oui
Produits similaires à Lightyear
Évaluation des fonctionnalités
Secteur d'activité : Gestion d'organisme à but non lucratif
Taille de l'entreprise : 501–1 000 employés
Logiciel utilisé

tous les jours

pendant

plus d'un an

Provenance de l'avis
---
Terrific Service and a Continually Improving Product
Overall, it's been fantastic. There is no such thing as a perfect system, but it is the people behind the software which really impress me. The fact that when things go awry, it is so easy to open the instant chat and speak to [SENSITIVE CONTENT HIDDEN] is a great touch. The service is paramount. I've had issues which were solved overnight which comes to show they really do listen.
Avantages
Lightyear is visually pleasing-it's quite simple to use and understand. From the user perspective who inputs data on invoices and approves them, it's straightforward and the layout of the software does not show you more than what you need to see, however, underneath the simple processes there is complexity. Lightyear makes supplier creation, GL code settings linked to export files such as Excel, and GST codes etc are somehow made simple to set up. One thing I find particularly great is whenever I input an ABN number during the Supplier Creation process, it autofills the Supplier Name field. Additionally, this is a drop down menu, so i am able to choose ANY of the Business Names linked to this ABN.
Inconvénients
Sometimes, there have been system bugs and I'm unable to export data for a brief amount of time, or when we top up credits to use the system, the old credits are not rolled over their expiry date. It would be great if there was a notification in place to let us know that our credits are expiring soon or we are running low. Also, there are some things which cannot be customised. For example, the Export to File which is a function that exports invoice data into a spreadsheet, cannot be modified from my end. Lightyear do add features from time to time, but I'm not sure if consumer recommendations are actually involved in the process.
Secteur d'activité : Hôtellerie
Taille de l'entreprise : 51–200 employés
Logiciel utilisé

tous les jours

pendant

plus de deux ans

Provenance de l'avis
---
Love it!
I've used the software for years and have always found it to be reliable and the support start are fantastic if ever I need help with something.
Avantages
There are so many things I love about Lightyear. The new statement reconciliation feature though is a game changer! Lightyear tells you what invoices are missing and allows you to contact the supplier to request missing invoices direct from the software. Amazing!!!
Inconvénients
There's not much I don't like about the software, and the things that I would like are already in the works.
Pourquoi choisir Lightyear 
Invitbox was been owned by Reckon and had not supported or upgraded for some time. The original developers for Invitbox took it back and rebuilt it from the ground up. Invitbox, even unsupported and without upgrades, was an awesome piece of software and superseded the functionality of it's competitors such as ReceiptBank. Since the original team was coming back on board, it was a no-brainer.
Pourquoi passer à Lightyear
With Lightyear, you can delegate approvals into groups, so if you have multiple cost centres like the hotels that we do the bookkeeping for, the Chef isn't seeing bills which need to be approved by the Cellarman. Also, you can have suppliers that you don't want everyone to see, so you can select that only certain people see them. As well as multi-level approvals so the General Manager can check off and I as the bookkeeper can check the data is accurate before bringing it into the accounting software. In conjunction with the integration with Xero happens within seconds so you're not waiting for your bills to come across from one software into another.
Secteur d'activité : Construction
Taille de l'entreprise : 11–50 employés
Logiciel utilisé

tous les jours

pendant

6 à 12 mois

Provenance de l'avis
---
Time Saver
Charlie has been great and customer service has been very quick in replying and solving questions. Approval processing is working well, overall happy.
Avantages
The Manager function has worked well for us as we have offices in different locations which has made the approval of invoices more efficient.
Easy to see where the approval process is up to.
Exporting invoices to our accounting system is great.
Also like the audit trail feature.
Inconvénients
We haven't used the PO system yet but looking forward to the enhancements that will suit the way we use them. Yes they have listened to us and adding options to suit our business.
Secteur d'activité : Comptabilité
Taille de l'entreprise : 51–200 employés
Logiciel utilisé

tous les jours

pendant

6 à 12 mois

Provenance de l'avis
---
Great Support
We've been using Light Year for a little while now. It's been a little up and down with the uptake from our clients as some are of a more traditional mindset and do not want to convert to paperless. Some clients also take a little longer to acclimate to the system then others, but once setup and working, each client on light year improves efficiency by about 20%.
More over, the support and continued patience of the team at Light Year, especially Tom, has been astounding. Due to job changes, they've helped train any and all staff as we've seen fit. Have listened to ideas, and implemented workarounds where possible, truly making this a system we can use above other similar products.
They also offer that support to our clients who may otherwise be struggling and are always on hand 24/7 to call, video conference or chat online to anyone who needs assistance.
Avantages
The support from the team is fantastic and are always on hand to help and assist.
Feedback and suggestions on the system are welcomed and implemented if possible and useful.
Invoices no longer need manually entering!
Option to automate the process of receiving invoices entirely, doing away with any need to upload - instead just get them emailed directly into Light Year.
Inconvénients
A few of the options appear to be placed on pages I wouldn't expect, but nothing particularly bad.
Pourquoi passer à Lightyear
The other options were either underdeveloped, or offered no a very strict, uncompromising service that did not fit within our company. They also relied too heavily on OCR. Light Year while newer than some of it's competitors, chose a different approach and worked with us to see if their solution could help, and even added and updated features to make it fit more into our company.
Réponse de

Lightyear

Many thanks for taking the time to leave us a review. Great to hear how that the support team has been fantastic. We will pass this along to them.

Répondu le 28/05/2020
Secteur d'activité : Gestion d'organisme à but non lucratif
Taille de l'entreprise : 51–200 employés
Logiciel utilisé

tous les jours

pendant

6 à 12 mois

Provenance de l'avis
---
Lightyear works as promised
Lightyear provided more accurate invoices from different kinds of suppliers and minimised the need for manual input, provides transparency as all the history is included with the bill and allow for Approvers to view the invoices for their area so provides confidentiality and saves them time.
Staff skills and time can be used more productively on more than inputting invoices.
Avantages
Every step of the process has been excellent and the ongoing support has continued to be excellent.
The initial contact was responsive and guided through the set up to allow us start processing quickly.
The product is logical to follow and easy to view and provides options every step of the way.
The data extraction is very accurate and adaptable to different supplier invoices and the mapping team is very quick. This is more accurate than our previous software.
To email queries from within Lightyear saves so much time and hassle looking for emails and provides great transparency.
Separation of users to their department only
Choosing where we export to Xero has been essential to facilitate approval levels
Lightyear continues to improve their
Service to queries has been responsive and solutions are specific to our company using information and not a regurgitating the help function.
Inconvénients
There is a lot of functionality and detail so can be a little overwhelming.
Support videos and notes focus on administrators but could find information on guiding from the other user roles perceptive after initial guide when first login
Réponse de

Lightyear

Many thanks for the review. Great to hear that you are finding the data-extraction to be more accurate and quicker than your previous supplier.

Répondu le 28/05/2020