En savoir plus sur Hireflix
Hireflix est une plateforme d'entretien vidéo unilatéral en ligne qui permet aux recruteurs et aux candidats de rationaliser l'expérience de l'entretien. Les candidats ont la possibilité d'effectuer des entretiens à tout moment et en tout lieu en enregistrant leurs réponses aux questions préenregistrées. Grâce à Hireflix, les entreprises peuvent se dispenser de la rigueur et de la lourdeur des entretiens planifiés. Hireflix permet aux recruteurs de présenter l'entreprise ou le poste et d'ajouter des questions d'entretien à l'aide d'un générateur d'entretien intégré. Les entretiens et les rappels peuvent être envoyés par SMS et par e-mail à l'aide de modèles personnalisables. Tous les entretiens peuvent être suivis en fonction du type de poste et les recruteurs sont automatiquement avertis lorsqu'un entretien est terminé. Lorsqu'un entretien a été soumis, les recruteurs sont en mesure d'examiner et d'évaluer les réponses soumises afin de sélectionner les meilleurs candidats. Hireflix s'intègre à des plateformes tierces telles que Slack, Zapier, Greenhouse et Workable. Hireflix fournit également une assistance par e-mail, chat et téléphone pour tout type d'entretien.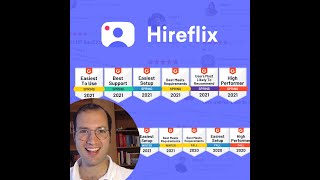 Hireflix est disponible en version gratuite et propose un essai gratuit. La version payante de Hireflix est disponible à partir de 150,00 $US/mois.
Version d'essai gratuite :
Produits similaires à Hireflix
Évaluation des fonctionnalités
Secteur d'activité : Santé, bien-être et fitness
Taille de l'entreprise : 11–50 employés
Logiciel utilisé

toutes les semaines

pendant

plus de deux ans

Provenance de l'avis
---
Excellent and Easy Solution to Video Interviews
Hireflix is a small enough company that you can reach the team quickly, but robust enough to solve our interview challenges. We have no intention of using a larger company, we love this partnership!
Avantages
Before Hireflix, we would spend hours interviewing folks that didn't work out. We usually know in the first five minutes if a recruit is not going to work out. This would result in hours of lost productivity for our recruiting team. Now we can easily get the answers we need in a rapid process. Now that we've gone all remote, Hireflix is even more easy to use. The set up is incredibly simple, candidates find it easy to use, and we can spend our time focusing on our best candidates to bring in for the next round of interactive video interviews.
Inconvénients
At times it can be hard to re-send an invite to a candidate through Workable. But, the team at Hireflix has been responsive to my feedback, and quickly helped me solve this problem.
Réponse de

Hireflix

Ryan thank you so much. Hireflix has a special love for Counseling and Therapy offices as you know! Yours is a mission dear to my heart and we are happy we can indirectly contribute to that. Keep up the good work.

Répondu le 02/06/2020
Secteur d'activité : Ressources humaines
Taille de l'entreprise : 2–10 employés
Logiciel utilisé

toutes les semaines

pendant

1 à 5 mois

Provenance de l'avis
---
Bang for your buck!
I manage roles across multiple time zones and for various clients. Using Hireflix has removed the tedious chore of trying to find windows that work for both me and the candidate. With Hireflix I am able to invite my selected candidates to interview at a time that is most convenient to them and then I am able to review their interviews when most convenient to me, as well. It has saved me time and speed to client which is a must when working in this industry.
I'm also able to provide a greater client experience by providing my client's with the video interview footage so they can also evaluate the caliber of the candidate.
Overall, the experience has been positive for candidates, me, and my clients who are happy to have a peak of what their potential lineup looks like.
And the customer experience with [SENSITIVE CONTENT HIDDEN] and his team has been flawless!
Avantages
1) The product is incredibly easy to use from both a candidate and interviewer perspective
2) No complicated signups or cumbersome "loops" to jump through from a candidate perspective
3) Excellent customer service
4) Video and sound quality is good
Inconvénients
I shared feedback with [SENSITIVE CONTENT HIDDEN] regarding the recruiter experience as I have my own firm and manage multiple roles and clients, which differs from many softwares because they tend to be geared to one big company as opposed to a recruitment firm. The feedback that I provided to [SENSITIVE CONTENT HIDDEN] regarding creating a branded experience based on each role vs based on my account (i.e., Marketing Manger @ Acme Company, Financial Analyst @ Big Bank USA) was implemented so no complaints now!
Secteur d'activité : Services et technologies de l'information
Taille de l'entreprise : 51–200 employés
Logiciel utilisé

toutes les semaines

pendant

6 à 12 mois

Provenance de l'avis
---
Hireflix review 4 from 5
Avantages
Easy to use for company and for candidates.
Inconvénients
Nothing, most of the tools are very helpful for us.
Secteur d'activité : E-learning
Taille de l'entreprise : 51–200 employés
Logiciel utilisé

tous les mois

pendant

6 à 12 mois

Provenance de l'avis
---
Ripple Hireflix Interviewing tool
Using a platform like Hireflix to evaluate a large number of students for hiring or other purposes can provide several benefits. It saved me time and resources by automating tasks such as screening resumes and conducting initial interviews, while also providing a standardized and objective evaluation process. Additionally, Hireflix offers features such as analytics and candidate tracking that helps streamline the hiring process and provide valuable insights for decision-making.
Avantages
Hirefix functions and software provided an easy efficient interviewing process. It had an intuitive user interface that was easy to navigate. These factors may have contributed to my positive experience with the software.
Inconvénients
It would be helpful to share the interview process across members of my team in a more efficient way
Secteur d'activité : Ressources humaines
Taille de l'entreprise : 2–10 employés
Logiciel utilisé

tous les jours

pendant

6 à 12 mois

Provenance de l'avis
---
Straightforward
Hireflix is our go-to platform to record video interviews for candidates applying for jobs through our platform, talenting. Our candidates also find Hireflix very easy to use.
Avantages
I love the fact that Hireflix is extremely straightforward. The app does what it is meant to do, has a simple interface and is very stable. We were previously using SparkHire, which is a very good platform, but not nearly as simple, user-friendly and reliable. Not to mention the customer support, which is superb.
Inconvénients
If I am completely honest, we did have a glitch in our first month due to a payment processing error, but perhaps the aspect worth highlighting here is Hireflix's outstanding customer support. The problem was sorted in a few hours.
Pourquoi choisir Hireflix 
Simpler to use and better return on investment.
Pourquoi passer à Hireflix
Simpler to use and better return on investment.